A Sidelong Glance, John Edmonds' (b. 1989) solo exhibition as the winner of the Foam Paul Huf Award 2021, brings together intimate studio photographs and meticulous still lifes that question the notions of authenticity and identity, whilst reflecting upon modes of representation. As the show title suggests, the works are deceptively complex, with minimal compositions lending to in-depth cultural readings.
In the black-and-white photograph A Guard for the Gods (2020), for example, a shirtless male figure, wearing a policeman's hat, stands alongside an array of African totems, as if guarding them. The image is suggestive of both possession and desire, whilst considering the legacies of violence – state-sanctioned, colonial or otherwise.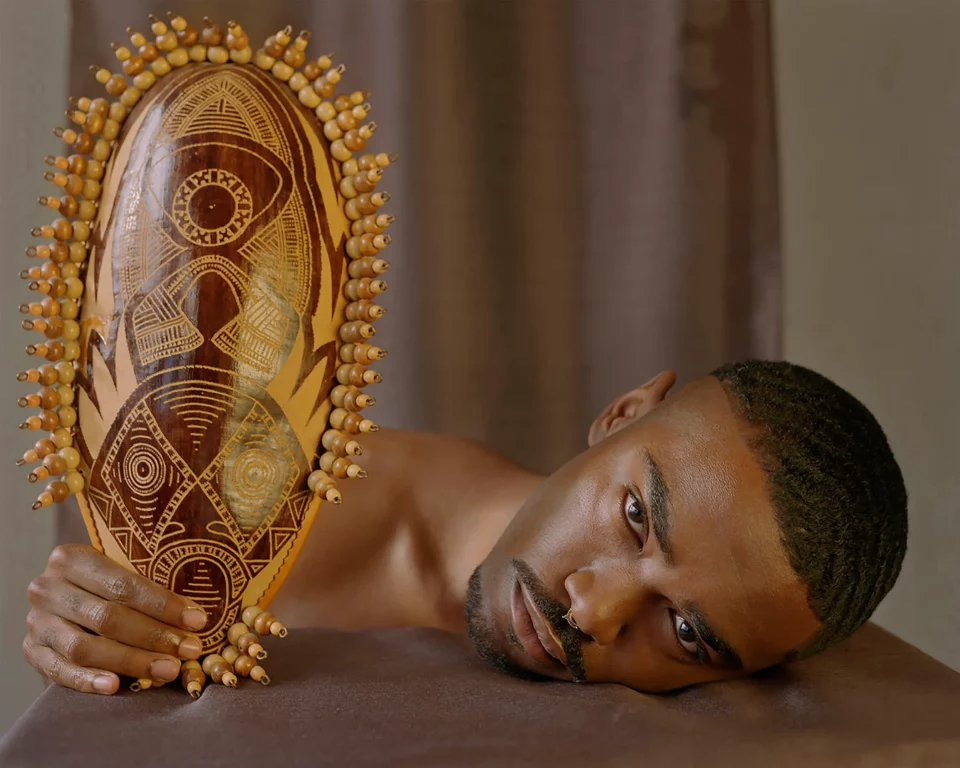 The relationship between the "collector" and the "collected" is highlighted to the viewer, who is urged to consider the importance of objects throughout their life: spiritual and sentimental, or monetary. Throughout the show, Edmonds also responds to the iconography of western art history at large. In Face As Mask II (2018), he draws inspiration from Man Ray's Kiki with African Mask (1926), the subject's hands cupping their face in a vulnerable and reflective moment, celebrating the quotidian.
In the perspective of cataloguing and exhibiting, Still Life II (2018), in comparison, shows a frontal sculpture against a shimmering golden cloth, unhinging the object from the original environment and rethinking it within a new context. The piece functions as symbol of traditional African cultural heritage or memory – a means to explore the complex acts of cultural appropriation in contemporary society. Ultimately, with Holding a sculpture (from the Ashanti) (2019), Edmonds anchors the past to present through human hands.
---
Foam, Amsterdam, 18 February – 19 June.
Words: Monica De Vidi
---
Image Credits:
1. Face As Mask II (2018) © John Edmonds
2. Tête d'Homme, 2018 © John Edmonds / courtesy of the artist