"We are living in a new era, one of complete connectivity, where screen space has become seemingly equal to the physical landscape," says Los Angeles-based artist Doug Aitken (b. 1968), who is exploring the rapidly changing relationships between human beings in an age dominated by technology. "This surreal shift in evolution brings us into uncharted waters, a new frontier, one for which we are not fully prepared."
The global move into digital requires a new visual language. In Aitken's Return to the Real – a new show at Victoria Miro, London – traditional forms of sculpture are questioned. In one gallery space, a glowing translucent figure rests at a table, shopping bags discarded on the floor. Their phone lies just out of reach. A bowl of fruit sits untouched. The piece captures a moment of stillness – an individual frozen in a rapidly-moving world.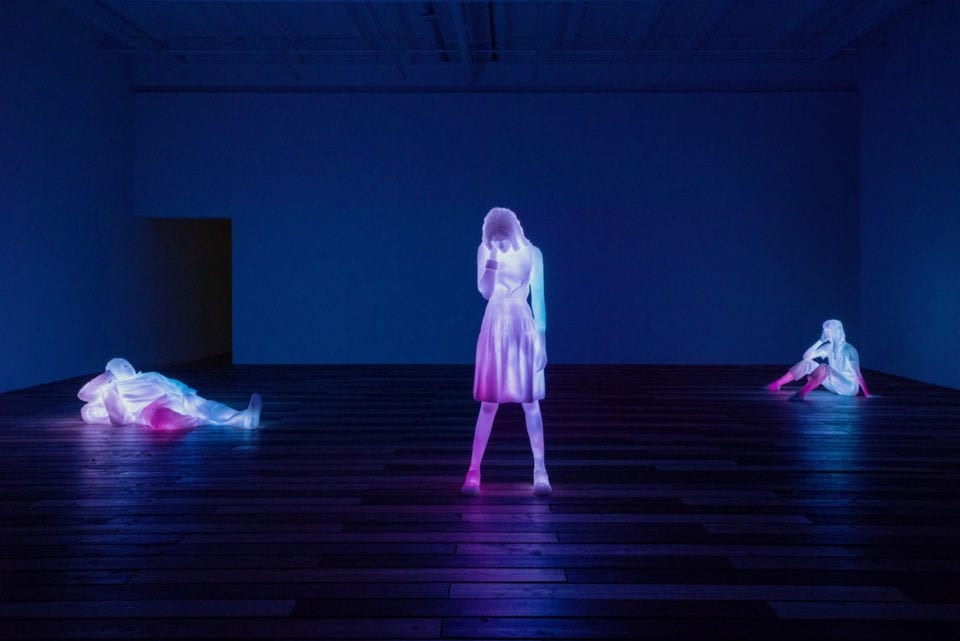 Light pulses from these works in shifting colours, whilst layered vocals permeate the space. The endless words evoke non-stop digital feeds. Light boxes project images of domestic objects: beds and swimming pools create a fragmented environment – reminiscent of scrolling through Instagram. As the artist explains: "These artworks question how we navigate a world of increasing speed and transition, the direction of where we can go and how we can confront the future."
As the world speeds up, people find it harder to slow down and switch off. There is constant stimulation from social media, live streams, news and emails. Aitken's work seems to visualise this, blurring the lines between motion and stillness. For example, in Return to the Real, another sculpture depicts a young woman paused in an introspective moment. Her form, carved in classical marble, is split in half – revealing an infinite chamber of mirrors that reflects light through and beyond the body. This luminous kaleidoscopic effect creates the illusion of endless movement, highlighting an age where we are always on-the-go. As the gallery notes: "This is a portrait of a modern landscape in transition, suspended between the physical world and the world of the screen."
The exhibition opens 2 October. Find out more here.
Lead image: Open the gate (Claire at table), 2019, © Doug Aitken, courtesy 303 Gallery, New York; Galerie Eva Presenhuber, Zürich; Victoria Miro, London/Venice; and Regen Projects, Los Angeles.