Amsterdam Noord – a short ferry from the capital's main railway station – is establishing itself as one of the Netherlands' most up-and-coming creative districts, home, as of 2020, to Nxt Museum, a destination for cutting-edge digital art. The museum's latest show, UFO – Unidentified Fluid Other, uses new media to address time-honoured ideas: from mythology and surrealism to human identity and progress. Audiences enter an awe-inspiring Gothic cathedral with no edges, created by fractal artist Julius Horsthuis. Elsewhere, Audrey Large presents a large-scale 3D-printed sculpture reminiscent of a classical fountain.
Apocalyptic or dystopian narratives are often associated with the rise of tech – from Ex Machina to Blade Runner. Whilst criticism is present throughout UFO, Nxt Museum demonstrates how artists are using modern tools in remarkably positive ways: articulating complex human emotions, for example, or building inclusive community spaces. Fantasy, dreams, trauma and mortality are central to many works, like Jacolby Satterwhite's impressive CGI film Birds in Paradise.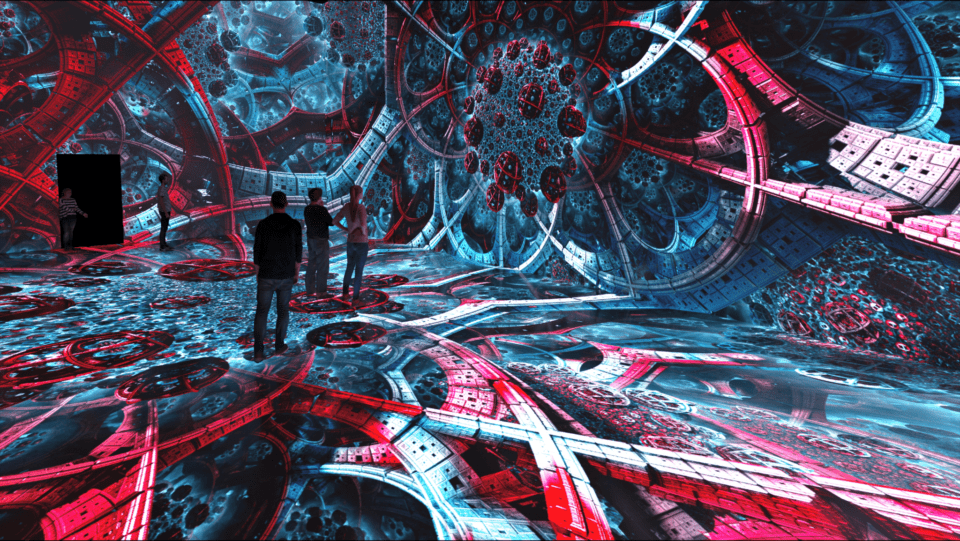 The show is multisensory. There are playable video games by Lu Yang. Audiences can try on digital fashion from The Fabricant, or experience Osean World's tongue-in-cheek response to TikTok culture. Colourful, bright and dopamine- filled, it replicates the instant gratification of scrolling.
Ksawery Kirklewski opens the show with a mesmerising piece that deconstructs visitors' faces, turning them into a series of lights. It's a nod to 1980s video games, but also a reference to face unlocking technology, which has become second nature. Kirklewski reveals how little we know about what's inside our rapidly developing devices. Founder and Director Merel van Helsdingen notes: "In the world of web3, a week is like a year in the normal world. So much is developed at such a high speed."
---
Words: Eleanor Sutherland
---
Image Credits:
1. Foreign Nature, by Julius Horsthuis, part of UFO – Unidentified Fluid Other (2022). Photography by Gert Jan van Rooij.
2. Foreign Nature by Julius Horsthuis, 2022. Render.