The history of printmaking began in Han Dynasty China. The earliest known example, a woodblock print on silk, has been dated between 206 BC to 220 AD. The first print on paper was made during the seventh century, with the earliest European prints dating back to the beginning of the 15th century, when Johannes Gutenberg's printing press revolutionised the art form. But what does this tradition look like in 2021? Woolwich Contemporary Print Fair welcomes 500 independent artists and galleries – showcasing the latest innovations and approaches to the medium. Here are five artists to watch.
---
Hildur Jónasson
Hildur Jónasson's work (above right) investigates her relationship to nature within the context of the climate crisis. The recent prints, Hope Spot I, II and Twilight are her first print offerings in the UK. This work originated from plastic waste collected during an artist residency in the Arctic Circle in 2017. The "shock and despair" of encountering pollution in such a remote and otherwise pristine wilderness spurred a range of work addressing ecopsychology. She employs various printmaking approaches; her work ranges from dystopian and moody landscapes to magical and hopeful images. Find out more here
Sarah Wood

Sarah Wood is interested in environmental awareness and society's perceptions of the natural world. She is also fascinated by how places can be experienced through art. Aiguille du Midi, shown above left, is once such example. It was created to bring the Alpine location of Chamonix to a wider audience. Wood spent 12 months exploring the French Alps and its mountains – resulting in a series exploring its ever changing landscape. Rugged forms jut out at angles – shooting diagonally across the page. Find out more here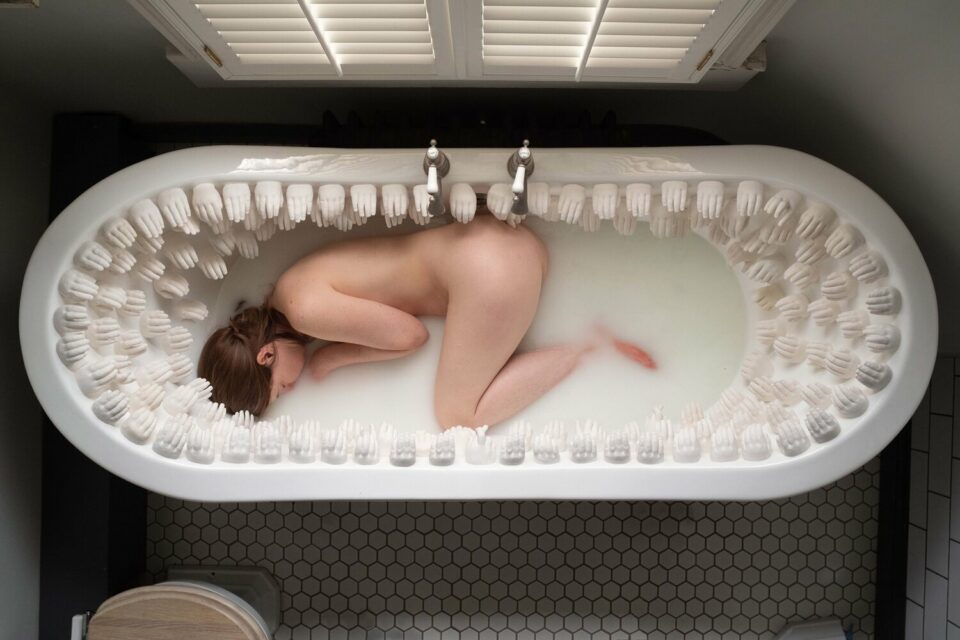 Laura Clarke
Laura Clarke has always been fascinated by the relationship between humans and animals, drawing inspiration from history, art, religion and science. Her imagery is surreal and, at times, unnerving. Woolwich Contemporary Print Fair describes her practice as "provocative – at once abject, erotic, seductive and haunting, containing fantastical and occasionally mythological overtones." Since becoming a mother, she has started to explore pregnancy and birth through her work. In the featured image, hundreds of small hands reach out from a bathtub, grasping towards a figure in milk-white water. It explores "feelings of claustrophobia as a mother in lockdown." Find out more here
---
Nicole Rose
Nicole Rose's abstract oil paintings (above left) revolve around emotional responses to the natural world. In tandem with works on canvas, she creates complementary prints that offer new perspectives on original pieces. Each one focuses on a photographed section of a finished painting. The artist then works in Photoshop to reimagine and rebalance, creating a run of limited-edition giclée prints. Her most recent selection of prints is derived from paintings created during lockdown, following visits to nature reserves where she recorded sights, sounds and colours. Find out more here
Guy Allen
In March 2020, Guy Allen (above right) settled into isolation in his studio in north Norfolk. "We had such amazingly clear spring skies; I became fascinated by the moon. Away from the pressure of daily routine and commitments, I had time and space. I suddenly had an opportunity to create a totally new piece of work, and it became my subject. In uncertain times, the moon is something so familiar, and yet this extraordinary unknown. I had the chance to see it differently. To study it night after night from behind binoculars. Seeing it in such amazing detail was incredible, I really felt like I was learning. There are different phases and names – I discovered a new world of astronomy." Find out more here
---
Woolwich Contemporary Print Fair runs 11-14 November 2021. Online until 28 November.
Find out more here.
---