"If the Ganga lives, India lives. If the Ganga dies, India dies." Visual artist Giulio Di Sturco's new publication, Ganga Ma, embodies these words from author and environmental activist Dr Vandana Shiva. The book, published by GOST, is the result of a ten-year journey along the Ganges. Following the river for over 2500 miles – from its source in the Himalayas in India through to its delta in the Bay of Bengal in Bangladesh – it chronicles the effects of pollution and climate change on surrounding locales, offering thought-provoking texts by Shiva and curator Eimear Martin.
Beginning in 2007, the images bear witness to the devastation wrought by global warming and urbanisation. The river has become one of the most polluted in the world, with its toxicity and shrinking water levels posing a threat to over 400 million people. Many of India's holy sites are situated along the Ganges' banks, reflecting its status as the epicentre of spirituality – a physical manifestation of a goddess and a purifier of sins.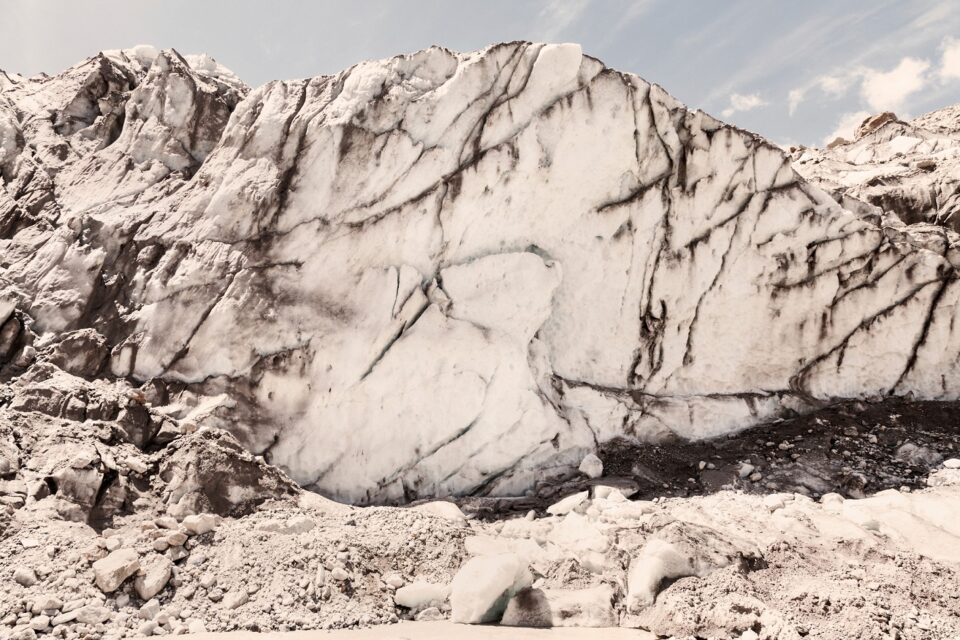 "The main character of my story is a non-human entity: a river," Di Sturco reflects. "I decided to treat it as a human being and create a flow that would document the river as if I was documenting the life of a person. I thought it was significant then, that in 2017 Mother Ganga was recognised as a living entity by the High Court of the state of Uttarakhand."
Single figures inhabit otherwise deserted scenes, going about daily activities such as fishing, cleaning and bathing. Communities silently gather around plastic chairs and socialise on embankments. Signs of industry linger in the background: metal bridges, boats and pylons punctuate otherwise expansive vistas. Each landscape is recorded through desaturated tones and subtle colours, creating a sense of harmony and restraint. By combining this painterly sensibility with the observational detachment of documentary photography, Di Sturco's works make a powerful impression. The panoramic views respond to the complexities of a changing and conflicted landscape, making a quiet yet poignant statement about the effects of industrialisation.
Ganga Ma is published in June. Find out more here. Giulio Di Sturco's work is currently on view in the 2019 Aesthetica Art Prize Exhibition.
Lead image: Hindu devotees along the banks of the Ganges getting ready to bathe in the water of the sacred river, Benares, 2008 © Giulio Di Sturco.

Gallery:
1. Bhairab Railway Bridge, where the Ganges enters Bangladesh after the Farakka Dam © Giulio Di Sturco
2. A worker with a water hose tries to tame an iceberg of foam created by the chemical waste dumped by the factories along the Yamuna river, Delhi, 2015 © Giulio Di Sturco
3. Leather tanneries along the river, in the outskirts of Kolkata, 2010 © Giulio Di Sturco