In a 1983 exhibition at The Photographers' Gallery, Jamaican-British photographer Armet Francis (b. 1945) described The Black Triangle as a concept that he "arrived at through a simple principle – Humanity – Insight – Compassion." He writes, "The triangle first came to me in thoughts of the slave trade route, that is how I came to live in the triangle: Africa, the Americas and Europe. I had to capture it through my camera, through my work … A man reacting to his destiny." Francis immigrated from Jamaica to Britain in the 1950s, a move that left him feeling uprooted and politically alienated. After leaving school aged 14, he worked in an engineering firm before learning the craft of photography by working as an assistant in a photographic studio. Image-making became a way of overcoming his sense of cultural dislocation. In turn, it allowed the artist to connected with the "rich and diverse Pan-African world," where, by the 1960s, Francis was working as a freelance photographer for publications including The Africa Magazine and Gens L'Afrique.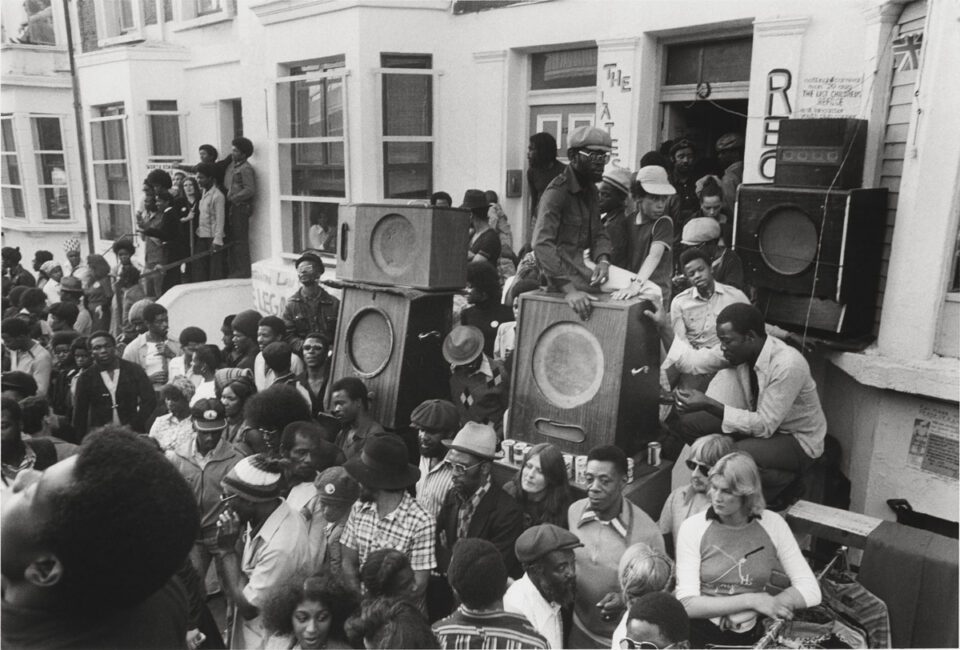 Beyond the Black Triangle, currently on display at Autograph, London, brings together works, from the artist's four-decade long career. The exhibition also coincides with Autograph's — of whom Francis was one of the founding signatories — 35th anniversary. In 1988, he was part of the organisation then known as the Association of Black Photographers. As curator Mark Sealy explains, "Autograph didn't have our own space or building until 2007 and in those earlier years, we worked as an agency initiating projects in galleries, museums, festivals or public sites. 35 years ago, it was important that people like Francis seized the opportunity to establish an agency that continues to work towards human rights and social change."
This is evident in the artist's work – exploring the Black experience in all its glory, glamour and individuality. Whether through stylised fashion shots taken in Brixton market in the 1970s, scenes from Notting Hall Carnival or portraits of those who came to the UK on the Empire Windrush, Francis' depiction of life is expansive. It is dedicated to public and private affairs as photographs move from states of joy and collectivity, to nonchalant intimacy. At the exhibition's core, is a sense of agency and vitality. A viewer can feel it in a photographic arc that pulses through rallies, tube stops and moments of quite reflection.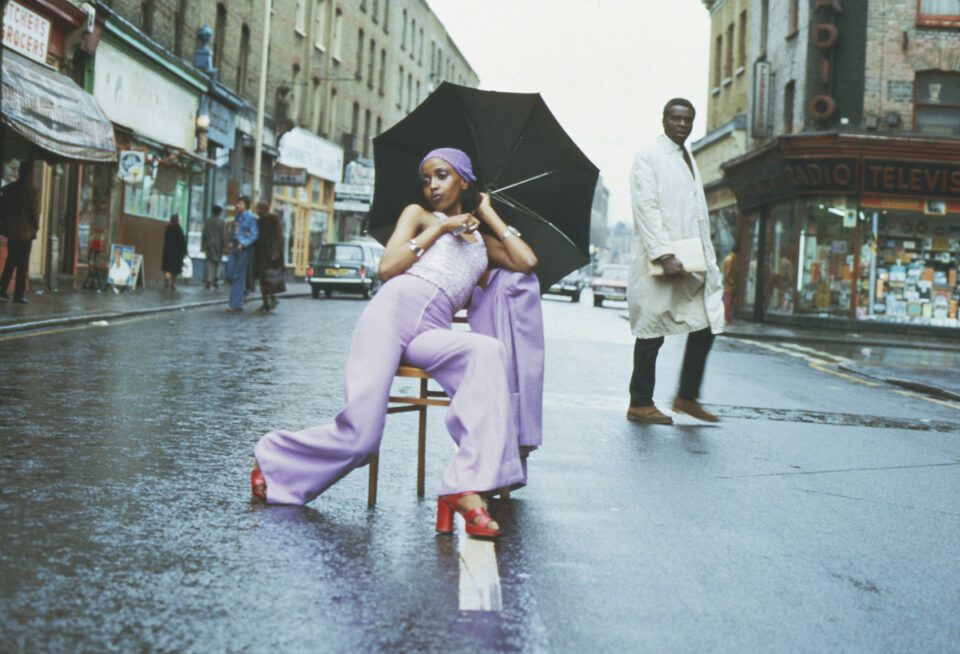 Francis' camera goes inside people's homes and communal spaces. It travels with protestors mourning the children who died in the New Cross Fire in 1981. It stays in these places and does well to remember. There is no sense of hierarchy, a young person in the middle of a dance step is as relevant as a portrait of Bob Marley, or a photograph of Angela Davis giving a talk on the support of South African political prisoners. Elsewhere, the exhibition offers a glimpse into Francis' experimentation with double exposures and self-portraiture. Francis' 1964 Self-portrait in Mirror, for example, subverts a viewer's gaze, as we are made to confront the camera head on. The eye is made to look multiple ways, from Francis, looking into the lens, to the mirror he appeals to, and then again to a figure caught in the background on a couch. It speaks to a whole legacy of portraiture that self-inscribes and repositions identity in unique and vivid ways.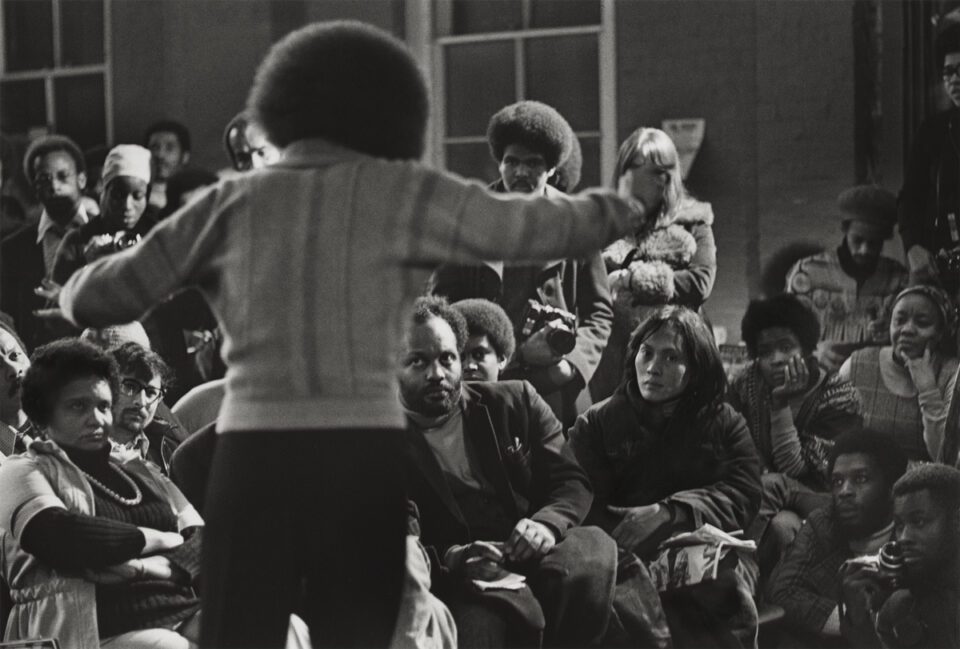 This year also marks the 75th anniversary of the Empire Windrush's arrival in Britain, making Beyond the Black Triangle extremely topical. In recent times, contemporary artists including Sasha Huber, Ajamu and Johny Pitts have showcased works which examine questions of race. These exhibitions have explored what it means to memorialise the past. They've celebrate the black queer body, leaning into states of pleasure and masculinity, and they've also sparked conversations on what Black Britain looks like today. In this regard, Francis' oeuvre is the ultimate precursor, eminent in his enduring ideas of representation.
Contained within one floor of the gallery and comprising less than 50 images, Autograph's "less is more" aesthetic allows for a relaxed and considered viewing experience. It's easy to stay with the images and find little details that can otherwise be missed in a bid to scan through a glut of images. In this subtle space, we're reminded that Francis is a radical figure within photography, Curator Sealy says, "I want the audience to experience his unique vision and for his contribution to photography to be fully acknowledged." This is successfully achieved in an incisive and impressive display that emphasises: Francis is one of the greats.
---
Armet Francis: Beyond The Black Triangle
autograph.org.uk | 22 September 2023 – 20 January 2024
Words: Shyama Laxman
---
Image Credits:
1. Armet Francis, Self-portrait in Mirror, 1964. Courtesy the artist and Autograph, London
2. Armet Francis, Carnival Sound System, London, c. 1980s. Courtesy the artist and Autograph, London. Supported by the National Lottery through the Heritage Lottery Fund
3. Armet Francis, Fashion Shoot, Brixton Market, London, 1973. Courtesy the artist and Autograph, London
4. Armet Francis, Angela Davis at Keskidee Centre, London, 1975. From the series The Black Triangle. Courtesy the artist and Autograph, London
---