Dutch photographer Erwin Olaf turns 60, and for this occasion unveils the final part of his Cities in transition project. A major retrospective has been organised at Gemeentemuseum Den Haag first focusing on inspiration sources and an initial pathway into photojournalism, then exploring a maturity of style that appears now brighter than ever.
The complexity of the exhibition stays in the inversion of roles within museum spaces. Spectators are brought at the centre of the experience thanks to Olaf´s ability to create empathy, in a constant exchange of emotions. From the very beginning, the installationThe Keyhole(2012) forces the public to think that there's something illicit in the act of watching – as per the expressions of shame and embarrassment on the faces portrayed outside the wooden box. Even still, behind the closed doors it's just about a man and a woman putting a child into bed. Sensations of discomfort continue in the provocative section Nude, with pieces that show not only beauty but also truth, a vulnerable reality with defects and details that are normally hidden. In Skin Deep(2013-2015), human bodies are emphasised like ancient statues, but in a time of censorship in which showing the unmentionable pushes out from the comfort zone. Nudity is indeed part of viewers' minds, as also in Fashion Victims(2000), where the artist shows how the power of sexuality attracting us is used by the fashion industry in a consumer perspective.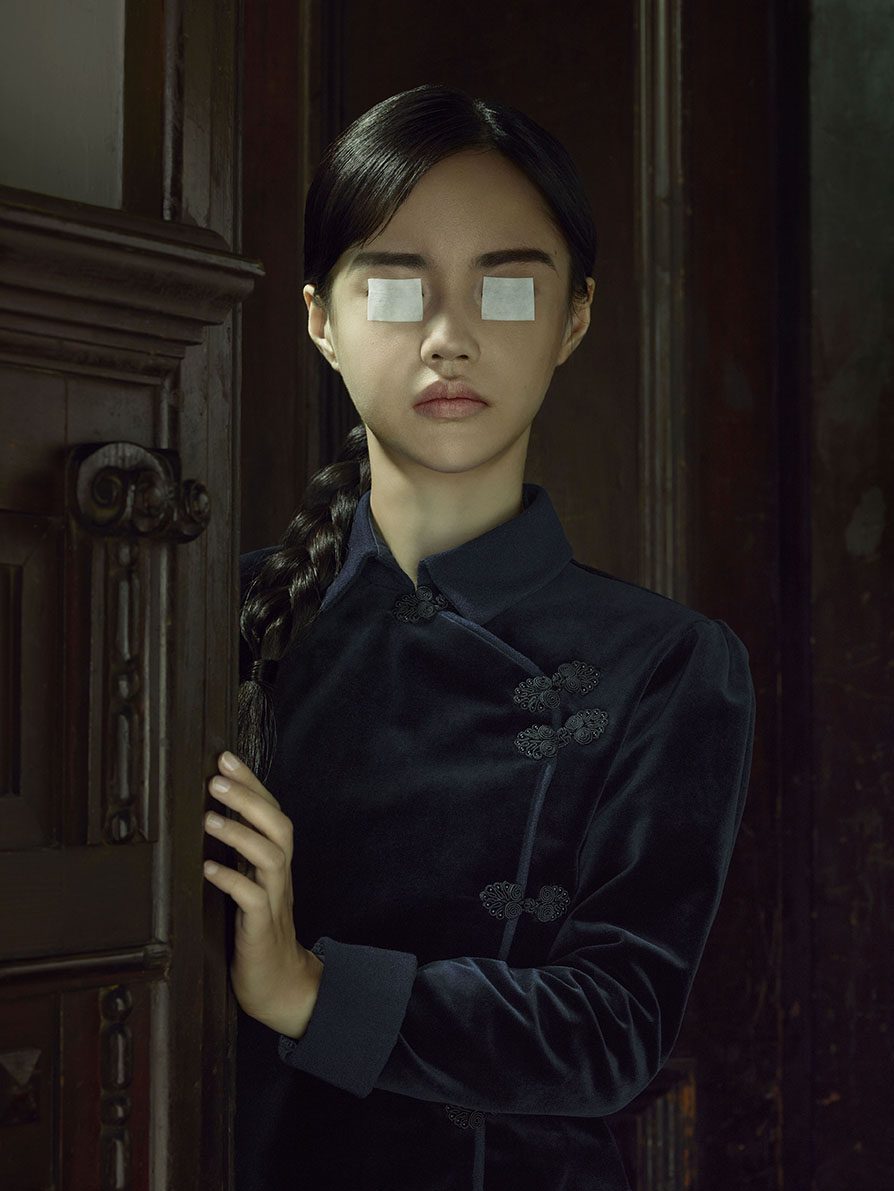 After these experiments with sexuality and human bodies, Olaf's continues to address the essence of human being. With the trilogy Cities in transitionhe reflects, for instance, on the phenomenon of urbanisation. In Berlin(2012) the photographer creates images set in impressive architectures where the main topics are freedom of expression, democracy and confrontation among different generations. On display as part of Shanghai(2017), individuals try to find their position in a hypermodern metropolis with a population of 24 million, presented in highly stylised environments bathed in light that evoke the paintings of the Dutch Golden Age. Palm Springs(2018) deals with climate change, teenage pregnancy and discrimination throughout scenes built in artificial dreaming locations where luxury and appearance reign.
Sophistication and obsession for perfection are constant in Olaf´s work, but behind the surface an enigmatic trivial detail brakes usual and ordinary in order to provoke a spark. After the initial strength of the image, viewers wonder what characters were doing immediately before the shoot and start to feel an awkwardness that accompanies them to a deeper reflection. Critical messages are always present, in a sort of dissonance hidden by an apparent harmony.
Erwin Olaf, Gemeentemuseum Den Haag. Open until 12 May. For more information, click here.
Monica De Vidi
Credits:
1. Palm Springs, The Kite, 2018. Courtesy of Erwin Olaf.
2. Shanghai, Fu 1088, Portrait #1. 2017. Courtesy of Erwin Olaf.