The process of painting "on the spot" is said, according to Tate, to have been pioneered in Britain by John Constable in the early 19th century. It was born from his desire to paint nature in a realistic way – capturing the effects of sunlight quickly and in real time. From the 1860s onwards, the Impressionist movement gained traction amongst Paris-based artists, including its most famous proponent: Claude Monet. But what does it look like in today's world? Contemporary painter Oliver Maughan (b. 1982) shows us, depicting landscapes around England and abroad, finding inspiration in the ever changing seasons.
A: What's your story? How did you become an artist, and why painting?
OM: I was drawn to art from a young age, especially paintings. I can still remember one of my first awe-struck moments as a ten-year-old visiting Sotheby's, seeing oil paintings by Victorian painters such as Fredrick Leighton, Albert Moore and Frank Brangwyn. I was instantly drawn to their mysterious – sometimes haunting – works. Examples include The Family of Darius before Alexander by Paolo Veronese and The Execution of Lady Jane Gray by Paul Delaroche – which can be found in the National Gallery. They left a lasting impression on me.
I then went on to undertake formal training, specialising in portrait and still-life painting. First at the Charles Cecil Studios in Florence and then at Paul Ingbretson studios in New Hampshire, US. Though their approaches are distinct, both ateliers offer rigorous training in the practice and tradition of drawing and painting from life. I decided to focus primarily on the landscape, as I love painting out in nature and getting to know the local communities.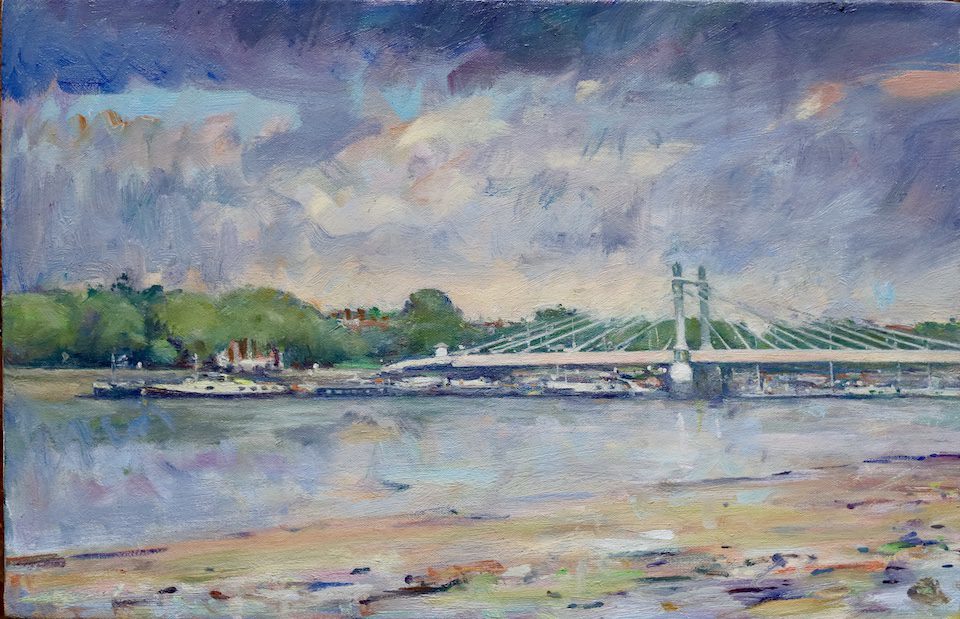 A: Your paintings highlight London's rich architectural history, such as the various bridges over the Thames. Is there a particular time period or style of building you are most drawn to?
OM: I am particularly drawn to the Victorian era. The Victorians brought their fascination with ancient civilisations and the beauty of the natural world to London's architecture. As great engineers, they pushed the limits of what had already been done. Many of the bridges and buildings that I've painted throughout London and along the Thames were built during that period. Richmond Bridge, though from a different time period, is really quite iconic – it has been captured throughout the centuries by the likes of J.M.W. Turner, John Piper and William Bowyer. It is a great piece of architecture which has inspired many artists.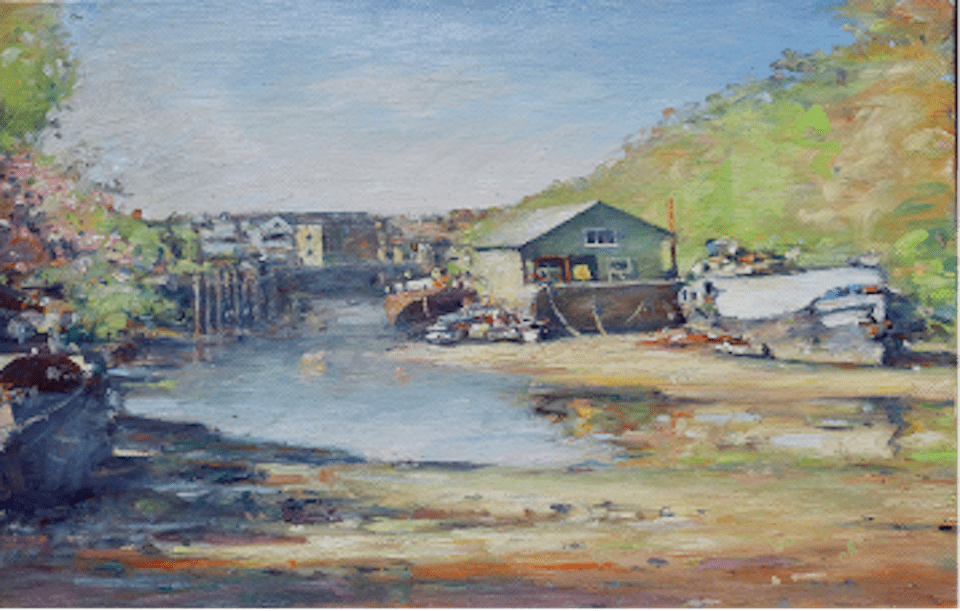 A: The Thames has been the subject of artists for hundreds of years, from Monet to Gilbert & George. How do your works connect to – or move away from – these representations?
OM: I love the way in which Monet expresses his impression of the landscape with full body colour, capturing the effect of glowing light, like in the Thames below Westminster (1871). I also admire Gilbert & George's photographic works featuring the Thames, such as in the work Red Morning Trouble (1977). Though I appreciate these works, I am more familiar with more traditional painters such as Christopher R. W. Nevinson or J.M.W. Turner. Needless to say, I wouldn't want to compare myself directly to such artists. Of course, they are great inspirations, and all artists are in some sense standing on the shoulders of giants. My work connects to them in the sense that they share the same source of inspiration. In terms of how my work moves away from them – I'll have to let viewers decide! I would like to think I have painted my own version of the river, rather than imitated someone else's.
A: Outside of London, where are some of the places you most like to paint? What draws you to these spaces, and what does the process of finding and capturing them look like?
OM: Recently, I travelled to Sanna Bay on the west coast of Scotland to paint on-site. My painting Storm Clouds Over Sanna Bay was done over a few stormy days where the clouds hung over the hilltops, creating challenging conditions in which to paint. Outdoor conditions are often constantly changing. With this painting, several hours in, the clouds dispersed, leaving a bright blue sky and a frustrated painter. The angles of the rocks jutting out into the sand and sea were a way of capturing the bay's volatile weather.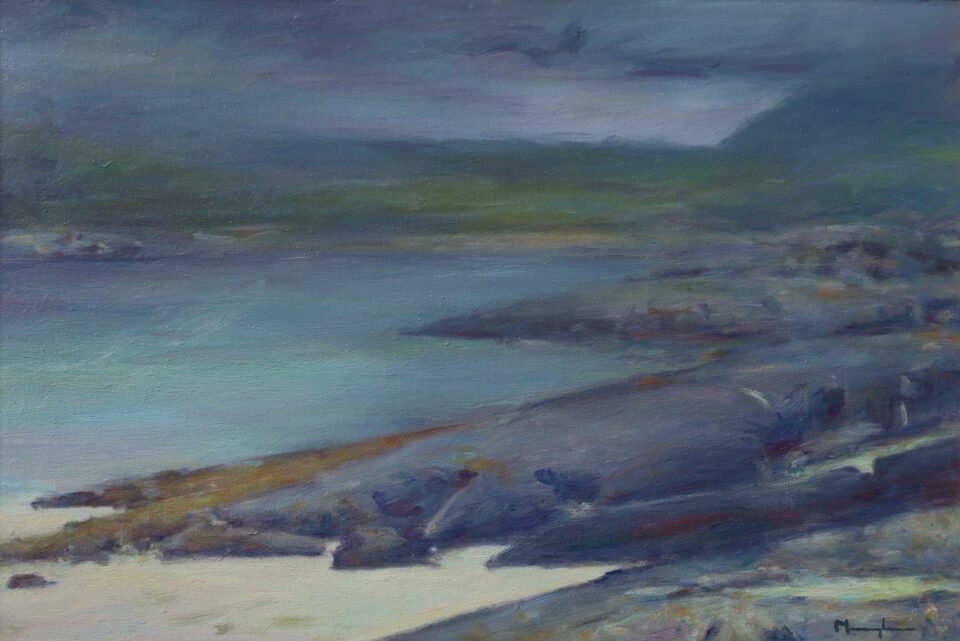 A: How would you describe your style? Who – or what – are your inspirations?
OM: My work is in an impressionistic style. I focus on the light as much, or even more so than the literal subject. I use high chroma colours to communicate this effect of light and my impression of the world surrounding me. I hope it does not sound too grandiose to say that the natural world is my inspiration. Whether it is the Coves of Cornwall or the Highlands and Islands of the west coast of Scotland, I am moved by the natural beauty of the UK.
The works of Boston School painters, such as Edmond Tarbell, Joseph de Camp, and Frank Benson, had the greatest influence on my work and style to date. These artists, active at the end of the 19th and beginning of the 20th century, travelled to Europe to study the artistic traditions with some of Europe's best-known artists and teachers of their day. At that time, Claude Monet was achieving things with colour and light that were revolutionary to the art world. The Boston School painters became influenced by this more colourful approach and incorporated it into their own philosophy of truth and beauty. Through institutions such as the Guild of Boston Artists and the Fenway Studios, the current movement maintains a link with the past.
A: What do you hope viewers take away from viewing your work?
OM: I can only hope that viewers come to appreciate my personal perspective, and develop an affinity for the world I'm trying to represent. People often choose to hang works on their walls because of their connections to the places and the feelings they evoke. I like the idea of viewers simply taking pleasure in recognising surroundings with which they are familiar. I hope that my paintings of iconic British landmarks, like Richmond Bridge or Isleworth, might bring up fond memories for those who have visited. Ultimately, I want my art to leave people feeling satisfied. I never want my viewers to be left wanting more.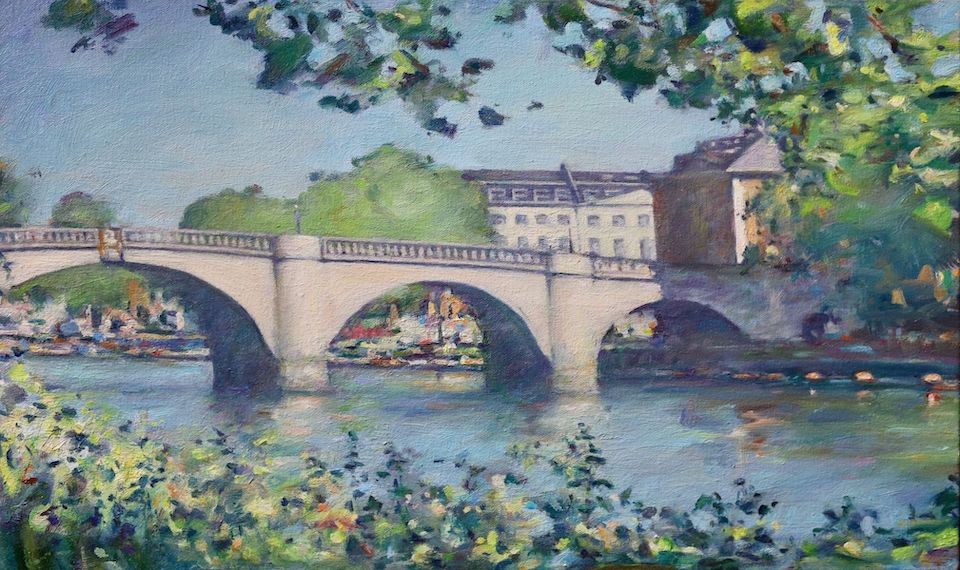 A: What's next? Do you have any new series, exhibitions, or publications in the pipeline?
OM: I am constantly developing new series of work. Recent lockdowns and fuel shortages have kept me in London, and I have kept my focus mainly on the Thames. I have also been working on some figures in interiors done in chalk pastel that I hope to feature in my future exhibitions. In December I will be exhibiting at the Russell Gallery Christmas Show, which will feature my Richmond Bridge painting and other works from my latest collection. Any additional exhibitions will be announced on my Instagram @OliverMaughan and my blog (olivermaughan.com).
---
olivermaughan.com | @OliverMaughan
---
All images courtesy Oliver Maughan.
1. Sun Inn, Barnes
2. Albert Bridge from Battersea
3. Boat Yard Isleworth
4. Storm Clouds Over Sanna Bay
5. Richmond Bridge