Aesthetica Magazine is renowned for curation and for talent spotting. There is a certain visual aesthetic that defines what we do. We look for images that change the way we see the world – inviting viewers to explore a new set of possibilities. How do you take a photograph in an original way? How far can you push the concepts in order to create something that contributes to wider discourse on image-making? Find out more with some of our favourite photographers from over the years.
First up (shown above) is Cig Harvey, here with the image Sadie & the Moon (2013). Harvey has a way of telling complex human stories through a minimal but impacting style. The images are full of stark contrasts; vivid colours stand out against bleak backdrops; hands intersect with nature and shadows dance across domestic scenery. Although the works are dreamlike, the recognisable subjects keep them grounded in real life, reflecting on the surrounding wonder instead of trying to enhance it. cigharvey.com.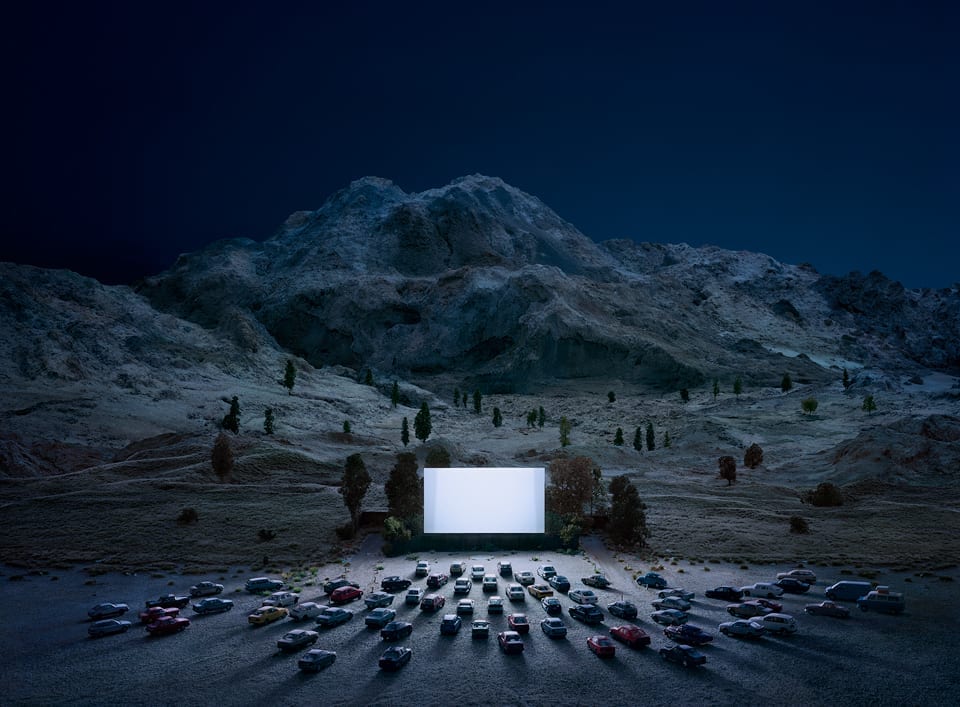 Thomas Wrede, The Luminous Screen (2015)
If there is an image that draws you in, it's this one – from the nostalgia surrounding the image of the "drive-in" to the way this experience has been transformed in 2021. Thomas Wrede's photographs traverse the lines between simulation and reality, manufacturing the colossal through the miniature. He uses commonplace objects for the staging of the images: toy cars, model trees and mountains. As a result, Wrede's analogue images depict something that is both monumental and sublime, but it is – ultimately – a replica. The event never took place in "real life." These are scenes that seem familiar, but they are transformed through miniature re-creation. thomas-wrede.de.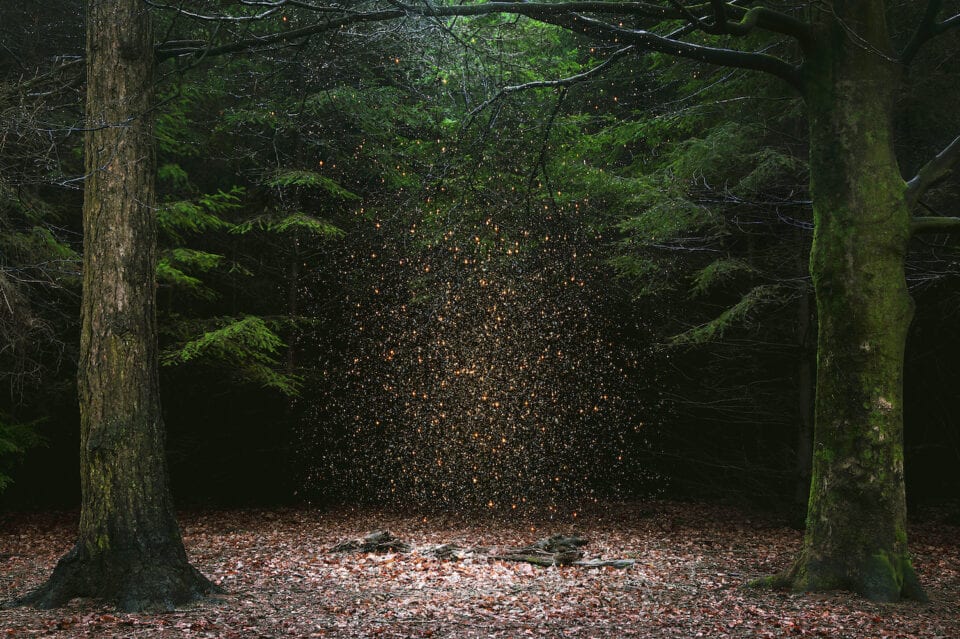 Ellie Davies, Stars 8 (2014-2015)
Stars 8 does so much in one space. Innately, we are drawn to nature and the enormity of the universe – we have an intrinsic inability to comprehend space and time on such a macro- level. Davies developed something spectacular here, not just compositionally, but conceptually. These images are beautiful of course – but these are also expertly made collages with real information. The stars came from the Hubble space telescope, bringing a sense of inter-connectivity that is simply not achieved in many other ways. If there is one thing that binds humanity together, it is our time on planet Earth. These images remind us of our fleeting existence on a grand scale. elliedavies.co.uk.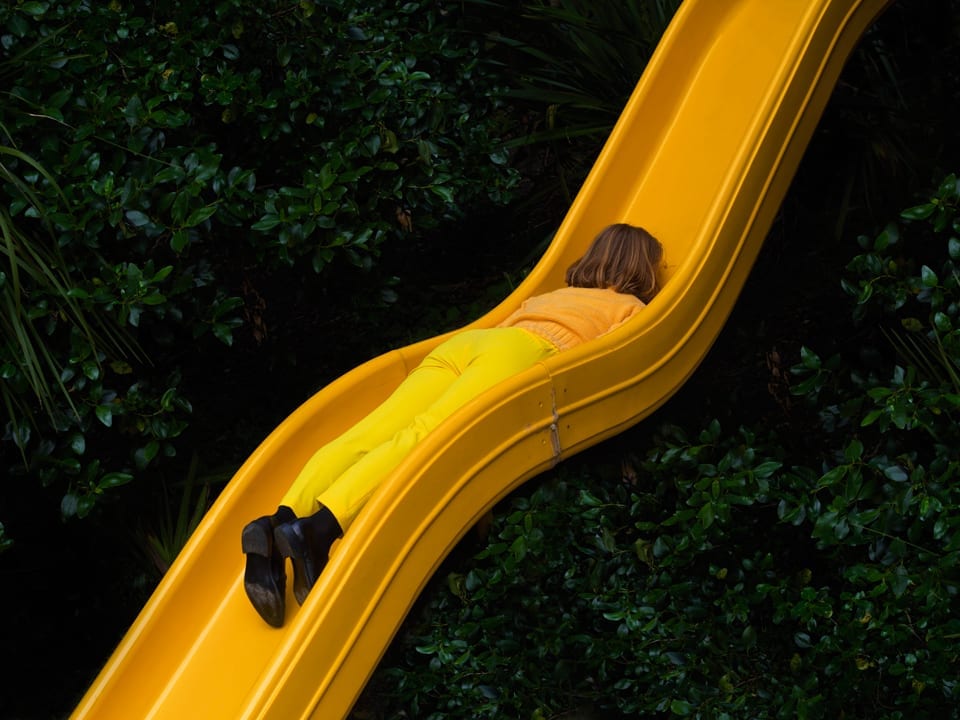 Ben Zank, VTL (2015)
Using the body as a muse is common, but it's how Ben Zank does it that is particularly transformative. It's the colour, styling and composition that takes this kind of photography just one step further. The yellows of the slide and jumpsuit blend together in a kind of fluid and anthropomorphic play. Every manmade structure, whether recreational or functional, is harnessed to project the human persona: an intangible concept which, through a singular instance, comes to life through curious investigation and reflective interpretation of surrounding topographies. The shape of the body is so compelling – even humorous – that you can't help but want to try this at home. benzank.com.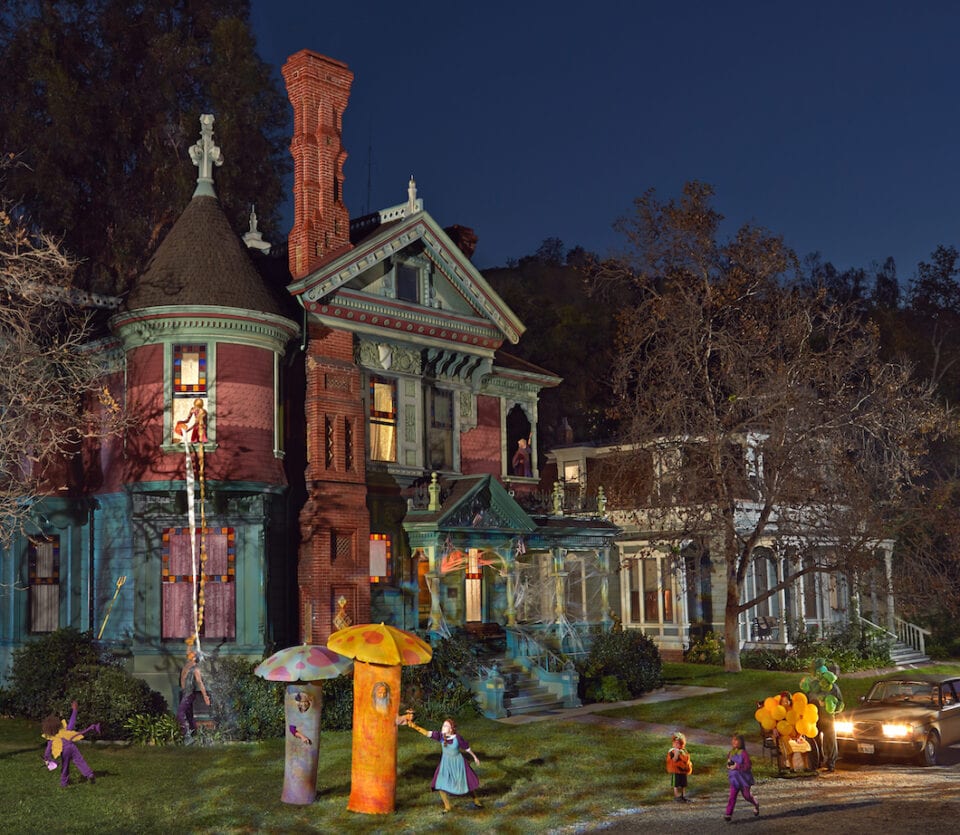 Ryan Schude, Halloween (2014)
Americana is ever-present in contemporary visual culture. It seemed to reach new audiences about a decade ago – the saturation of gas stations, highways and wooden houses was immense. Ryan Schude cut through the noise and did something different. He introduced an element of the imaginary fused with Gothic fairy-tale. This brought Americana back into the fold but in a hyperreal way infused with technicolour. Halloween harks back to a golden age of advertising; its pervasive nostalgia is enriched by humorous detail, and choreographed tension throughout. This version of culture isn't about what's in front of you, but what lies under the surface. ryanschude.com.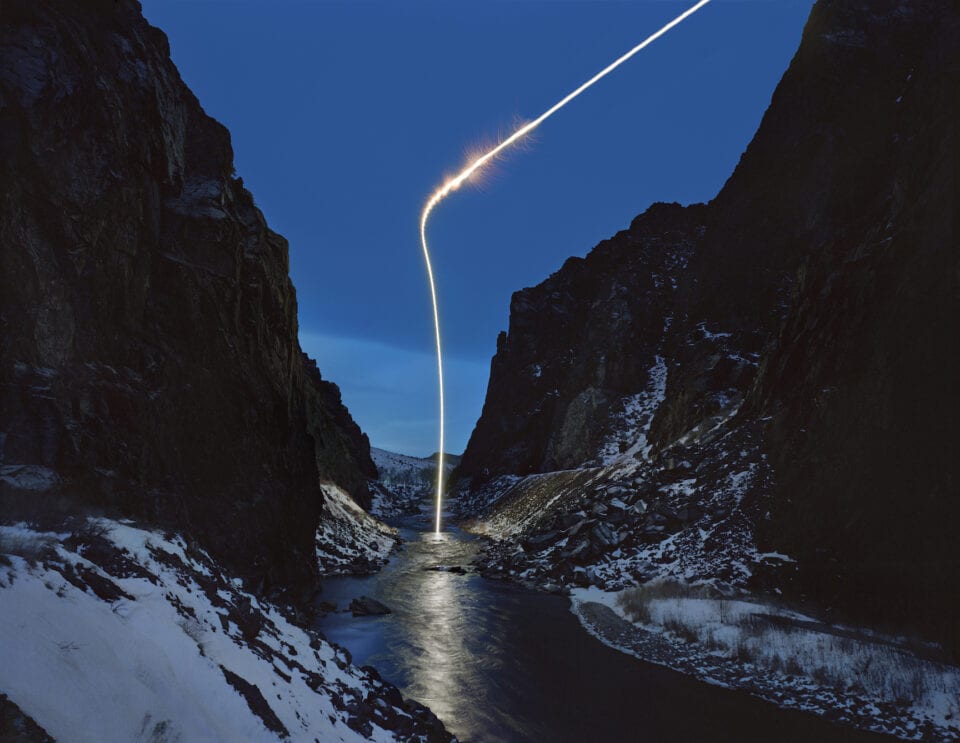 Kevin Cooley, Wind River Canyon Wyoming (2009)
Not many photographers ignite the imagination like Kevin Cooley. His projects are all different, and there is something remarkable about that. You cannot predict what he will do next, which is why we are always looking. The images in the series At Light's Edge provide desolate views of American landscapes illuminated by eerie distress signals – messages coming from above or vice-versa. Lightning that shoots or falls through the sky highlights the vulnerability of the land. In many ways, this photography was very much ahead of its time in terms of ecological dialogues. The message is loud and clear: we need the natural and the manmade to co-exist. kevincooley.net.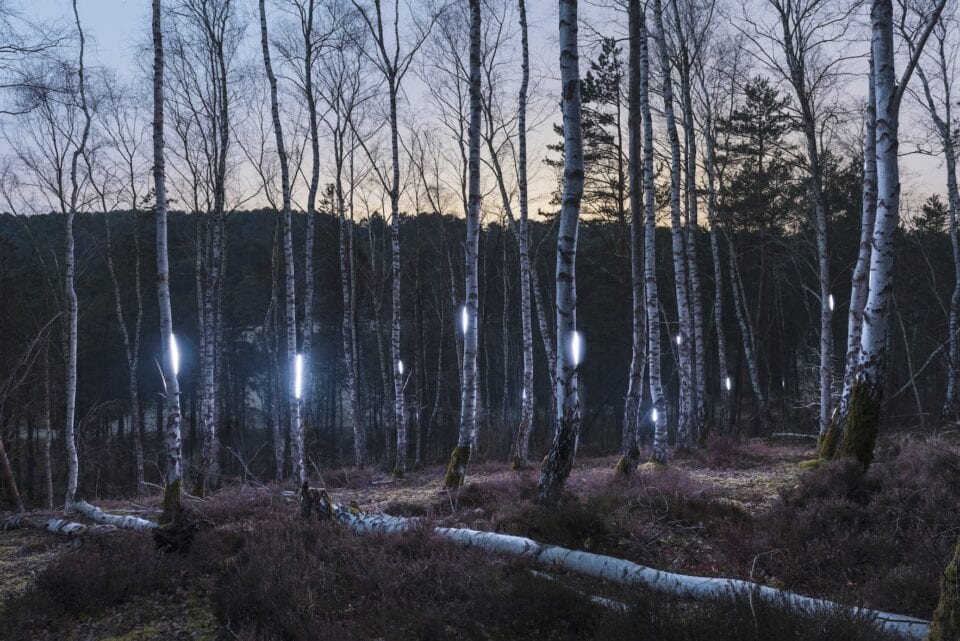 Alexis Pichot, Marche Céleste #11 (2017)
Light installations will always be bewitching to the eye. From the "skyspaces" of James Turrell to the neon tubes of Dan Flavin, we are consistently drawn to fluorescent light fixtures, especially when they intervene with natural landscapes. Alexis Pichot worked as an interior designer in Paris for more than 10 years, during which he became sensitive to the use and manipulation of space. Later, Pichot moved his attention away from the bustle of the city into the welcoming mystery of the landscape. Marche Céleste is utterly captivating – shot in the forest of Fontainebleau, France. Deeply mystical and ritualistic, the intimate photographs re-establish us with the supremacy of nature. alexispichot.com.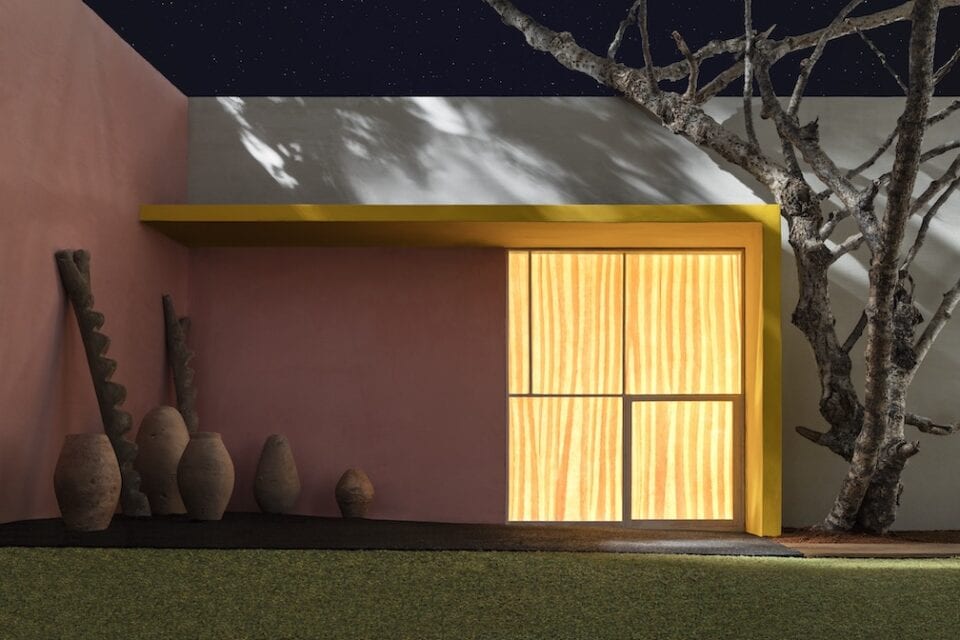 James Casebere, Yellow Overhang with Patio (2016)
For almost 40 years, James Casebere has devised illusory table- top models, creating thought-provoking and visually deceptive photographs. Closely associated with the Pictures Generation, the artist's early practice was characteristic of Postmodern cultural appropriation. Moving into recent years, Casebere's illusionistic landscapes have been meticulously assembled by hand, inspired by a variety of spatial and architectural realities, from the subprime mortgage crisis of 2008 to the works of Mexican architect Luis Barragán. The structures are carefully lit, photographed in the artist's studio, and are endlessly intriguing – playing with light in constructed worlds. jamescasebere.com.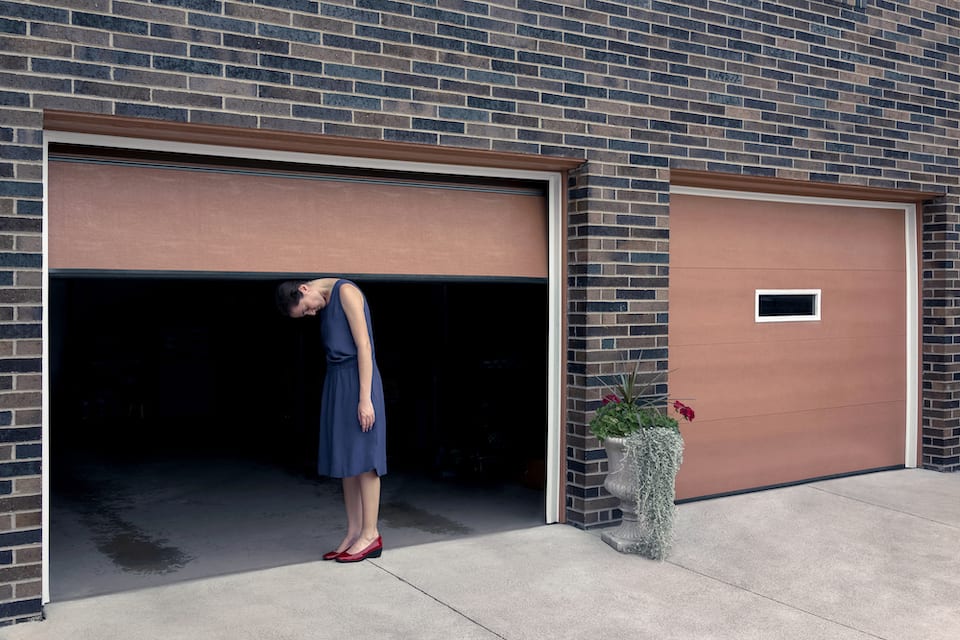 Brooke DiDonato, Closure (2016)
"Uncanny" photography has swept the globe in recent years – images set within domestic locations, teetering on a sharp line between something familiar and deeply unsettling. Obscured identities, repressed emotions and precarious – even dangerous – situations presented to curious onlookers. Brooke DiDonato is a master of the surreal, offering images filled with palpable tension. Closure is one such example: a figure bends over, neck held downwards by the edge of a garage door. DiDonato's oeuvre follows as such: windows, staircases and pavements are part of bizarre scenarios that call into question a sense of tantalising unease which is nonetheless mesmerising. brookedidonato.com.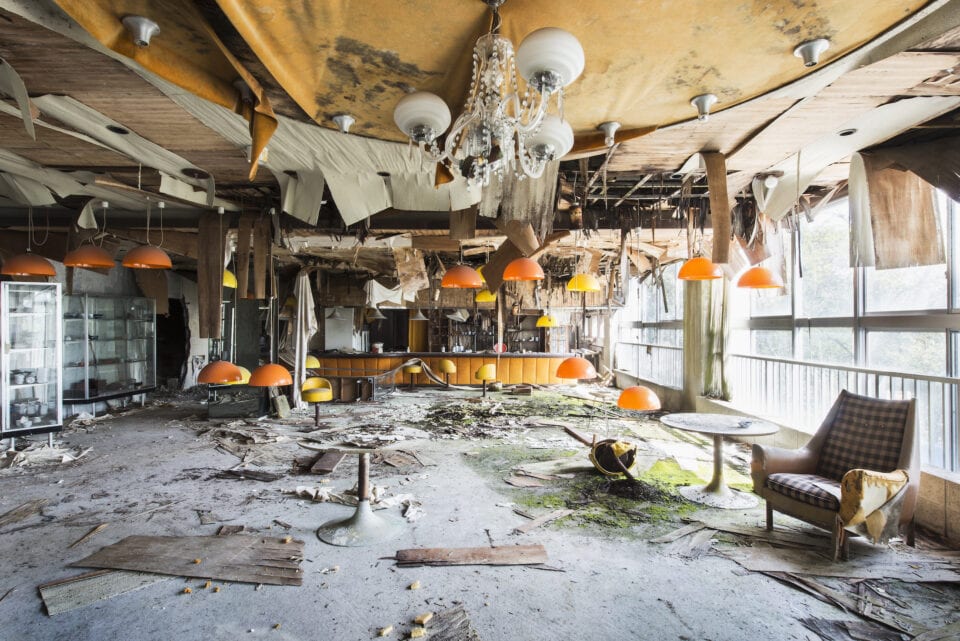 Reginald Van de Velde, Seventies Extravaganza (2012)
Finding beauty in decay became a popular theme in photography over the past decade. People started seeking out places that had been reclaimed by nature, sneaking into Chernobyl to capture abandoned rooms. There is something compelling about these images because you start to think about what life would be like if humanity was gone – the world starts a rewilding process. These images question the value that we place on certain locations. If there is one photographer who gets it right every time it is Reginald Van de Velde. His work takes you back to forgotten places – the details live in your mind and you can't escape the bewilderment of deserted spaces. suspiciousminds.com.
---
Image Credits:
1. Cig Harvey, Sadie & The Moon (2013). Courtesy of the artist.
2. Thomas Wrede, The Luminous Screen, 2015, 95 x 130 cm / 140 x 200 cm, from the series: Real Landscapes.. Courtesy of the artist.
3. Ellie Davies, Stars 8, 2014 – 2015. 80cm x 120cm. Source material credit: STScI/Hubble and NASA. Courtesy Ellie Davies/Crane Kalman Brighton Gallery UK.
4. Ben Zank, VTL, 2015.. Courtesy of the artist.
5. Ryan Schude, Halloween, 2014.. Courtesy of the artist.
6. Kevin Cooley, Wind River Canyon Wyoming, 2009, chromogenic print, singular edition of 7+1ap, 30×38.5 and 48.5×60". Courtesy of the artist.
7. Alexis Pichot, Marche Céleste # 11. Courtesy of the artist.
8. James Casebere, Yellow Overhang with Patio, 2016. © James Casebere, courtesy: Sean Kelly, New York.
9. Brooke DiDonato, Closure, 2016. Courtesy of the artist.
10. Reginald Van de Velde, Seventies Extravaganza. The view inside the lobby of a former Japanese hotel. Named the Kuroshio Inn this hotel is located on the island of Awaji. Neatly built atop a hill it allowed guests to enjoy the most spectacular vistas on the Pacific coastline. Its remote location contributed to a decline in visitors, and it went out of business in the early 1980s. Courtesy of the artist.