Korean artist Anicka Yi (b. 1971) has long explored the thresholds of human, animal and robotic intelligence. Now she has filled Tate Modern's Turbine Hall with giant floating robotic lifeforms, somewhere between mushrooms, jellyfish and spaceships, asking viewers to consider how we might share the planet with new forms of sentient life.
Born in Seoul, Yi rose to prominence in New York with a string of shows that occupied the cusp of art, biology and technology. Over the last decade, this has taken her from comic Dadaish gestures such as Sister (2011), a turtle-neck sweater stuffed with a bouquet of tempura-fried flowers, to more immersive works that ask audience members to respond with their senses as well as their minds. Throughout this period, a primary tool in the artist's lexicon was the activation of smell.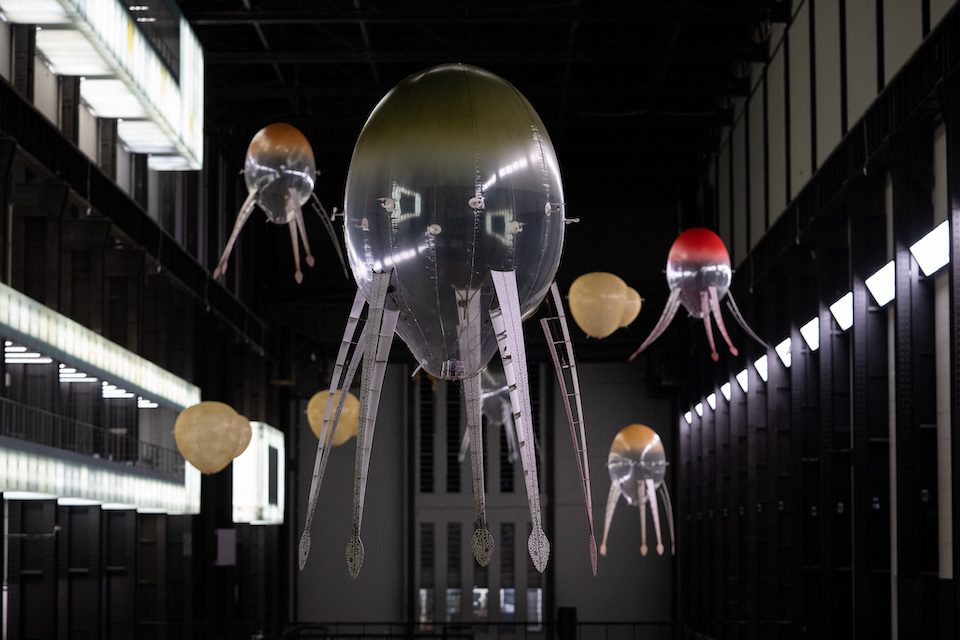 In 2015, for You Can Call Me F at New York's The Kitchen, Yi covered a backlit rectangular sign – like an ad billboard laid flat – in bacteria samples taken from 100 of her female friends. The different colours of the samples as they flowered and grew highlighted the lettering of the exhibition title against its background, while the installation reportedly gave off a disturbing yet intriguing smell. In 2019, for the Venice Biennale, she exhibited two works under the title Biologizing the Machine, trapping fluttering animatronic insects inside huge seedpods of leathery kelp, and displaying cross-sections of soil whose temperature, water-levels and lighting were controlled by AI in response to bacteria released into the glass-encased panels.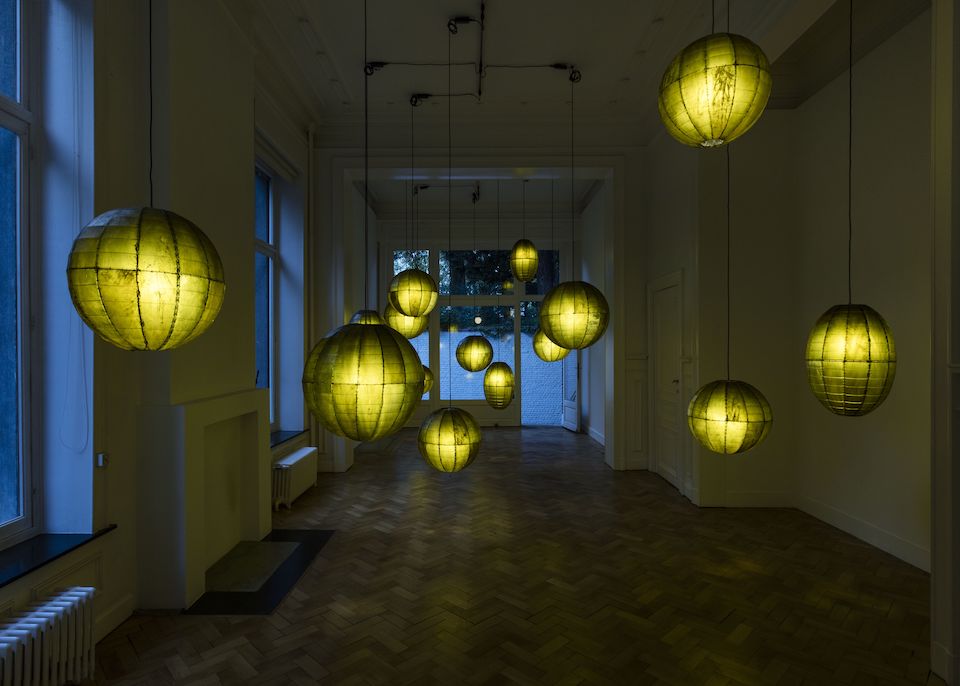 This current project, for the Tate's legendary Turbine Hall, offers a vision of a future ecosystem in which biomechanical organisms co-exist with (or perhaps emerge in the wake of) human life. A set of huge oval-shaped cephalopods with downward-facing, spiky tentacles floats in the air above the heads of visitors, an intriguing yet perhaps subtly threatening presence. Known as "aerobes," their octopus-like form seems to riff off the dystopian sci-fi spectacle of H.G. Wells's War of the Worlds, for example, or the bizarre alien imagery of illustrator H.R. Giger, which entered popular consciousness through Alien film franchise. A weekly cycle of "scentscapes" will, in the spirit of Yi's earlier work, oblige viewers to engage with the work on an olfactory as well as visual level.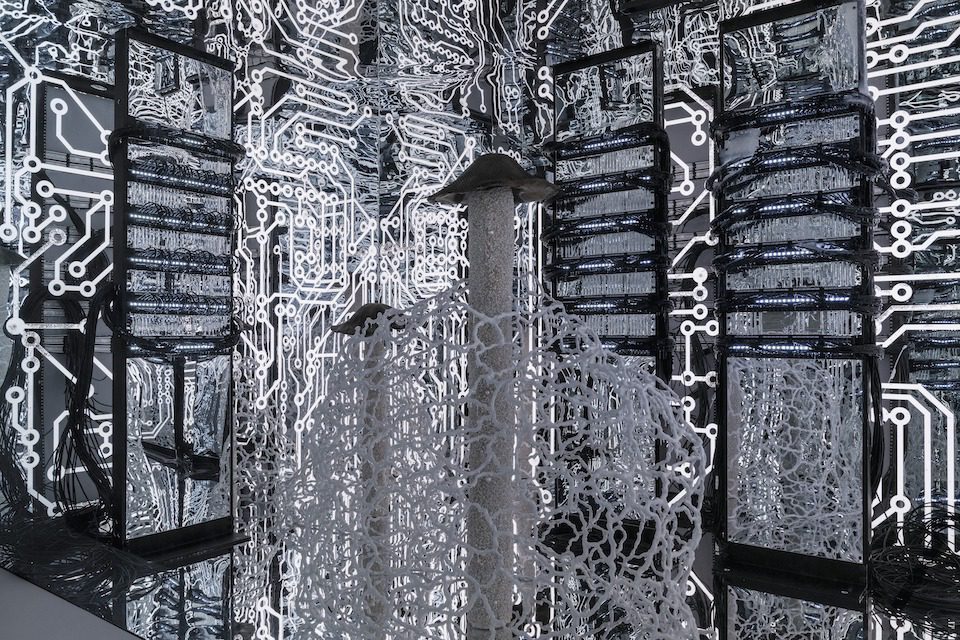 Whimsically titled In Love With the World, the installation poses gently troubling yet necessary questions about the extent to which human technology and culture have come to dominate the planet, whilst simultaneously sowing the seeds for their potential co-option by artificial life. Might it be possible for not-yet-existent creatures of weird, biomechanical provenance to "love" the world in the same way that we do? And what will that sense of attachment and ownership mean for our own future as a species: how will we have to adapt, learn to cohabit? Will we be erased, as other species have by our own co-option of their space and resources? Yi's installation is a vital and thrilling spectacle for our times.
---
Hyundai Commission: Anicka Yi will run at Tate Modern until 16 January 2022. Find out more here.
Words: Greg Thomas
---
Image Credits:
1. Anicka Yi, Biologizing The Machine (Tentacular Trouble), 2019. Image courtesy of the artist, Gladstone Gallery, New York & Brussels, and 47 Canal, New York. Photo: Renato Ghiazza.
2. Installation view of Hyundai Commission: Anicka Yi at Tate Modern, October 2021. Photo by Will Burrard Lucas
3. Anicka Yi, We Have Never Been Individual, at Gladstone Gallery, Brussels, 2019. Courtesy the artist and Gladstone Gallery, New York and Brussels.
4. Anicka Yi, Lifestyle Wars, 2017 (detail), Courtesy the artist and 47 Canal, New York. Photo: David Heald Solomon R. Guggenheim Foundation.
5. Installation view of Hyundai Commission "Anicka Yi: In Love With the World" at Tate Modern, October 2021. Photo by Will Burrard Lucas.