The gut microbiome is considered by some as one of the most significant health discoveries of our age. Bigger than the human brain, epidemiologists suggest that it impacts everything from immunity to appetite and anxiety – containing trillions of bacteria, archaea, fungi and viruses. Meanwhile, antibiotic-resistant bacterial infections and "superbugs" continue to make headlines; the overuse of antibiotics in recent years means that the drugs are becoming less effective at treating illnesses. This is just some of the science behind Anicka Yi's (b. 1971) solo show at Pirelli Hangar Bicocca, Milan, in which bacteria features heavily. In one series of portraits, for example, the artist uses them as a material: creating paint developed from the sweat samples of obliging friends and colleagues.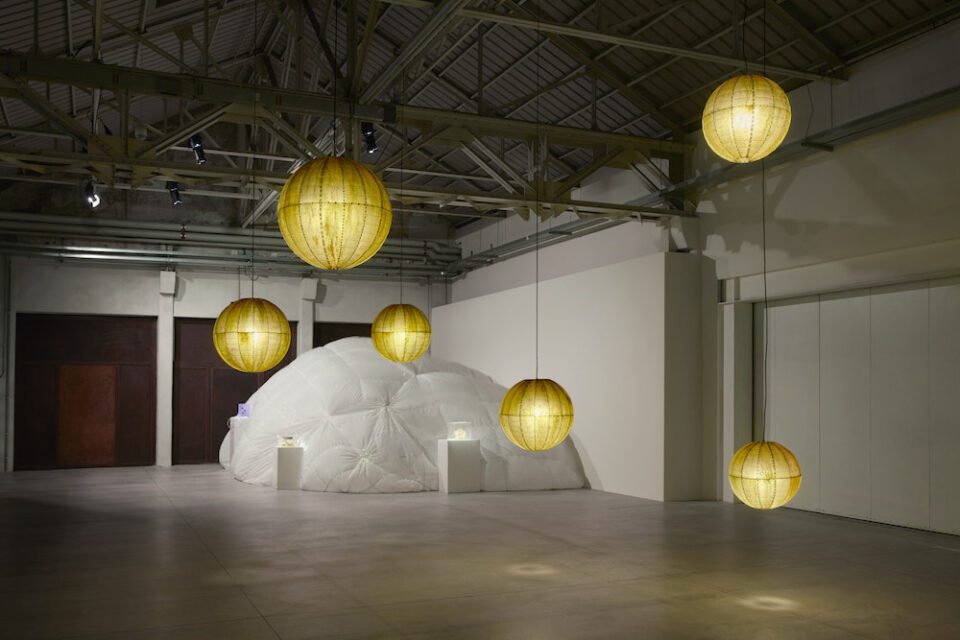 Yi is an artist who collaborates frequently with scientists of different disciplines: microbiology, information technology and even perfume. Biologizing the Machine (spillover zoonotica) (2022) is a case in point: a series of seven Winogradsky columns – cultivated bacterial ecosystems used to study the behaviour of micro-bacterial communities – made in partnership with the Department of Earth and Environmental Sciences of the University of Milan-Bicocca. This work features in the Korean-born contemporary artist's first solo show in Italy, among more than 20 installations made between 2010 and the present. Metaspore, the show's title, is a term invented by the artist to describe a universe inspired by the type of cellular reproduction that occurs in fungi.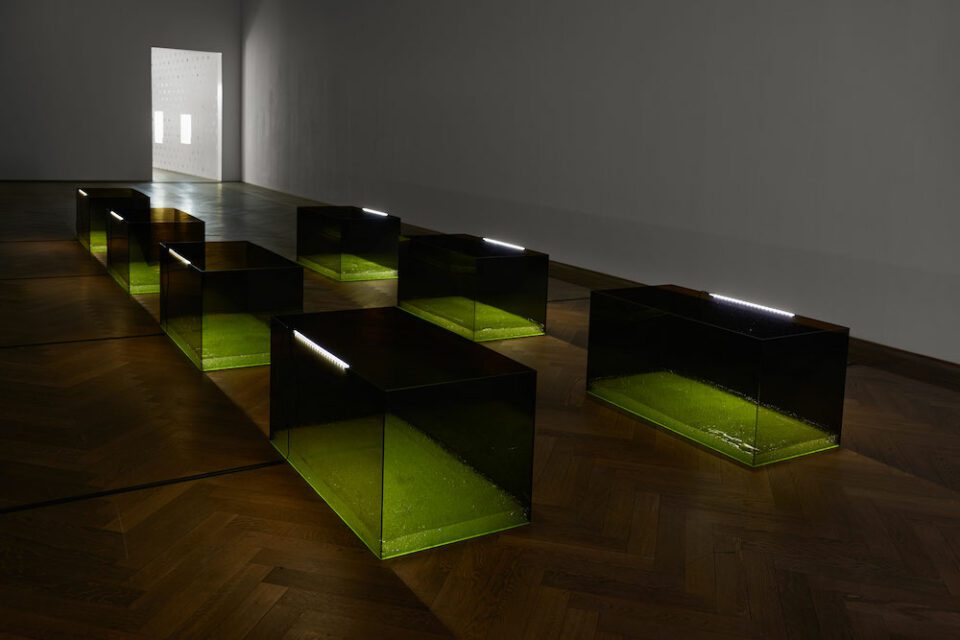 In Tate's Turbine Hall earlier this year, Yi invited visitors to consider what it might mean to share space with non-organic creatures that could exist independently. It might sound like the stuff of science fiction, but this scenario is becoming ever more plausible. The Autonomous Robot Evolution (ARE) project – run by researchers at Edinburgh Napier, University of the West of England, the University of York and Vrije Universiteit Amsterdam – for example, "focuses on a disruptive robotic technology where robots are created, reproduce and evolve in real-time and real space. The long-term vision is a technology enabling the evolution of entire autonomous robotic ecosystems that live and work for long periods in challenging and dynamic environments without the need for direct human oversight."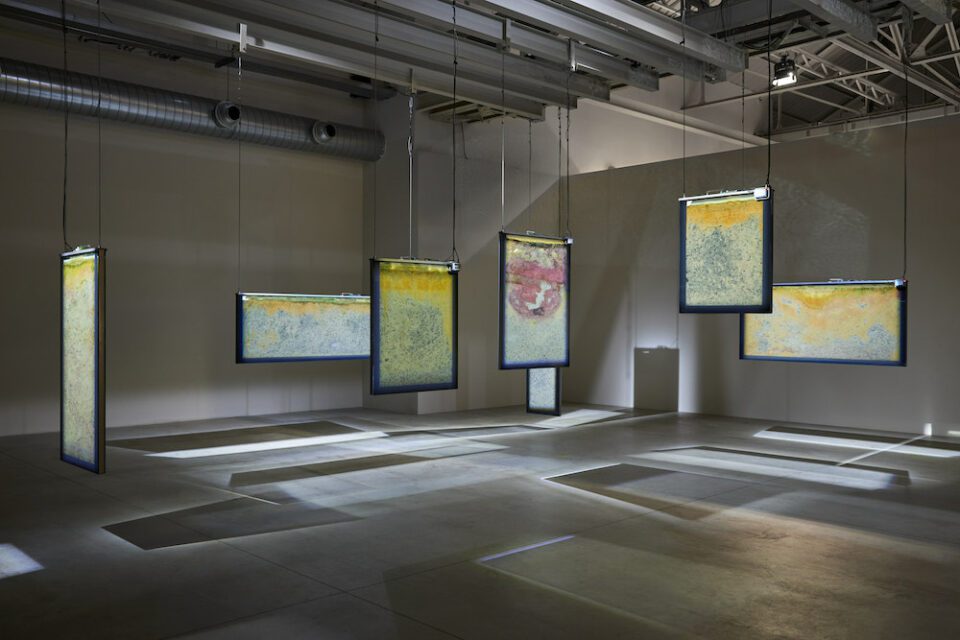 Yi's glowing, globe-like LED-lit kelp sculptures Releasing the Human From The Human (2019) continue this line of enquiry, questioning the dominance of humans over other forms of life and consciousness, whether found in nature or technology. Each contains a tiny gadget that flits around inside like a trapped moth. This isn't art that hangs politely on a wall. It is tactile, inviting multi-sensory engagement with its luminescent, hairy, slimy forms – which sometimes emit distinctive odours. Audiences are encouraged to feel disgust but also a sense of kinship. The message: life is a continuum. We fleshy machines, teeming with bacteria, aren't so different from the rest of matter on Earth.
---
Anicka Yi: Metaspore is at Pirelli Hangar Biocca, Milan until 7 August
Words: Rachel Segal Hamilton
---
Image Credits:
1. Anicka Yi Biologizing the Machine (spillover zoonotica), 2022 Installation view, Pirelli HangarBicocca, Milan, 2022 Commissioned and produced by Pirelli HangarBicocca, Milan Courtesy the artist and Pirelli HangarBicocca, Milan Photo Agostino Osio
2. Anicka Yi "Metaspore," exhibition view, Pirelli HangarBicocca, Milan, 2022 Courtesy the artist and Pirelli HangarBicocca, Milan Photo Agostino Osio
3. Anicka Yi "Metaspore," exhibition view, Pirelli HangarBicocca, Milan, 2022 Courtesy the artist and Pirelli HangarBicocca, Milan Photo Agostino Osio
4. Anicka Yi Biologizing the Machine (spillover zoonotica), 2022 Installation view, Pirelli HangarBicocca, Milan, 2022 Commissioned and produced by Pirelli HangarBicocca, Milan Courtesy the artist and Pirelli HangarBicocca, Milan Photo Agostino Osio