Halcyon Gallery was founded in 1982, specialising in modern and contemporary art. The space is one of the oldest and most significant of the period, preceding the openings of major commercial galleries such as The Saatchi Gallery in 1985 and White Cube in 1993. It boasts an impressive array of works, spanning the likes of renowned and contemporary masters Claude Monet, Henri Matisse and Salvador Dali, alongside David Hockney, Santiago Montoya and Wang Tingxin. Its previous exhibitions include Unseen in 2021, with a rare collection of Andy Warhol silkscreen graphics and The Art of Printmaking in 2023, in a retrospective on Pablo Picasso's printmaking.
In May, the gallery moved into its new flagship site at 148 New Bond Street, Mayfair. The space, previously occupied by The Fine Art Society from 1978 to 2018, has a rich and established history. Its entrance façade was designed in 1881 by Edward William Godwin, who envisioned an Art Nouveau arch that crested over two stories. This was followed by a redesign by George Faulkner Armitage in 1887, using panelled mahogany to "create a domestic environment in which society's upper-class clients would have been completely at ease," according to curator Hilarie Faberman.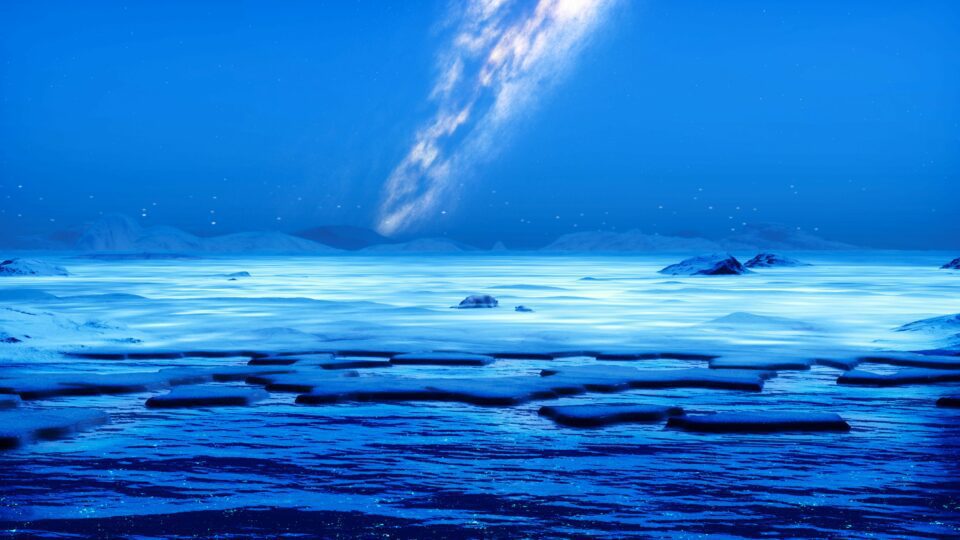 The renowned location is now a cutting-edge space that is well-suited to the groundbreaking exhibition Feeding Consciousness by British artist Dominic Harris (b. 1976) which was chosen as the inaugural exhibition at Halcyon Gallery's new home. Harris qualified as an architect in 2003, before going on to work for the avant-garde architectural practice Future Systems. In 2007, he founded his own studio in Notting Hill, where he and his design team engineer, code and fabricate his artwork and installations. In 2021, he created All That Flutters Turns to Gold, a wall of golden butterflies permanently installed on Ouronyx store walls in Dubai and London. In August this year, Every Wing has a Silver Lining, a 52-foot-wide video installation that depicts a silver shimmering frieze, reactive to the moments of viewers, showcases on Norwegian Cruise Line's new ship in its Metropolitan bar.
The show at Halcyon is Harris' most ambitious display to date, noted by Art Plugged to be as "aesthetically breathtaking as it is thought-provoking, presenting a new parameter of contemporary art." Eighteen powerful works relay immersive and interactive experiences, reminiscent of the cross-disciplinary art of Aziz + Cucher and the digitally conscious practice of Krista Kim. Visitors are transformed from viewers to participants, empowered to communicate with ancient gods, create lightning strikes, shape landscapes and step into alternate worlds thousands of miles removed from the city.
Harris says, "I'm proud that Feeding Consciousness is the first ever exhibition at Halcyon Gallery's new flagship gallery in London. Alongside my tireless and brilliant team in the studio. I've dedicated the last few years working to upend our increasingly banal and transactional relationship with the digital space by presenting its possibilities afresh. We try to pioneer a form of digital art that lives in the physical world and which helps enlighten and enrich out true consideration of reality."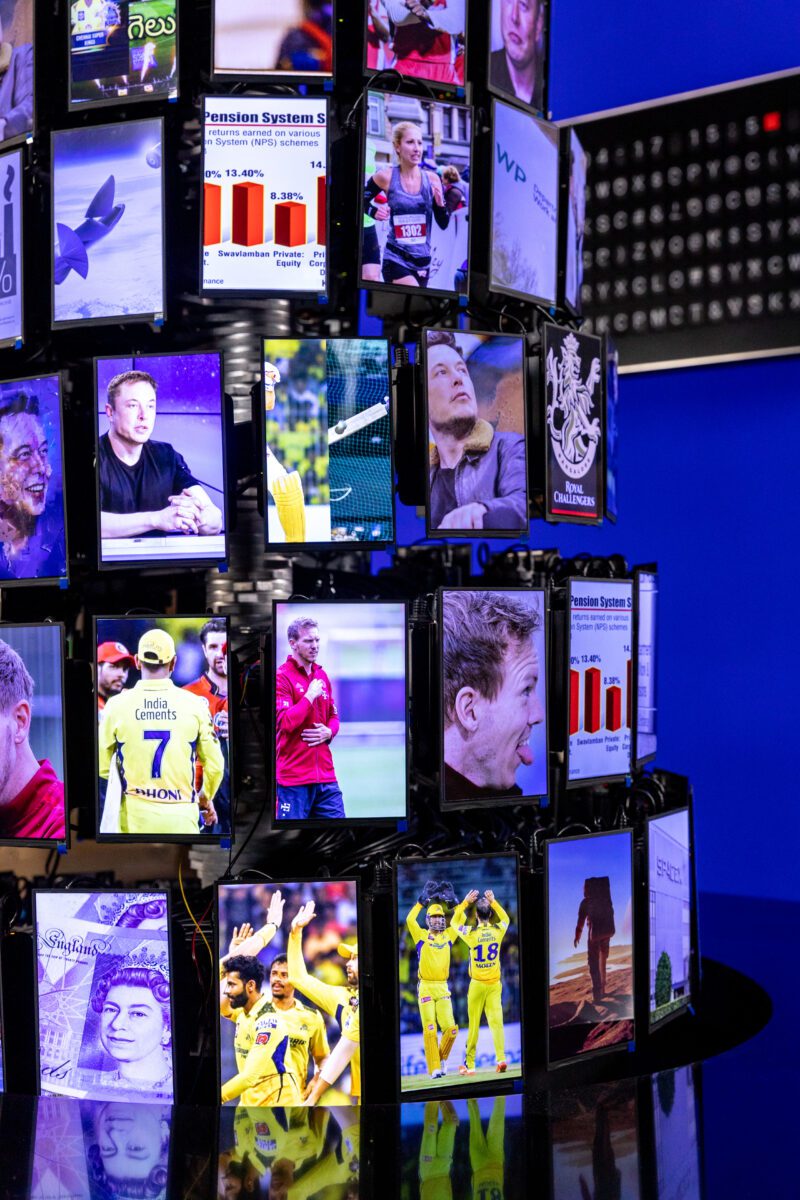 Reality, the digital and physical worlds and the rise in Artificial Intelligence are certainly live topics of the moment. In May, hundreds of AI scientists, researchers – including OpenAI chief executive Sam Altman and Google DeepMind chief executive Demis Hassabis – voiced deep concern for the future of humanity, signing a one-sentence open letter on the Centre for AI Safety Webpage, warning the risks of advancing technology. It noted, "Mitigating the risk of extinction from AI should be a global priority alongside other societal-scale risks such as pandemics and nuclear war." Dan Hendrycks, Executive Director of the Center for AI Safety said the situation was "reminiscent of atomic scientists issuing warnings about the technologies they've created," warning the additional risks of "systemic bias, misinformation, malicious use, cyberattacks and weaponisation."
These concerns are central to Harris' work  especially embodied in the namesake for the exhibition, Feeding Consciousness, a 10-foot digital sculpture that harnesses datasets, as it presents the top five trending subjects on Google's UK search engine. The piece is inspired by the biblical story of the Tower of Babel, a parable that describes a group of ambitious people punished for attempting to reach the stars. It draws on the dangers of hubris, applying this to notions of modern-day communication, exploring the way in which we have come to casually consume information. Topics that dominate collective consciousness are splashed across 180 LCD screens and a split-flap Solari display, as they momentarily appear and disappear. Latest news titles wax and wane in a continual state of flux, providing a commentary on the false data Hendrycks references. The work broaches the contemporary and the historic, combining cutting-edge technology with a electro-mechanical board once associated with traditional train stations and airports. Palpable is a sense of time passing, showing the ever-shifting search for palatable and factually correct material.
Harris explains: "Feeding Consciousness looks at the volume of what people are talking about right now, so, what we're seeing is in real life the top five trending topics, straight from Google. This tower can never be completed but you can't look away in case you miss something, and it yields some amazing moments."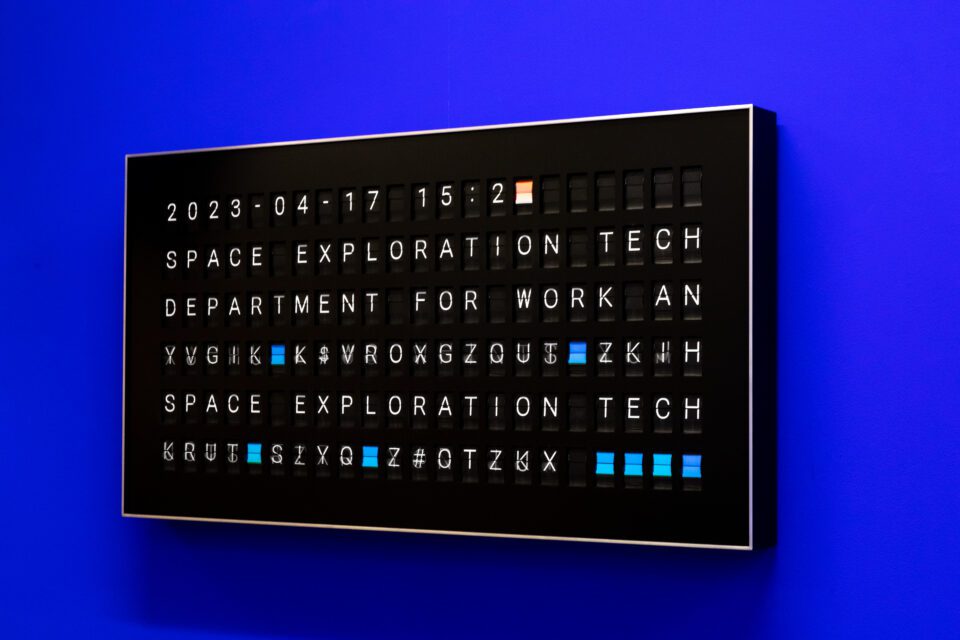 Technology and finance, meanwhile, coalesce in Limitless (2023), a shard-like sculpture on a screen that attempts to visualise the flow of the FTSE share index. The eight-foot tower, made up of gold blocks, is animated by a live data feed from the London Stock Exchange, where each block represents a company "shining or tarnished" by its rising or falling valuation. We are reminded of the art market's buoyancy, showcased with recent sales by Christie's and Sotheby's, reaching $124.7 million and $175.8 million respectively according to the Financial Times. These numbers, however, are "subdued" according to Christine Bourron, Chief-Executive of Pi-eX, adding "this was the worst performance since 2008." This is hardly surprising given the state of the wider economy – Russia's invasion of Ukraine, the plummeting index of tech stocks, whilst the cryptocurrency Etherum, used for most NFT transactions was down by 62% at the start of the year according to The Art Newspaper. Combined with major inflation, interest rate rises and increasing debts, the industry is not untouchable, but susceptible to change. Harris notes this receptivity, incorporating it into the artwork, where, when blocks are touched, faces of CEOs of the companies are revealed "reminding us that the market is a product of human action and decision-making."
Elsewhere, there is a 360-degree immersion into a Antarctic landscape, reminiscent of the fluid sculptures of Refik Anadol's Machine Memoirs (2022). A series of screens imagine the exploration of Ernest Shackleton on his 1914 expedition. Extreme regions of frozen beauty shift across panels of glass, moving from arctic foxes to atmospheric depths below the ice shelf. In preparation for the project, Harris read from the crew's journals, discovering an extraordinary expedition coloured by both awe and fear. What struck him was the sheer vulnerability of people when faced with the unrelenting power of nature. The work looks to the present, understanding that current industries pose a direct threat to polar environments. According to the World Wildlife Foundation, the Arctic's temperature has already risen at a rate of almost three times the global average, where the summer sea ice is shrinking by 13% per decade. The 1.5°C degree temperature increase, pledged by G20 leaders in 2015 to limit global warming, has been predicted by the BBC to be broken. Research suggests there is a 66% chance we will pass the threshold between now and 2027 due to rising emissions from human activities. Implicit is the impact of technology on the climate crisis – where processes of mining and machinery, essential to the construction of tablets and devices, enforce an intensive extraction process.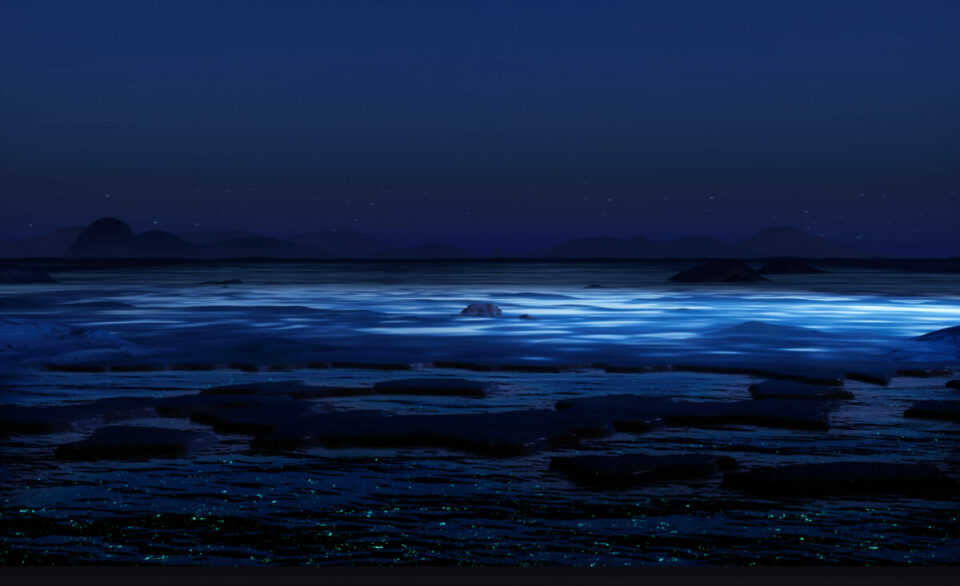 Harris' environments consider the tension between human touch and the cyber realm. In conversation with ArtNet in May he explains, "What perhaps would surprise people is how physical my digital pieces are. My artworks have a physicality that places them firmly within human space. I trained and qualified as an architect, and perhaps consequentially have always been drawn to the human scale. The architect in me resurfaces continuously, for example in my absolute fascination with the micro-scalar structure of a butterfly's wing, or perhaps in understanding and interpreting other physical structures." He highlights the importance of respecting the natural world in Elements (2022), as he returns to the motif of butterflies. The touch display depicts the insects in black square screens, categorised according to five fundamental concepts: Earth, Fire, Metal, Water and Wood. The collection portrays the cycle of creation, growth, transformation and destruction, echoing the installation rooms of Damien Hirst such as In and Out of Love (1991). Harris, rather than working with real butterflies, produces a work that preserves and persists in an intricate weaving of code. Reach out, and hundreds of wings take off in all directions, accompanied by a soundtrack that embodies each environmental category.
Harris continues: "Using technology as my palette, I'm increasingly finding ways to better depict the natural themes I study. Technology is an absolutely wonderful way of expressing the intricate complexities of the natural world and simulating the incredible phenomena found within it."
Feeding Consciousness portrays the advances of technology, alongside its potential for damage. It examines structures of control, looking at where power and influence coalesce, according to individuals. Combining touchscreens, cameras and sensors, Harris surveys society in a watershed moment, as he levels a kind of damage control, creating a symbiotic connection between composition and an individual viewer. The resulting exhibition achieves an extraordinary level of detail, as it deepens the question between how we create and what we consume.
---
Feeding Consciousness
Halcyon Gallery, 148 New Bond Street, London | Until Early September
Words: Chloe Elliott
---
Image Credits:
1. Dioramas of the Divine Atlas, (2023) Dominic Harris
2. Endurance Polar Bears, (2022) Dominic Harris
3. Feeding Consciousness, (2023) Dominic Harris
4. Feeding Consciousness, (2023) Dominic Harris
5. Limitless, (2023) Dominic Harris
6. Endurance Polar Bears, (2022) Dominic Harris
---