Light is fundamental to art. This can be seen throughout history – from Caravaggio's dramatic 16th century paintings to Anna Atkins' pioneering photographic experiments in the 1800s. Today, we continue to be inspired by illuminations; the immersive, colour-drenched environments of James Turrell and Olafur Eliasson are popular examples. Discover luminous installations from the Aesthetica Art Prize.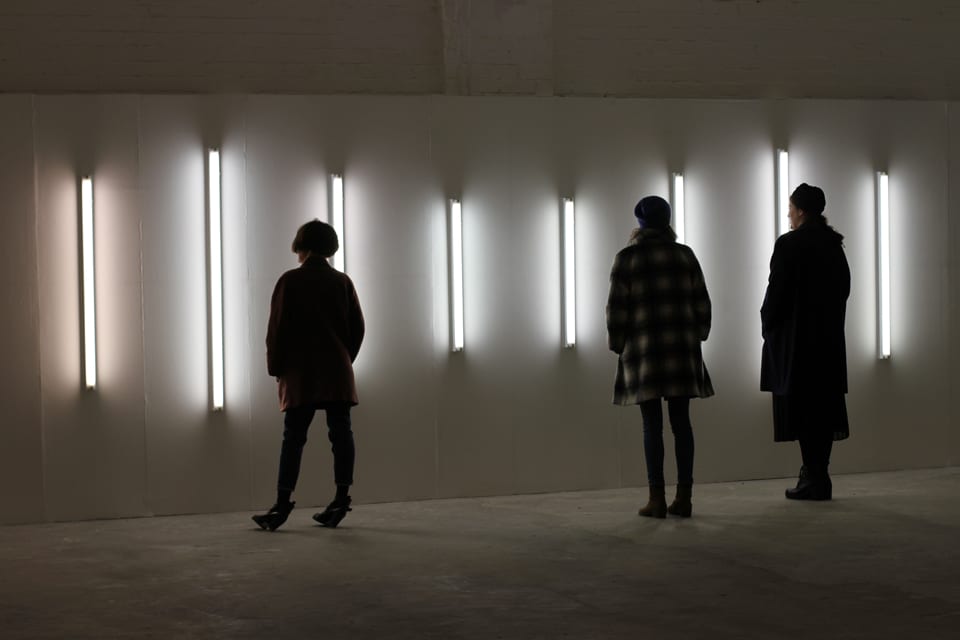 Helena Hamilton
Belfast-based artist Helena Hamilton works at the intersection of interactive computer programming, visual art and sound. Untitled (With), shown above, is an interactive audiovisual work. Eight fluorescent tube lights are transformed into a live, "conductible" orchestra. The result is a sensory experience that involves the audience. Hamilton describes her work as being "about being in the moment, being present… challenging how we perceive our realities in our contemporary, fast-paced lifestyle."
---
Hristina Sekuloska and Irena Milojeska
Collaborators Hristina Sekuloska and Irena Milojeska are inspired by architecture, creating installations which challenge the boundaries between "the spatial and the temporal, the physical and psychological." Space Installation 0.01 (featured above left) takes the concept of home and transforms it; it is open to multiple interpretations. Glowing blue lines strike down in circles, creating shafts of light.
Aaron Robinson
Aaron Robinson is interested in the interaction that takes place between the viewer and their environment, establishing a connection between the two. Working across mediums and incorporating technology into the craft of art, the artist experiments with elements of scale, light and space. Acoustic Metamorphose (above right) sees a ribbon of blue snaking across the gallery space.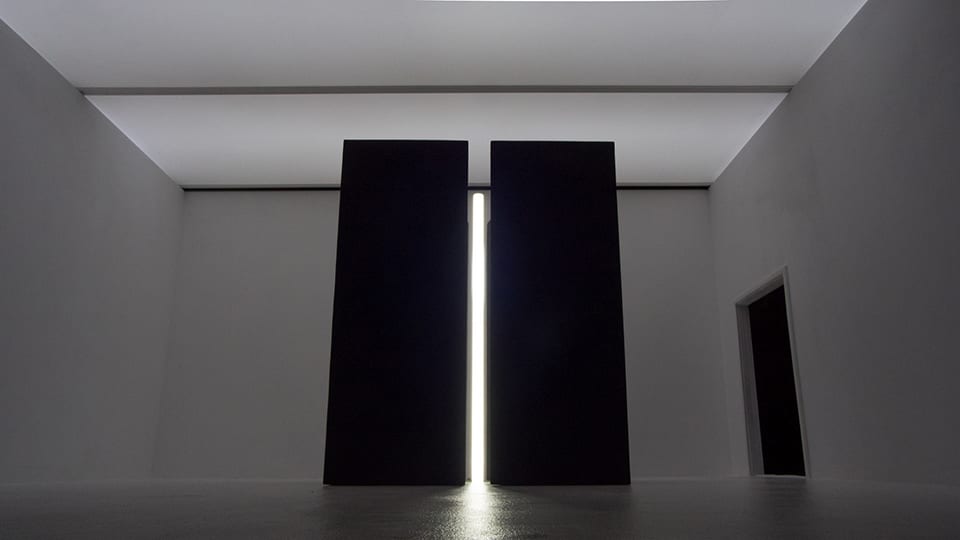 Vasily Kononov-Gredin
Inspired by Christian traditions, Kononov-Gredin explores contemporary problems of our society – namely "its disunity and the roots of violence through imagery associated with religion." He is interested in monumentality and beauty, using large formats to create a space of total installation. The large cuboid, Eden, is one such example. Kononov-Gredin combines sculpture, video, installation, painting and sound.
---
Alexandra Carr
As an interdisciplinary and experimental artist with a scientific drive behind her practice, Carr utilises many media with a particular focus on natural phenomena. Empyrean, which represents the 10 nested spheres of the medieval cosmos, raises questions about our wider place within the universe, inviting viewers to a journey of awakening. Glass beads reflect golden light as they cascade outwards.
breadedEscalope
The collective breadedEscalope critically consider art and design as part of modern life. In Shadowplay, they investigate the physical properties of shadow and of 'nothingness'. When the viewer engages with and makes contact with what appears just an ambient light on the wall, shadows are cast that function as the hands of a clock. It's an intriguing, contemporary take on the sundial.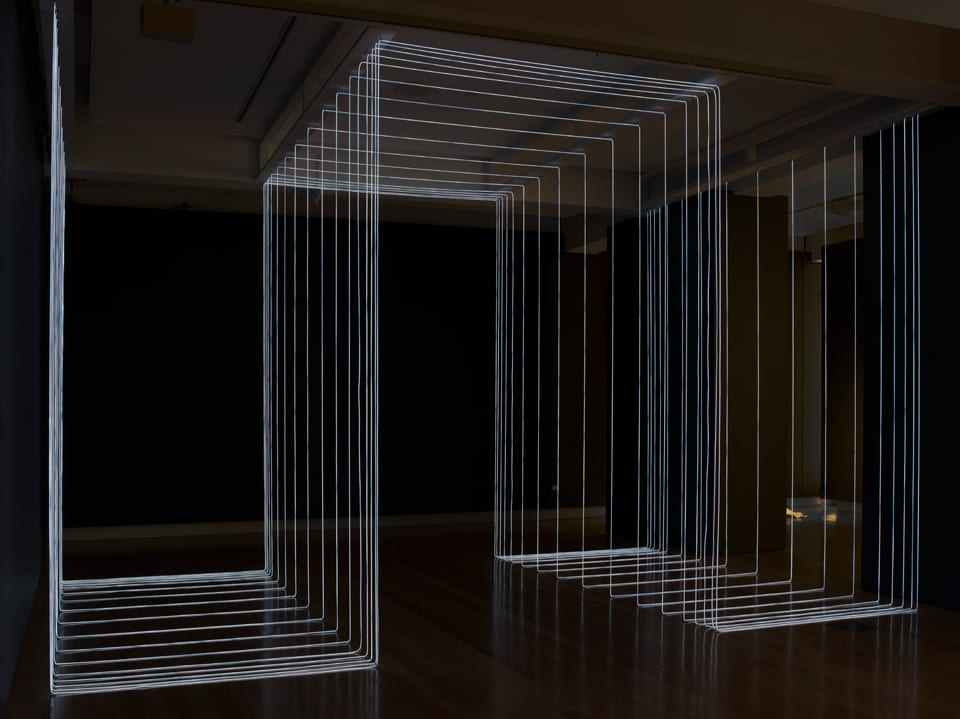 Meagan Streader
Reflecting the minimalist art of the Light and Space movement, Meagan Streader manipulates, reinterprets and extends upon the boundaries of constructed spaces. Through site-specific interventions, the multi-dimensional use of the light re-orientates the viewers' relationship to the pre-existing architecture and scale of a given space, as seen in Response IV (Partition).
---
The Aesthetica Art Prize is open for entries. Submit your work to win £5,000, publication and exhibition.
---
Image Credits: Vasily Kononov-Gredin, Eden. Courtesy of the artist.
1. Untitled (With), 2015. 732cm x 244cm.
2. Space Installation 0.01, 2016. Metal construction, ropes, crystals. 600cm x 800cm.
3. Acoustic Metamorphose, 2017. 120cm x 120cm x 350cm.
4. Vasily Kononov-Gredin, Eden. Courtesy of the artist.
5. Alexandra Carr, Empyrean, 2017.
6. Shadowplay, 2015. Clock: wooden frame, interactive light installation (LED), shadow. 73cm x 5cm.
7. Response IV (Partition), 2016. 2700mm x 4600mm x 2700mm. Image: © Carl Warner