Walking through the doors of the ROSEGALLERY, Santa Monica, to experience Mexican photographer Tania Franco Klein's (b. 1990) latest project Break in Case of Emergency (Flies, Forks, and Fires), a golden-copper hued party decoration catches one's eye. Immediately, questions arise of this rather odd statement piece. Was it left over from the opening? Is it always there?  When exploring the space, it becomes clear that this is a part of the artist's work. The exhibition as a whole isn't simply displayed, it is a conversation on the very nature of space both within the framing of a photograph and the way this medium is exhibited. As Klein received her BA in Architecture in Mexico City before pursuing a Masters in photography at the University of Arts London, the layout is indicative of a mind that considers space inside and out of frame. In fact, after speaking with Managing Director Angela Bryant, it was revealed that Klein sent a set of blueprints to outline exactly how the work should be displayed.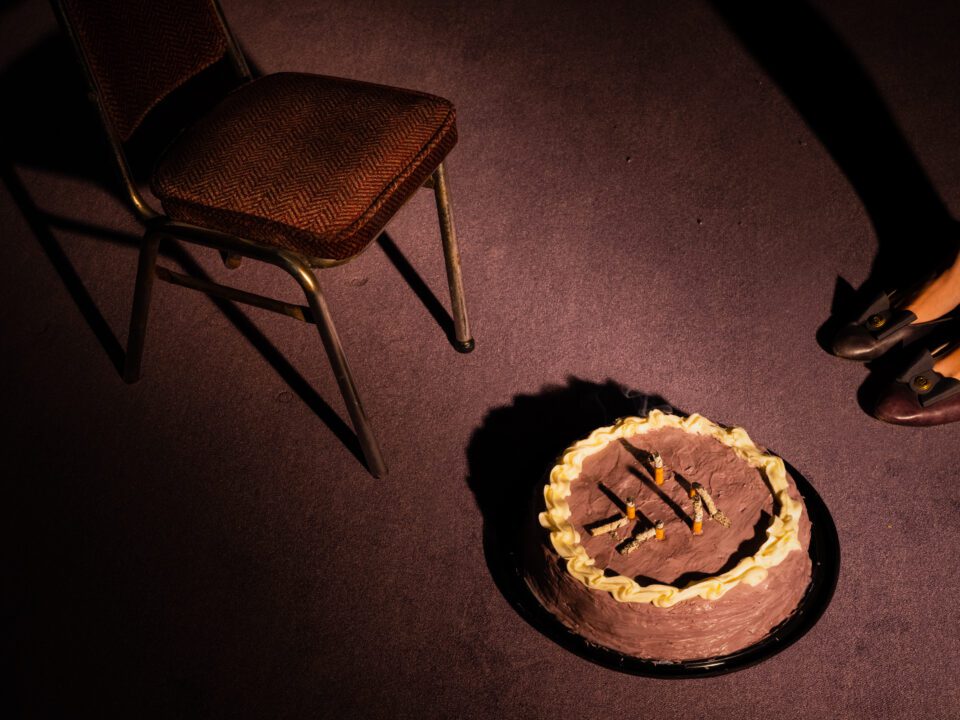 In the entrance, photographs are hung conventionally. And then, everything changes – images are positioned high, low and centred but also plastered to the wall in vinyl or surrounded by the shining party decorations. Even simple blank space left between each work leaves room for dialogue. The photographs are a party of self-sabotage. A woman stands with her head in a sink. Used cigarettes are used as make-shift birthday candles. A frying pan sits ablaze on a hob as the subject looks on, unbothered. It is a tragic comedy. These whimsical scenes are disturbingly humorous, sad and showcase an absurdity that is inherent with the contemporary experience of being a woman. Are these subjects on the brink of madness, unreality or just over everything entirely? That depends on your mood in the moment.
The fly, something to swat away forces its way into the interior throughout the exhibition, whether literally – like stuck to a pillar – or in the images shown. Throughout, it is a motif, a pest you'd like to ignore or not have indoors, pushing its way in. The final fly-de-resistance is behind a curtain. A pink-hued room is lined with a reflective surface, creating a murky and unbecoming reflection of the beholder. There is a video of a tap seemingly running forever and then … the flies. Oh, the flies … They are infesting the space, forming oddly pleasing shapes in previously insignificant spaces. Now it is their turn to be the artwork because they have always been there – we've just been swatting them away.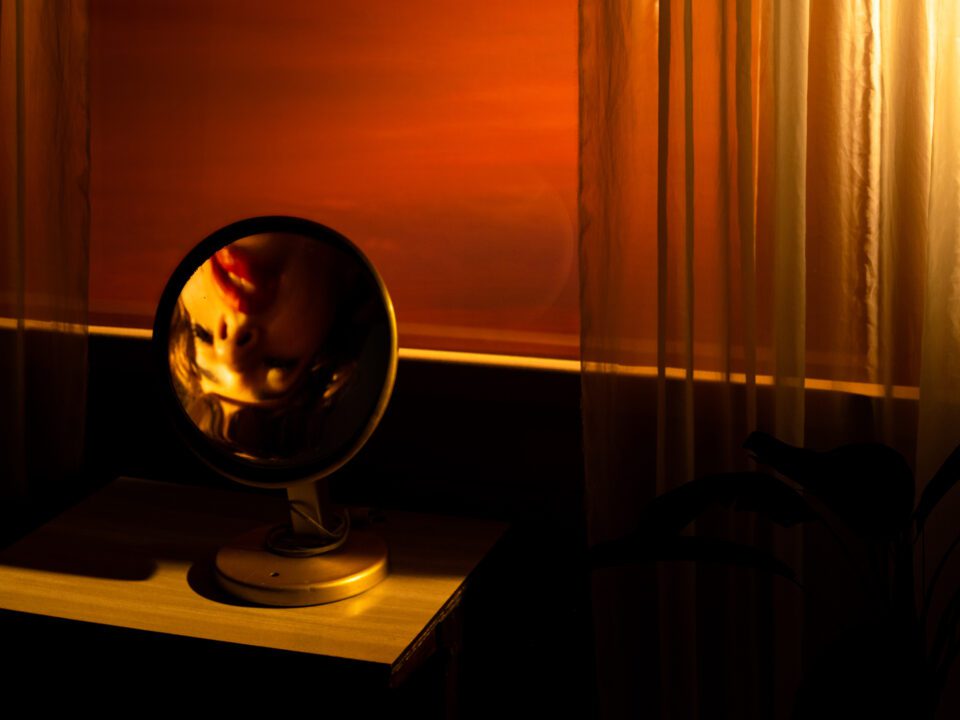 Described as "reliably absurd," Klein's use of forced perspective, light and shadow creates an otherworldly atmosphere, enveloping the subjects and their surrounds. Recently, the artist photographed the Hollywood director Steven Spielberg for Time, utilising similar techniques. Whereas the magazine shoot is subtle, the show at ROSEGALLERY demonstrates an approach to photography that peaks behind the scenes. The viewer bears witness to the absurdity of the mundane – the horror of expectations.
---
Break in Case of Emergency (Flies, Forks and Fires)
ROSEGALLERY, Santa Monica | Until 15 April
Words: Melissa Karlin
---
Image Credits:
1. Tania Franco Klein, Fork, Tub (self-portrait), from Break In Case Of Emergency (2021)
2. Tania Franco Klein, Cigarette, Candle (self-portrait), from Break In Case Of Emergency (2022)
3. Tania Franco Klein, Rounded Mirror, Window (self-portrait), from Break In Case Of Emergency (2022).