Here we are, at the end of one year and the start of a new one. We've all been through so much together, and yet, apart from one another. Technology has played a huge role this year as it becomes further integrated into our daily lives, mostly because we do not have a choice. Fear has also played a momentous role as we round up 10 months of a global pandemic and its ramifications. However, beyond this, there's a huge amount of relief and joy to be found knowing Trump will be gone from the White House. It's enough to end an incredibly tough year and tie it with a bow, starting 2021 with hope. Our new issue, the December / January edition reflects this sense of transition, titled A New World.
---
We speak with Hassan Hajjaj – known as "the Andy Warhol of Marrakech" – about identity politics. Blending the glossy aesthetic of fashion shoots with Moroccan tradition and street culture, his bold, detailed images challenge culture-specific beliefs, predominantly western perceptions of the Hijab and female disempowerment in Islam. These alluring, multi-layered compositions fuse contemporary North African culture with familiar western iconography.
---
In our image series, Alia Ali, Kate Theo, Eugenia Falqui, Markus Guschelbauer, Ismail Zaidy and Natasha Wilson question our relationships with both the natural and manmade world – and by extension – our perceptions of each other. For Theo (featured above), photography is an instrument for self-discovery. She notes: "I depict the processes that are often going on in people's minds: dealing with negativity, self-deprecation and being overwhelmed – especially in today's climate. The scenes are only partially real; most of what is going on is left open to interpretation. I allow room for audiences to perhaps find something of who they are and who they are not; what they like and what they don't."
---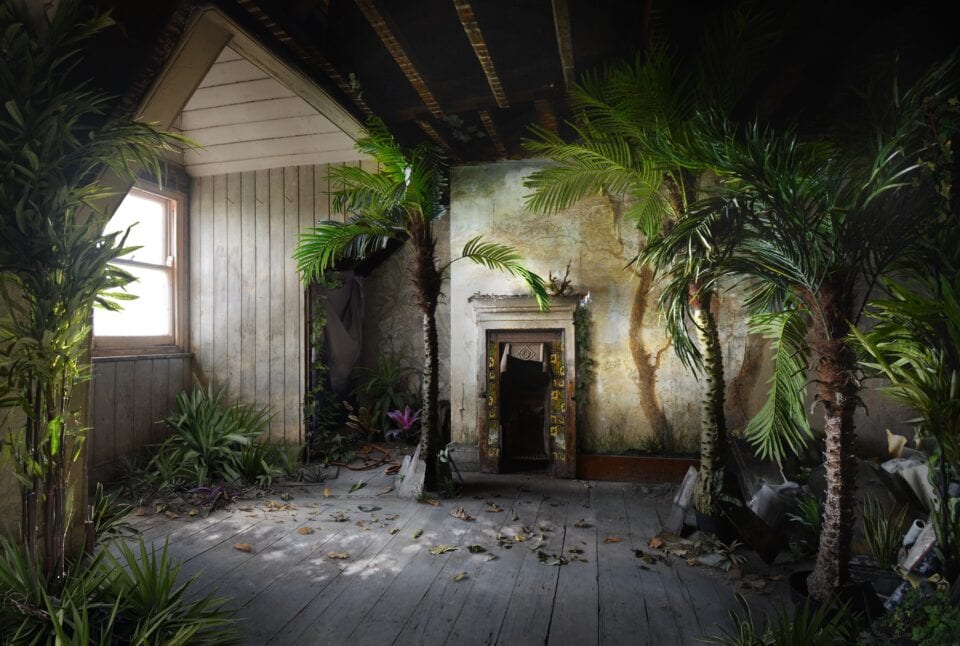 Meanwhile, Suzanne Moxhay, an Aesthetica Art Prize finalist, tells us more about her practice: combining interior and exterior; fiction and reality. These photomontages are reminiscent of empty film sets, drawing from an archive of photographs, material collected from old magazines and printed imagery. The audience is involved in the construction of these visuals, which play with anomalies of texture, surface, depth, scale, movement and architecture. The artist notes: "The camera has the effect of flattening out differences between these forms of representation – bringing everything into the same plane."
---
We also take a glimpse at the 2020 NGV Triennial in Melbourne. Featuring more than 100 practitioners from more than 30 countries, this year's presentation asks us to consider the world as we know it, but then think carefully about what we'd like it to be in terms of representation and inclusivity. This is a crucial moment of change and opportunity.
---
Markus Guschelbauer creates pastel-coloured installations that represent humanity's increasing desire to organise, define and control interactions with the organic world. Pale pink, baby blue and mint green grids impose a sense of order which is both aesthetically pleasing and oddly melancholic. Rolls of turf are slotted into wardrobe-like constructions; photographs of potted plants and tree trunks are hung in neat rows; leaves shoot straight through shelves.
---
Alia Ali uses cloth to conceal the physical identities of the figures, whilst asking questions about how we define and separate through what we can or can't see. She asks: What are the fabricated barriers in society that promote the idea of "us" and "them"? She notes: "As a female artist who exists on the border of identifying as a West Asian, Eastern European and US citizen, my work explores cultural binaries and challenges culturally sanctioned oppression." 
---
In design, Beatrice Galilee's Radical Architecture of the Future maps out a bold route forward. "You could also call it 'radical ways of thinking about architecture'", she notes, a necessary qualification, given that, under Galilee's stewardship, "architecture" incorporates everything from game design to community activism, inhabitants including insects and data. What binds these endeavours together, Galilee suggests, is their creative or critical intervention into the physical and sensory world, or our perception of it.
---
A New World: The December / January issue is available now. Save 50% on Subscriptions this December. For more information or to pick up a copy, click here.
Credits:
1. Photographer / Creative Director: Natasha Wilson. Model: Grant Uba. For: Adidas Superstar Campaign. 
2. Dotted Peace, framed photography by ©Hassan Hajjaj, 2000/1421.
3. Kate Theo, Pride (2019). Courtesy of the artist.
4. Kate Theo, Not Forget (2019). Courtesy of the artist.
5. Suzanne Moxhay, Palms (2019). Archival Pigment Print. Courtesy of the artist.
6. Atong Atem, Morayo (2015). Printed 2019, from the Studio series (2015). Digital type C print, ed. 6/10. 84.1 x 56.1 cm (image) 104.1 x 65.4 cm irreg. (sheet). National Gallery of Victoria, Melbourne. Purchased, Victorian Foundation for Living Australian Artists, 2019 © Atong Atem.
7. Atong Atem, Paanda (2015). Printed 2019, from the Studio series (2015). Digital type C print, ed. 5/10, 84.1 x 59.4 cm (image) 92.8 x 63.2 cm (sheet). National Gallery of Victoria, Melbourne. Purchased, Victorian Foundation for Living Australian Artists, 2019 © Atong Atem.
8. Markus Guschelbauer, Seeblick 3 / Lake View (2020). Analog C-print / 90 x 110 cm. Courtesy of the artist.
9. BORDERLAND, series by Alia Ali (2017). Courtesy of Galerie Peter Sillem.
10. BORDERLAND, series by Alia Ali (2017). Courtesy of Galerie Peter Sillem.
11. Photo: Iwan Baan – Selgas Cano, Plasencia Auditorium and Congress Center, Plasencia, Spain.