In 1984, the Metropolitan Museum of Art in New York held a major exhibition: the International Survey of Painting and Sculpture. Of the artists on show, less than 10% were women. Outraged, a group of anonymous artists formed a collective known as the Guerilla Girls and began a campaign to expose this inequality through posters and billboard advertisements. One of their most famous works, Do Women Have to Be Naked to Get Into the Met Museum? (1989) is now held in global collections, including the Met. It features a female sitter lifted from Jean Auguste Dominique Ingres' Grande Odalisque (1814) donning a gorilla mask. 
The nude is as old as art itself: spanning from undulating Stone Age statuettes to sleek marble ancient Greek sculptures, Renaissance paintings and 20th century images. And yet, through changing historical landscapes, the majority of canonical examples have, as the Guerilla Girls point out, overwhelmingly portrayed human bodies from a white, male, western viewpoint, often in voyeuristic terms.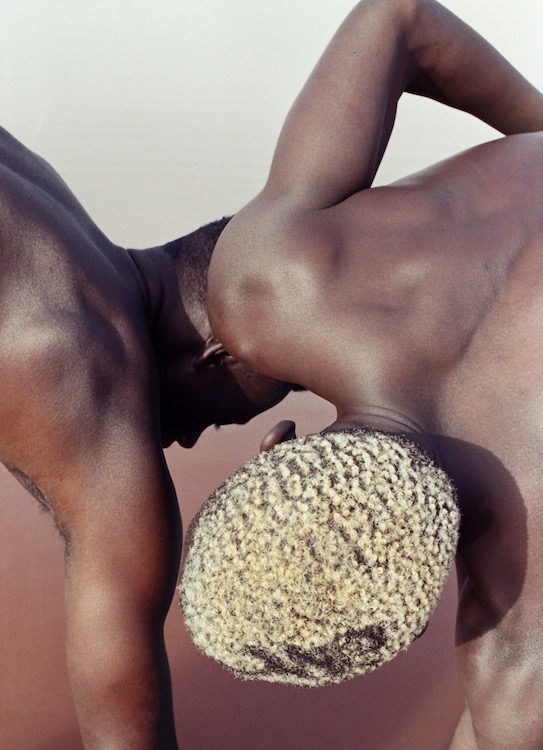 NUDE, a groundbreaking new group exhibition at Fotografiska New York presents photography by 30 female-identifying image-makers from 20 different countries, among them Côte d'Ivoire, China, Slovakia and Pakistan. Some, such as Yushi Li and Steph Wilson's Feast Inside (2020) deliberately make playful reference to the power imbalances inherent in traditional depictions, showing the artists clothed among a roomful of naked men. Prue Stent and Honey Long's Wind Form (2014) – which shows two figures draped in delicate material – feels dynamic, dance-like and sculptural. Elsewhere, Denisse Ariana Pérez's Men in Water series (2020) treads a line between naturalism and abstraction.
On the one hand, NUDE is a sign of how far things have come. It could be argued, though, that the fact it is being staged at all represents how far we still have to go. Nearly five decades on from the Guerilla Girls' formation, many of the issues that prompted them remain unresolved. What's certain is the diversity and experimentalism on display at Fotografiska right now. This collection proves that the female-identifying gaze is multiplicitous and innovative, refusing to be contained or defined.
---
NUDE runs until 1 May at Fotografiska New York | fotografiska.com
Words: Rachel Segal Hamilton
---
Image Credits:
1. Prue Stent and Honey Long, Wind Form, 2014.
2. Denisse Ariana Pérez, ongoing Men in Water series, Taken in Senegal, 2020.