Vallisaari Island is part of an archipelago off the coast of Helsinki with a rich and complex social, military and natural history. This year, it's home to the inaugural Helsinki Biennial, which runs until 26 September. Featuring 41 artists from Finland and around the world, this year's festival is titled The Same Sea, reflecting on the theme of interdependence and connection. We pick out five highlights.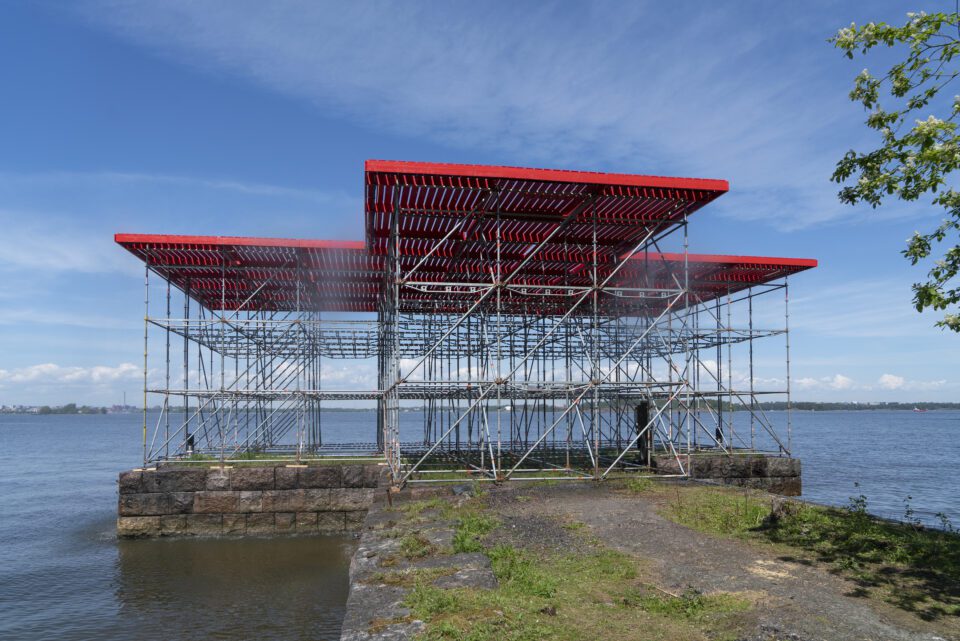 Jaakko Niemellä, Quay 6
Before gaining its independence in 1917, Finland was coveted by the sparring powers of Sweden and Russia. The island chain off Helsinki's coast incorporating Vallisaari, Santahamina and Suomenlinna thus became an important strategic hub, and bears traces of this history in the form of derelict batteries and fortifications dotted across the archipelago. The main threat to peace on the island now is climate change. Evoking the ambience of abandoned military structures, Finnish artist Jaakko Niemellä (b. 1959) has constructed a temporary platform on a derelict quay close to the jetty where visitors to the biennial will disembark. Reaching six metres upwards, with the thin red line of its roof serving as a high-water mark, the construction represents the predicted rise in sea level should Greenland's northern ice sheet melt completely. A stark, simple gesture, Niemalä's installation is a powerful reminder of a new battle that will unite or divide nations over the centuries to come.
Outi Pieski, Birit Haarla and Katja Haarla, Guhte gullá/ Here to hear
Finland's Sámi communities possess rich cultural and creative traditions, yet this ethnic and cultural group, whose traditional territories occupy the northern edges of Scandinavia and Russia, has historically been the subject of discrimination and persecution. Sámi-Finnish artist Outi Pieski's (b. 1973) work has helped to give Sámi identity greater visibility over the last few decades. Her work has been shown at London's Southbank Centre as well as in galleries across Scandinavia and North America. Together with dancers Birit and Katja Haarla, this performance-based project explores the relationship between identity, place and nature, as well as touching on the artist's nurturing relationship with her Finnish mother. Located in the basement of the Alexander Battery, an abandoned 19th-century Russian military structure, Guhte gullá/ Here to hear incorporates elements of dance, music and Sámi craft in the Duodji tradition of design.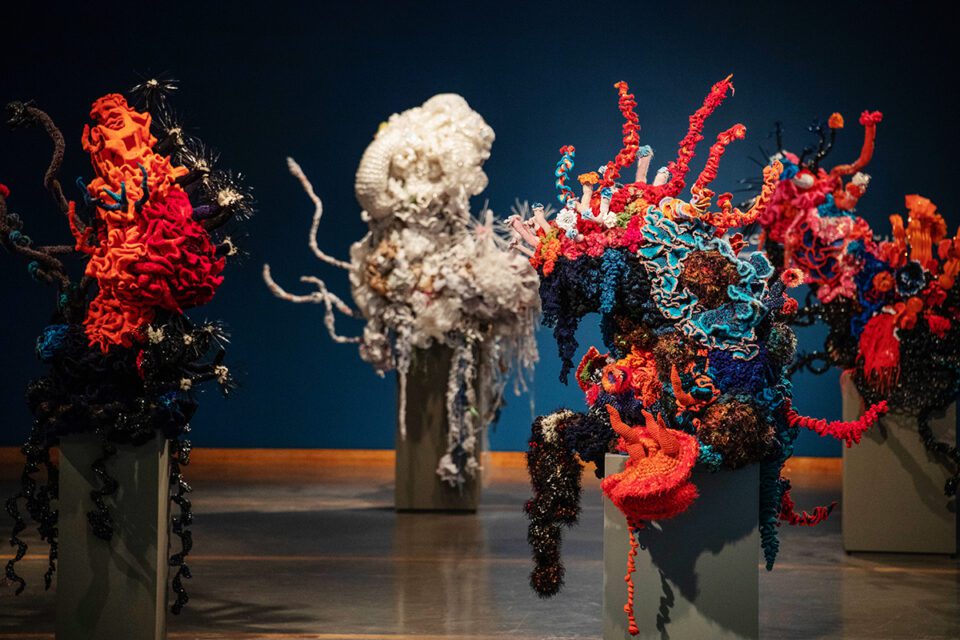 Christine and Margaret Wertheim, Helsinki Satellite Reef
Australian-born twin sisters Christine and Margaret Wertheim (b. 1958) are curators, writers and artists who together run the Institute for Figuring, a third-sector organisation devoted to exploring the "poetic and aesthetic dimensions of science, mathematics and engineering." They have previously explored the stylistic possibilities of mathematical structures ranging from snowflakes to Islamic mosaics. Responding to the festival theme of interconnectedness, they have collaborated with 3,000 Finns to create a coral reef of crocheted plastic and yarn, the latest addition in an ongoing global series using the creative recycling of plastic to highlight the ocean-waste catastrophe enveloping the planet. Similar "satellite reefs" are installed in over 40 cities and countries around the world, from Riga to Abu Dhabi.
Hanna Tuulikki, Metsänpeiton Alla / Under Forest Cover
Glasgow-based British-Finnish artist Hanna Tuulikki has developed a singular practice based on visual and auditory recreation of more-than-human worlds of expression. Steeped in the folk cultures of Scotland and her maternal home country, the artist's previous performances, scores and installations have sought to emulate bird song, deer dance and the vernacular creative traditions of rural communities. For the Helsinki Biennial she has produced a video work exploring the concept of "metsänpeitto" or "forest cover," an eerie state in Finnish folklore "where people go missing in nature, places become unfamiliar, and everything moves in reverse." The concept is used as a metaphor for the trauma that comes with ecological awareness, while the soundtrack to the film includes vocal improvisations on traditional cow calls, recorded on the artist's now derelict family farm, and perhaps reflecting Vallisaari's historical use as a site for grazing livestock.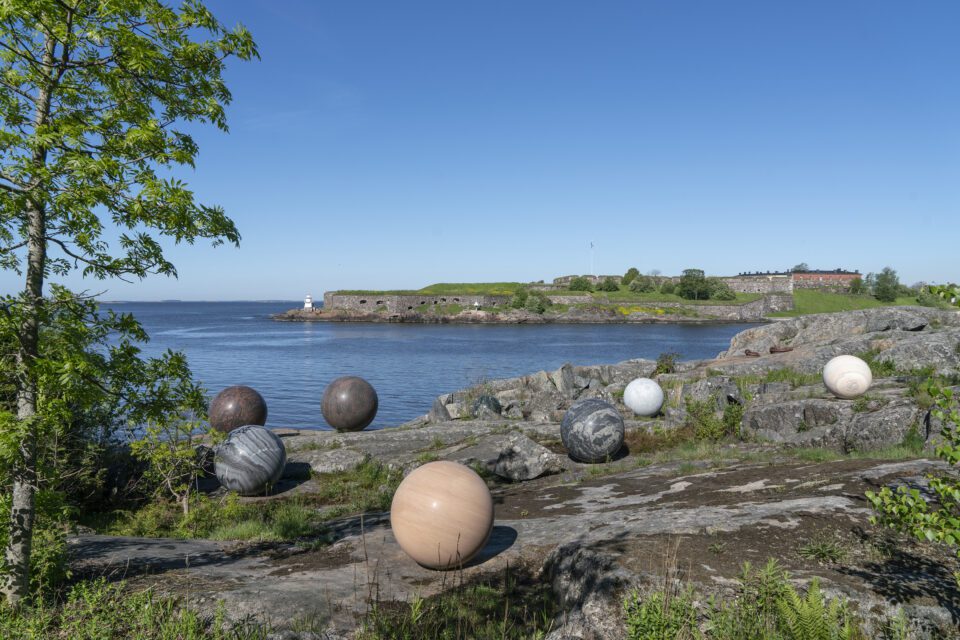 Alicja Kwade, Big Be-Hide
On a thin strip of land connecting Vallisaari with the neighbouring island of Kuninkaansaari, Polish-German artist Alicja Kwade (b. 1979) has positioned two large "stones," one sourced from Vallisaari and the other a man-made replica, dividing them by a mirror. Kwade is known for creating work that explores and troubles the systems of measurement and reproduction by which we record the natural world. Her notable recent installations include a large timepiece in New York's Central Park whose hands move in opposing directions while its face rotates counter-clockwise. In similar fashion, Big Be-Hide replaces each object with the mirrored reflection of the other depending on viewing position, asking questions about what human beings really encounter when we think we are perceiving the natural world, given not only the fallacies of our perception but our modern tendency to replicate, reproduce and augment ecological systems.
---
Find out more about Helsinki Biennal here.
Words: Greg Thomas
---
Image Credits:
1. Alicja Kwade: Big Be-Hide, 2019 ©Maija Toivanen/HAM/Helsinki Biennial 2021
2. Jaakko Niemelä: Quay 6, 2021 ©Maija Toivanen/HAM/Helsinki Biennial 2021
3. Margaret and Christine Wertheim and the Institute For Figuring. Coral Forest at Lehigh University Arts Galleries (PA). Photo courtesy LUAG by Stephanie Veto.
4. Alicja Kwade: Pars pro Toto, 2018 ©Maija Toivanen/HAM/Helsinki Biennial 2021