"Each year, London Design Festival provides a global platform for the city's creative community to share their innovative ideas and connect with audiences from around the world." – says Ben Evans, Director. There are 13 new Design Districts at this year's event, each with its own unique personality that reflects the local community. From Bankside to Battersea, Chelsea to Dalston, neighbourhoods will harness community spirit by bringing global talents and local makers together. Designers will showcase how they are rethinking spaces to nurture wellbeing, blending cutting-edge technology with classical craft techniques for a more ethical future through materials and making.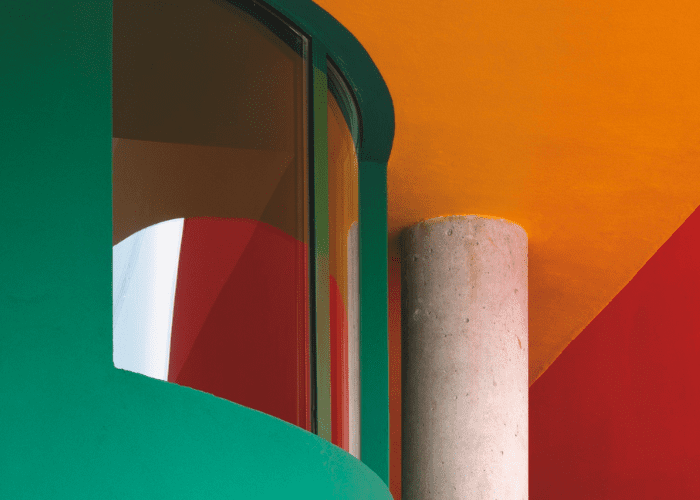 Building Colour | Sto Werskstatt
Award-winning photographer Richard Bryant's newly commissioned images and short documentary Building in Colour celebrates the legacy of Stirling Prize winner architect Michael Wilford CBE (1938 – 2023). During the 1990s, Wilford collaborated with the German design manufacturer Sto, which resulted in their expressive and vibrant London campus. Now, alongside historic snapshots of the company's headquarters, an exhibition features photos of vivid buildings including The Staatsgalerie, Stuttgart (1984), the Clore Gallery extension to Tate Britain (19850) and No. 1 Poultry, London (1996). Amy Croft, Curator of Sto Werkstatt states: "through the eye of the lens, this exhibition gives us the opportunity to reflect on the moments when light interacts with the surface of materials and their colour."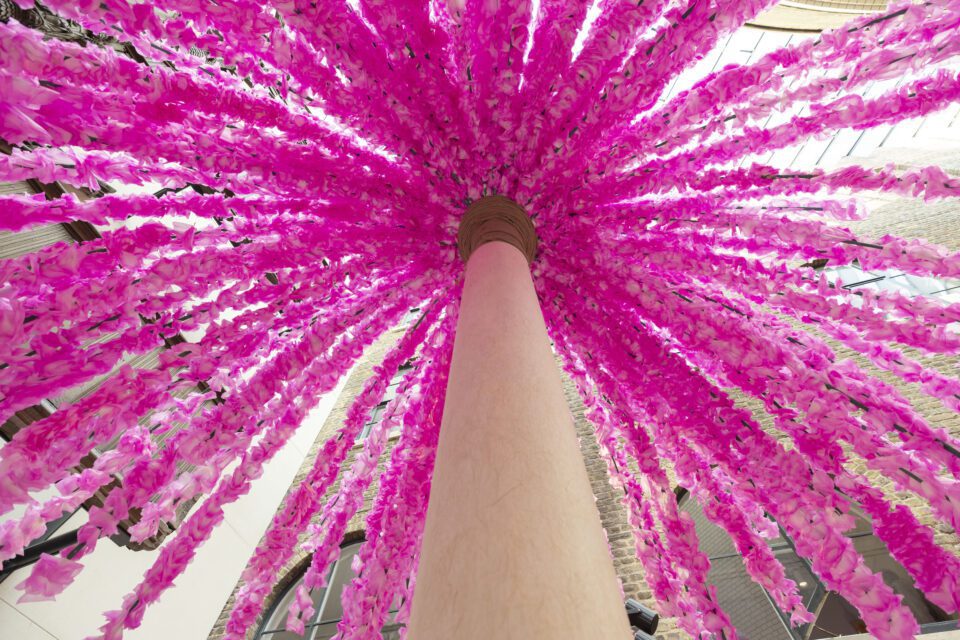 For hundreds of years, local families, craftspeople and intergenerational groups in Mino, a town in Gifu, Japan – famous for the production of washi paper – have come together to create huge Hana Mikoshi or 'flower shrines' for the Mino Matsuri festival. This annual festivity started in the Edo period (1615-1868) to celebrate the city as the centre of Japanese paper production. Together with the Gifu Prefecture and London-based Hayatsu Architects, the V&A presents an installation that resembles a traditional Sakura-inspired Hana Mikoshi. Vibrant pink fronds dangle from the ceiling in an exuberant display of community. Here, individual flowers are made of washi paper. They were applied to the structure by visitors to the V&A throughout the summer, in a project that celebrates the unconditional power of collective creativity.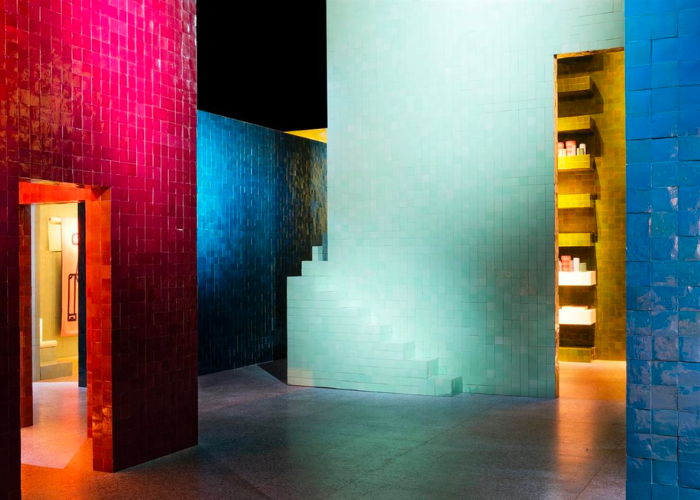 Hypernature | Shoreditch Design Triangle
How could we speculate about the sound of the future? Hypernature is an immersive audiovisual project that focuses on the evolution of a soundscape through the effects of global warming. This project is based on speculative data that shows the shifting elements of a forest under human-made disruption. Changes in weather conditions, foliage and tree densities can directly affect bird song, reducing or diminishing its presence completely. This subject is central to Ziyue Wang and Alicia Leonie Waibel's installation that looks to adapt new communication pathways. Twelve synthetic birds chime together, moving around the listener. They change and adapt according to the predicted effects of the climate crisis. The result encourages visitors to pay closer attention, and to listen more closely to the details of the world around us.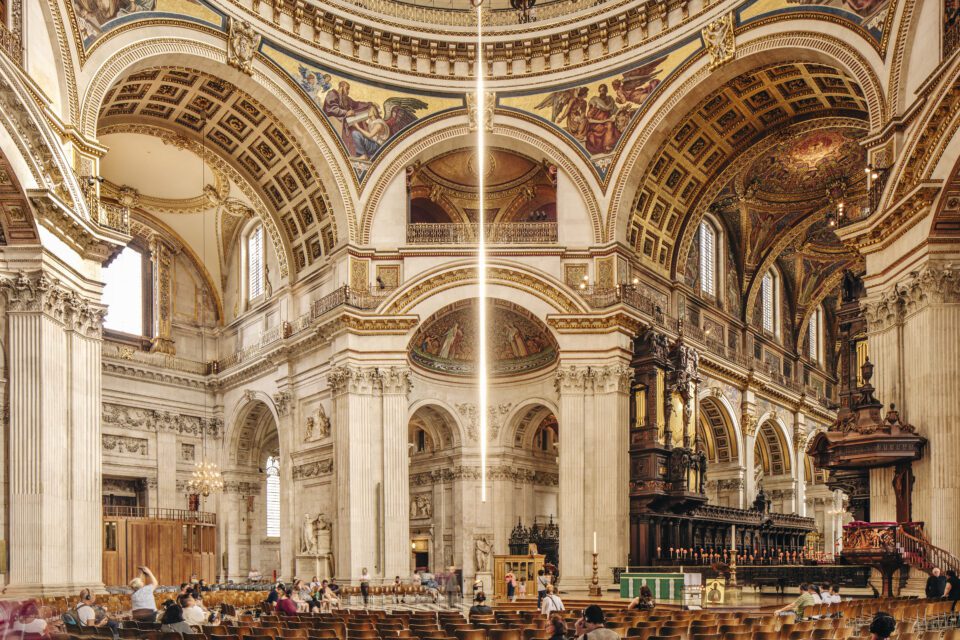 Inside St Paul's Cathedral, London Design Festival presents Aura by France-based Spanish artist Pablo Valbuena. Focusing on time, perception and space, Valbuena's works are materialisations of intangible subjects. Aura examines the potential of time, sound and light and is a contemporary response to the Cathedral. The live installation transforms the sounds of the building into a pulsating line of light projected at an architectural scale. The piece is deeply intertwined with the context and fabric of Sir Christopher Wren's masterpiece, completed at the beginning of the 18th century. Aura introduces new ideas whilst seamlessly integrating into the building and its daily life as if it had been part of the original design. Visitors will experience the cathedral's shifting soundscape through this multisensory project.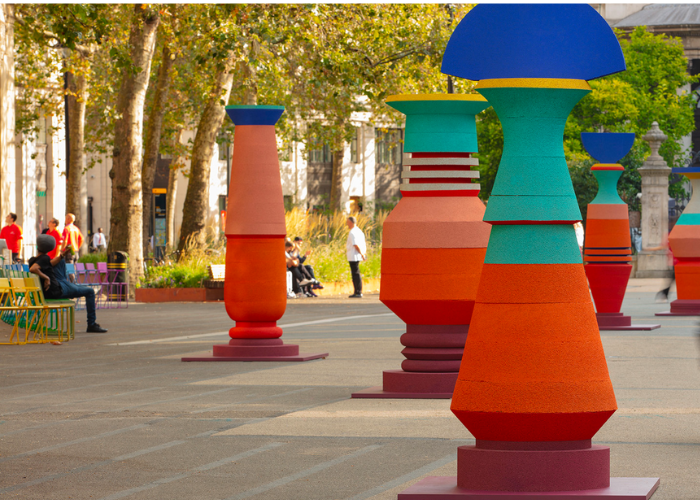 Spirit of Place | Strand Aldwych
Simone Brewster is a London-based artist and designer who is known for creating large-scale sculptural artworks and commercial objects. Her most recent commission, Spirit of a Place – an outdoor installation of five vessels – was created in collaboration with Amorim, the largest producer and supplier of cork stoppers worldwide. Spirit of a Place is a family of objects, ranging up to 2.5m, that represents Amorim's cork forest at Herdade de Rio Frio, Portugal. The future of the cork oak forest will be secured by four key traits: biodiversity conservation, drought resistance, regenerative growth and upright expression. These characteristics act as the foundation for the visual language of the piece, with Brewster translating each factor into a visual equivalent that can then be experienced and enjoyed in the centre of London.
---
15-24 September 2023 | London Design Festival
---
Image credits:
1. Medusa by Sou Fujimoto & Tin Drum, 2022
2. Sto Werkstatt, 'Michael Wilford: A Legacy in Colour' Photo: Richard Bryant
3. Installation image of 'Hana Mikoshi' at the V&A © Victoria and Albert Museum, London
4. LDF 2023, Shoreditch Design Triangle
5. Aura, Pablo Valbuena – Supported by Bloomberg Philanthropies – Photo: Ed Reeve
6. Spirit of Place, Simone Brewster – Supported by Amorim – Photo: Ed Reeve
---