Whilst some are re-opening physically, international museums and galleries continue to offer audiences art experiences from home. Online viewing rooms and digital exhibitions are springing up everywhere; they are bringing renowned works straight to our screens. This selection of five new photography shows highlights contemporary portraiture, photojournalism and experimental approaches to ideas of time.
Thomas Hoepker: Online Exhibition, Bildhalle
Photojournalist Thomas Hoepker (b. 1936) has a strikingly varied oeuvre which captures myriad experiences – from daily commutes to historic events. Bildhalle's exhibition demonstrates this – combining colour and black and white images from a variety of time periods. People and social issues remain at the heart of the collection, which is bursting with humanity and visual cohesion. Figures line up on sandy beaches whilst silhouettes roam city streets. Famous artists sit within studios and skylines glow against the setting sun. "My photography is all about waiting in the background until everything fits into place and the picture comes together," he notes.
One Third of a Nation: The Photographs of the Farm Security Administration, 1935 – 1946, Howard Greenberg Gallery
"The photographs taken under assignment from the Farm Security Administration have long been icons of documentary photography," says Howard Greenberg Gallery. Indeed, the FSA's images of the Great Depression – such as Dorothea Lange's Migrant Mother – have become universally recognised for their power to move and communicate important messages. This online show brings together work by Walker Evans, Gordon Parks, Marion Post-Wolcott, Lange and more. It shows how instrumental these photographs were in shifting public opinion and bringing to light the extent of poverty affecting millions across the US.
---
Philip-Lorca diCorcia: Heavenly Bodies, David Zwirner
Porcelain-white gowns fall heavily against checked marble floors. A bare palm lies outstretched, a dove perching on a wrist. Philip-Lorca diCorcia (b. 1951) is recognised for blurring the lines between truth and fiction. Heavenly Bodies plays with reality and artifice – staging ornate clothing from The Met's 2018 Fashion and the Catholic Imagination exhibition within constructed worlds. The compositions reference classical and religious works of art. Each photograph could have been rendered in oils. "The process was slow, it was as if the models were sitting for paintings," explains Phyllis Posnick, Contributing Editor at Vogue. "And the pictures are like paintings.''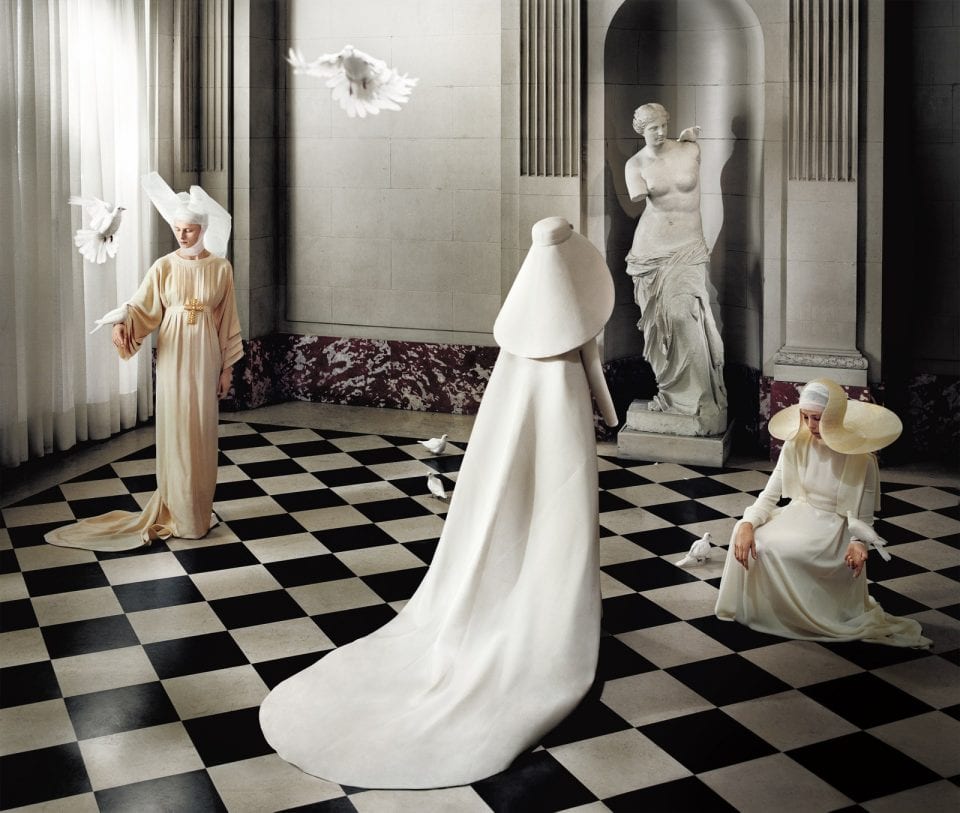 Hiroshi Sugimoto: Beginnings, Fraenkel Gallery
Hiroshi Sugimoto (b. 1948) is renowned for works that explore the nature of time and experience. The best example is, perhaps, the Theaters series – which attempts to capture an entire film within a single frame. The results are bright white, luminous screens glaring from grand interiors and outdoor drive-ins. Fraenkel Gallery's show begins in the late 1970s and spans four decades' work. It delves into the three projects that made Sugimoto's name: Seascapes, Theaters and Dioramas. Tranquil shots of ominous dark oceans are on view alongside illusory images of underwater worlds and lush forests.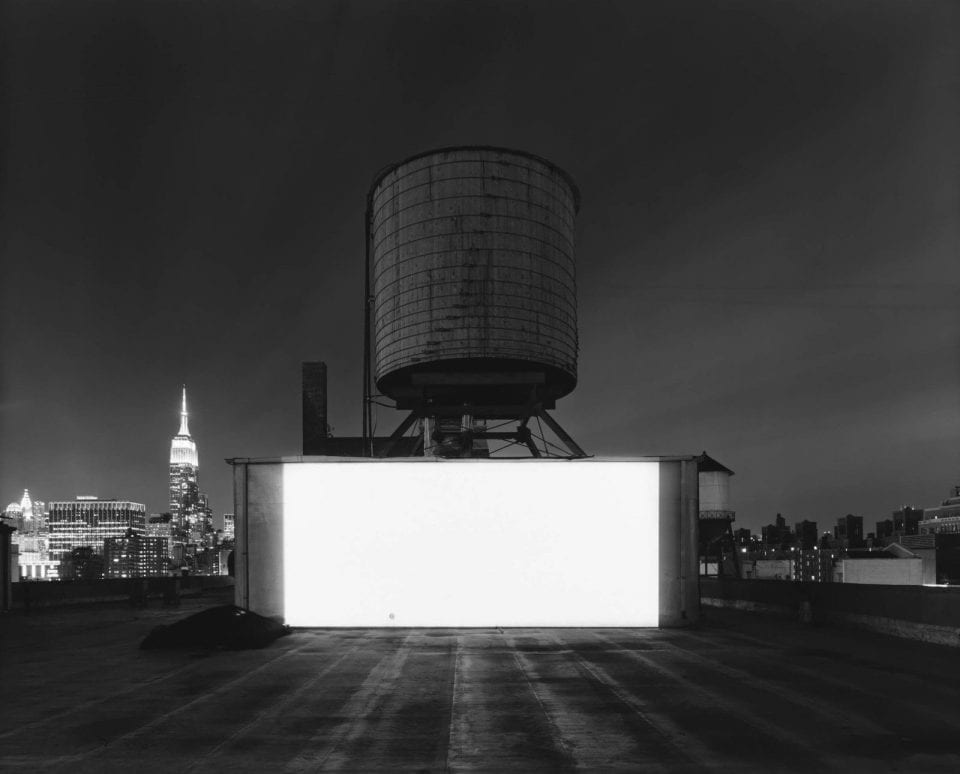 Petrina Hicks, Bleached Gothic, National Gallery of Victoria
Photographer Petrina Hicks (b. 1972) crafts portraits rich with mythological symbolism. The surreal compositions introduce allegorical props such as fruits, birds, flowers and snakes – drawing on art historical depictions of women. The pristine images create a visual tension between notions of beauty and danger, familiarity and strangeness, intimacy and distance. They subvert the language of advertising, questioning visual representations of women and children throughout history. Each large-scale work at once unsettling and enigmatic – drawing viewers in for a second glance.
---
---
Lead image: Petrina Hicks, Bruised Peaches and Velvet, 2018. From the Still Life Studio series, 2018. © Petrina Hicks, courtesy Michael Reid Gallery
1. Bather at sunset in the ocean, Zanzibar, Tanzania, 1983, Archival Pigment print, 45 x 60 cm, Edition 25, ©Thomas Hoepker / Magnum Photos, Courtesy of Bildhalle
2. Walker Evans, Penny Picture Display, Savannah, 1936. Provenance: Collection of Roy Stryker to Nancy Wood (author of "In This Proud Land") to Andrew Smith Gallery to Howard Greenberg Gallery.
3. Peter Sekaer, Macon, Georgia, 1936.
4. Philip-Lorca diCorcia, Vogue, May 2018, #6, 2018
5. Hiroshi Sugimoto, WOLF BUILDING ROOFTOP, NEW YORK, 2015
6. Petrina Hicks, Birds Eye, 2018. From the Still Life Studio series, 2018. © Petrina Hicks
7. Petrina Hicks, Bruised Peaches, 2018. From the Still Life Studio series, 2018. © Petrina Hicks, courtesy Michael Reid Gallery