When we think of pavilions, semi-permanent buildings in gardens might be our first thought: used for hosting events, or as temporary shelter. Yet, over the years, these structures have introduced us to an array of cutting-edge ideas. Some of them are part of the cultural canon, such as the Barcelona Pavilion, made for the 1929 Barcelona International Fair. It was the German national exhibit, conceived by innovative design duo Ludwig Mies van der Rohe (1886-1969) and Lilly Reich (1885-1947). Today, it remains a key point of reference for modernism. Soon after it was dismantled in 1930, plans for rebuilding it started to emerge, and a second iteration was presented in 1986. By 2014, BBC critic Jonathan Glancey argued that the "German Pavilion in Barcelona is one of the most influential modernist buildings of the 20th century." Van der Rohe and Reich succeeded in demonstrating the timeless dogma of form and function whilst generating a democratic space for visitors. Since then, temporary structures have proliferated – London's Serpentine Pavilion amongst them. This particular initiative is now "one of the most anticipated events in the global cultural calendar and a leading visitor attraction during London's summer season of culture."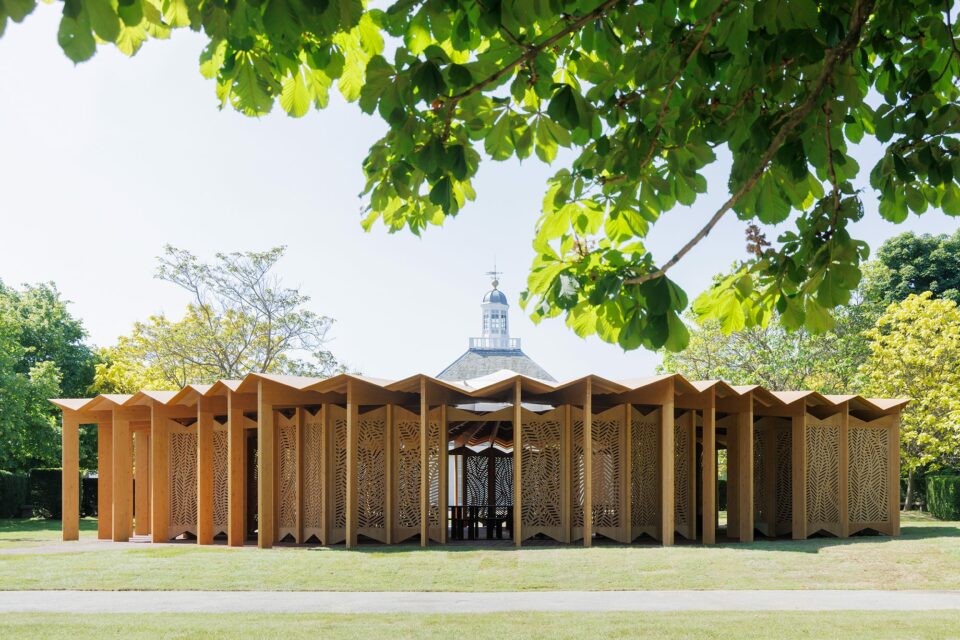 Each year, Serpentine invites creators and firms who have not been presented in the UK before. The premise is to allow international professionals to gain exposure and showcase their proposals in Kensington Gardens — a prestigious bolster to their career. Since its launch in 2000, the programme has conceived the inaugural geometric tent-like framework by Zaha Hadid; Rem Koolhaas and Cecil Balmond's circular ovoid-shaped inflatable canopy in 2006; and a floating pool in 2012 by Ai Weiwei and Herzog & de Meuron. Now, Lebanese-born, Paris-based architect, Lina Ghotmeh (b. 1980) presents the 22nd iteration. Titled À table, it refers to the French tradition of inviting people to dine together whilst engaging in conversation. Through this intentional gesture, Ghotmeh "welcomes us to share the ideas, concerns, joys, dissatisfactions, responsibilities, traditions, cultural memories and histories that bring us together." In June 2023, in an interview with Dezeen, Ghotmeh shared that her proposal is "a reflection of the times that we live in, because every pavilion, in a way, recalls the questions and challenges of the day."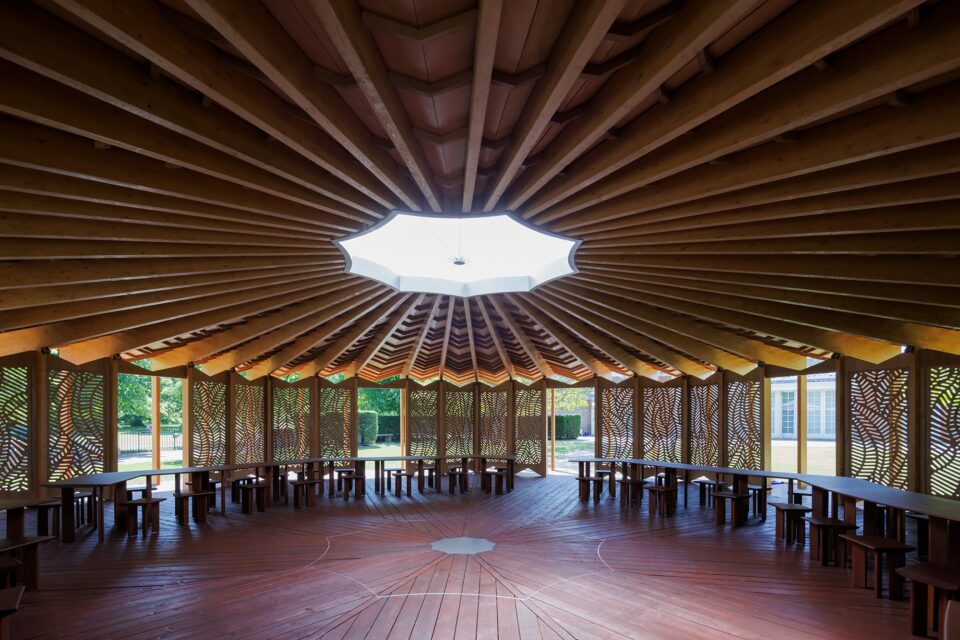 À table certainly meets this criteria. Its building materials are bio-sourced and low-carbon, ensuring an eco-conscious result. The glue-laminated timber and birch plywood panels feature cut-out patterns, which are not only beautiful but can be reused going forward. The design incorporates elements of Mediterranean architecture, reflecting Ghotmeh's background. The pleated roof, for example, was inspired by the formation of a palm leaf and its shape resonates with the canopy of the surrounding trees. Elsewhere, a low covering  "replicates 'togunas,' structures found in Mali, West Africa that are traditionally used for community gatherings to discuss current issues, and also offer shade and relief from the heat."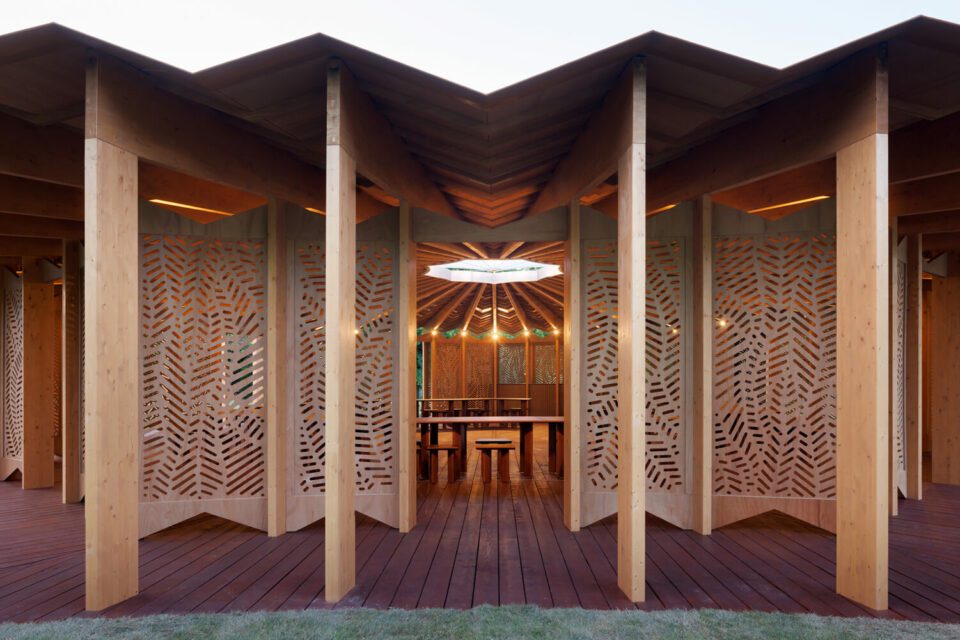 Inside, a circular arrangement of 25 stools and 57 chairs creates a familiar ambience, welcoming attendees to sit down and mingle. A lightwell in the centre of the ceiling connects interior and exterior, whilst a café honours the history of the Serpentine South building, which once operated as a teahouse before its conversion into a gallery in 1970. During the summer, the site will serve dishes with a Mediterranean touch, made with local and seasonal ingredients. As a multisensory addition, artist Tarek Atoui (b. 1980) composed a soundscape based on Ghotmeh's sketches. Serpentine's 2023 Pavilion is sure to strike a chord with contemporary audiences. Ghotmeh's commission is en point with many of today's key talking points, emphasising the importance of community and heritage whilst respecting the environment.
---
Serpentine Galleries: Lina Ghotmeh, À table | Until 29 October
There are a number of free interdisciplinary events that will be running as part of a rich public programme this summer.
Words: Fruzsina Vida
---
Image Credits:
All images: Serpentine Pavilion 2023 designed by Lina Ghotmeh. © Lina Ghotmeh — Architecture. Photo: Iwan Baan, Courtesy: Serpentine.