Why do people roam? What is the aftermath of perpetual movement? These are the questions asked by Robyn Ward (b. 1982), an artist born in Ireland and raised in Northern Ireland. He left Dublin at four years old, moving to Belfast where he lived until his late teenage years. He says: "From 18 to 25 I don't think I spent more than seven or eight months in a row in one city. That, combined with never really being settled in Belfast, resulting in me leading quite a nomadic lifestyle." Today, as a painter and sculptor, Ward expresses these personal experiences – of movement, change and being uprooted – through his art. He tells this story using wet, loose brush strokes with distinctive markings, revealing intimate moments from his past whilst simultaneously obscuring or hiding others. "Each layer depicts a different fragment of time," Ward comments. "Often they are screenshots of parts of my life." It's an approach that has seen Ward exhibit in Mexico City, New York, London, Los Angeles, Paris and Hong Kong, amongst others.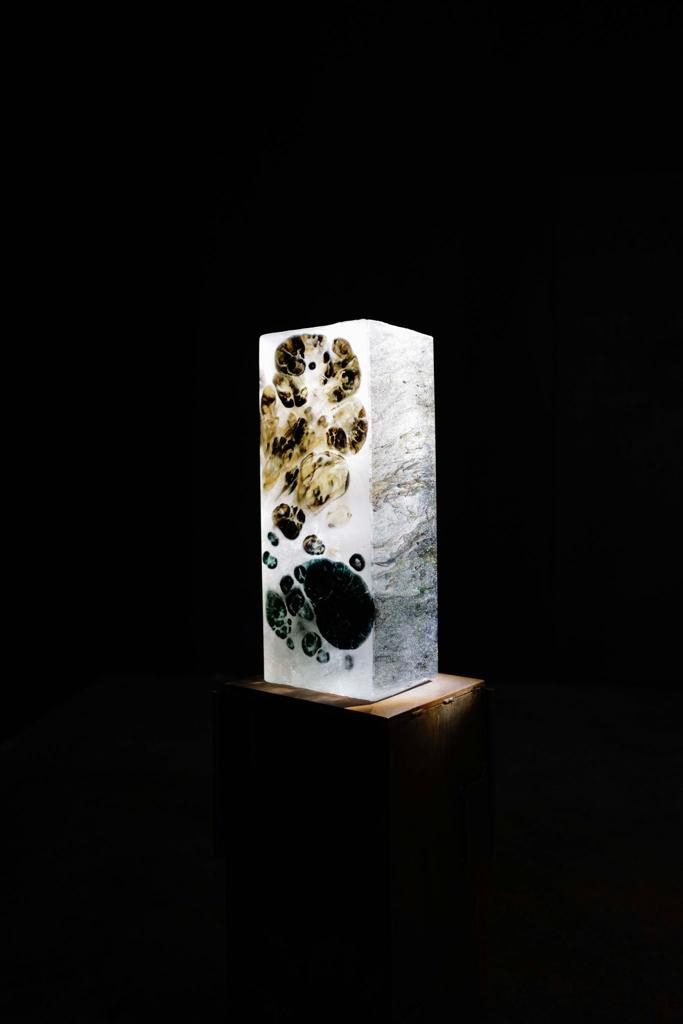 Ward is interested in how his experiences are mirrored across the globe. His latest exhibition, Walking in the Dark, looks at the impact of migration and trauma – both personal and national. Running alongside Frieze London Art Fair, the collection of 22 large painted canvases and six freestanding sculptures reflects on destruction, chaos and the ramifications of historical and modern-day global conflict. Paint seems to have hit the canvas at speed. The resulting compositions teeter on the knife-edge of precision and spontaneity. Other pieces are lit from within, like alien lifeforms glowing and evolving in the darkness.
Walking in the Dark is curated by Shai Baitel, the inaugural Artistic Director of the Modern Art Museum (MAM), Shanghai. The multi-sensory show features abstract compositions and mixed media sculptures, as well as a basement in which visitors will experience pitch-black darkness. It is a poignant space that will be illuminated only by miner's headlamps. Ward's immersive installation is accompanied by an original soundscape by musician Robbie Furze (The Big Pink), who is a close friend and collaborator. "I love creating atmospheres and I like to think my music has an almost meditative effect," Furze explains. "You can appreciate Ward's work more by enhancing the experience – working with, rather than distracting from, it."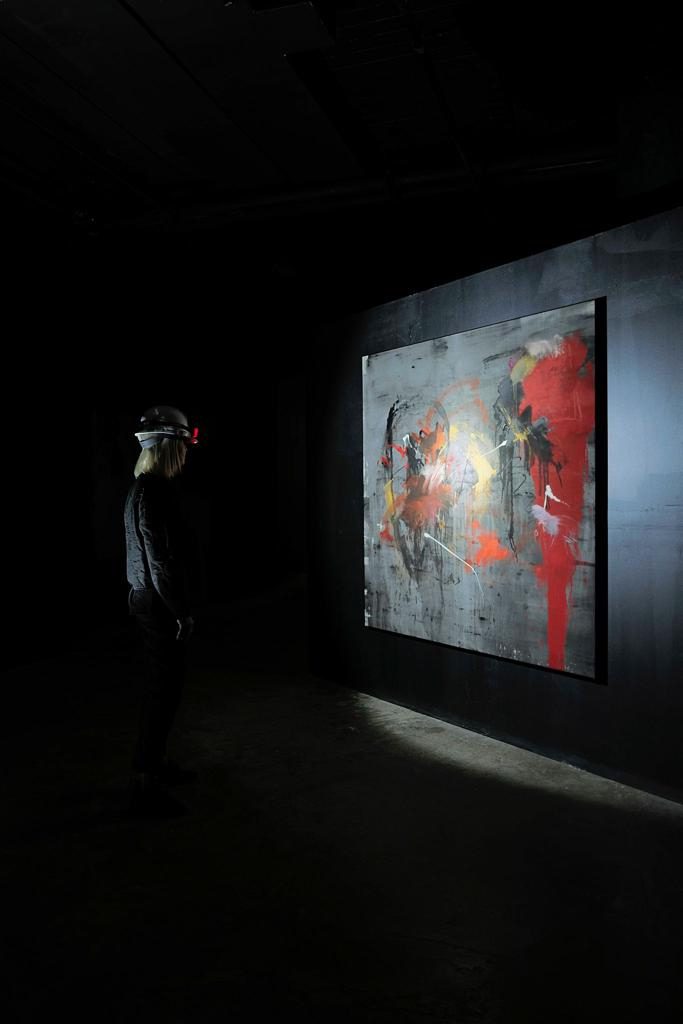 Here, the visual and aural come together to create something profound. "It will be as if people are actually exploring my own subconscious in the darkness, which makes the soundtrack such an important part of the experience. It really brings my emotions to life." Walking in the Dark's curator, Batel, agrees. "Like the act of walking in the dark, viewing Ward's work requires one's eyes to adjust to see what would otherwise not be detected. There is energy, a level of brightness, that shows the ability and possibility to emerge from and embrace the shadow." The plan is to take Walking in the Dark to other global art fairs including Art Basel in Switzerland, Miami and Hong Kong, and to draw in collaborators from the worlds of music and fine art.
---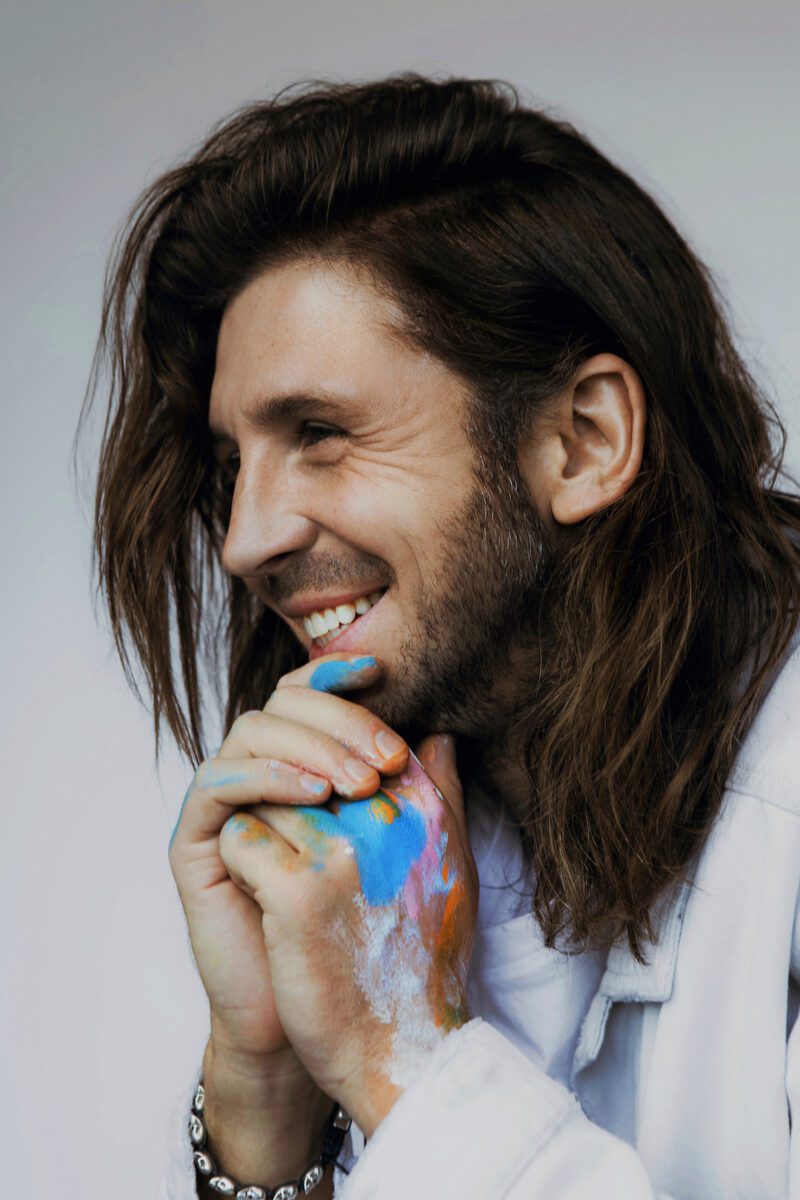 To mark the exhibition opening, and ahead of Frieze London Art Fair, Ward co-hosted a celebrity-packed dinner in aid of Cancer Research UK on 5 October. Guests including Matt Smith, Emma Laird, Lottie Moss, Lady Mary Charteris, Kevin Bishop, Daphne Guinness, Samantha Morton, Victoria Aspinall, Elena Ora and Vera Sahatçiu mingled at the invitation-only event at Knotel, The Old Session House, Clerkenwell Green, London, which raised hundreds of thousands of pounds for the charitable cause.
Walking in the Dark, Knotel at Old Sessions House
23 Clerkenwell Green, London EC1R 0NA
7 – 15 October | Exhibition open by appointment 11am to 6pm daily 7-12 October, no appointment needed 13-15 October.
---
All images courtesy Robyn Ward, from Walking in the Dark.