Can a photograph be an abstraction? This is the question Barbara Kasten (b. 1936) has been asking for over 40 years. Influenced by Constructivism, the Bauhaus school and László Moholy-Nagy, the Chicago-based artist is best known for her art which plays with geometric shapes, light and colour. The bright compositions are akin to stage sets, featuring vibrant arrangements of cubes, spheres, columns and mirrors. This approach to image-making began in the 1970s, and has been evolving ever since. "The challenge is," Kasten says, "how do you use light and shadow to photograph an object in such a way that it questions the veracity of what you're looking at?" This statement resonates sharply in a "post-truth" era.
---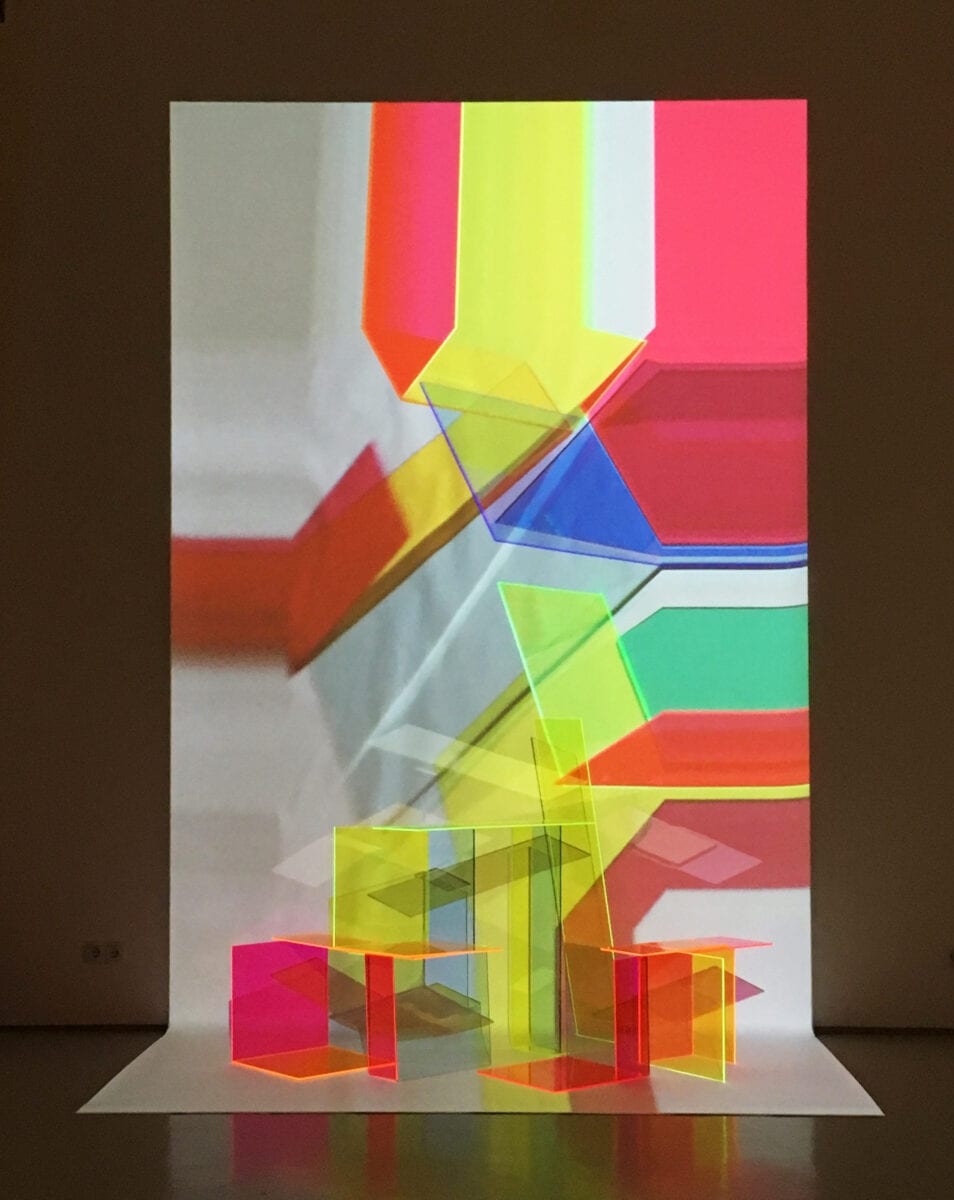 Scenarios is a new exhibition at Aspen Art Museum, which draws on a recent series of non-photographic works, entitled Progressions. From 2017 onwards, Kasten has been working increasingly with video projections and acrylic forms, creating vibrant installations that combine sculpture and the moving image. Her three-dimensional prints move beyond the page, reaching out into the gallery space.
Fluorescent acrylic shapes are affixed onto existing photographs, transforming them into tangible sculptures. Pink, red, yellow and blue forms overlap in angular patterns, creating abstracted colour wheels. Viewing the works is immersive: audiences can approach, walk around, and experience them from different angles.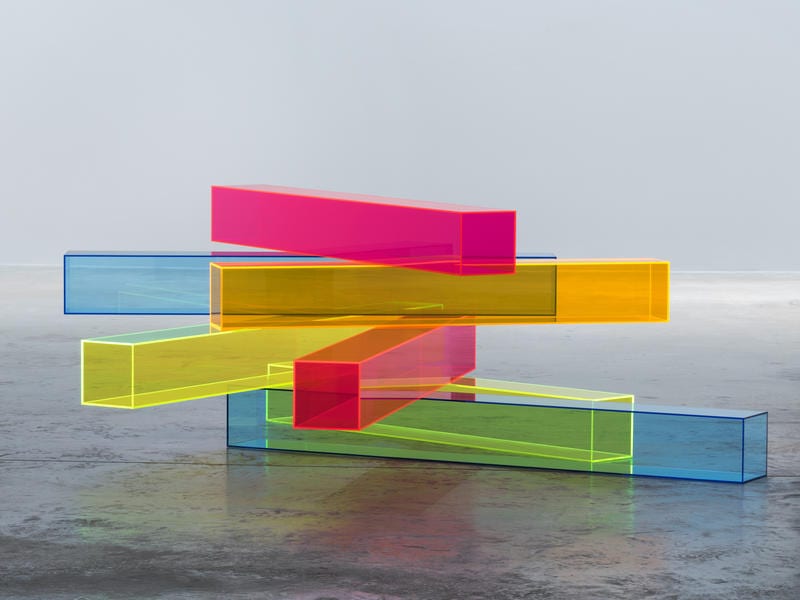 Progressions also draws on Kasten's ongoing interest in architecture, which was sparked by a childhood in Chicago. The city is recognised for its striking modernist structures. "I'm building something that looks like an object, but I don't want it to look like an object," she explained to Aesthetica, "so I cancel it out when the light hits and the shadows create other fleeting subjects." Notably, Aspen Art Museum presents a site-specific outdoor installation, Elevation, which interacts with the institution's grid-like facade. Three of Kasten's videos are also on display – a US first – offering new perspectives on the artist's celebrated oeuvre, as it continues to expand in new directions.
---
From 15 October. Find out more here.
---
Lead image: Barbara Kasten Scenario 2015 HD video, color, silent, 3:38 min, loop with constructed corner, large scale cubes, plaster, paint, Masonite 9 x 12 x 18 ft Image courtesy of the artist and Bortolami, New York
2. Barbara Kasten Crossover (Düsseldorf) 2016 HD video, color, silent loop, plexiglas, paper 11.5 x 8 x 4ft Installation view of Less is a Bore at K10 Arthena Foundation, Düsseldorf, Germany Image courtesy the artist and Bortolami, New York; Thomas Dane Gallery, London; Kadel Willborn, Düsseldorf
3. Barbara Kasten Parallels I 2017 Fluorescent acrylic Approx 32 x 98 x 96 in Image courtesy of the artist and Bortolami, New York Photo: John Berens