Photography in post-war America often blurred the line between photographic documentation and social critique. In iconic images by Richard Avedon, Robert Frank, Irving Penn, Gordon Parks, and Peter Hujar, portraits of political leaders, civil rights activists, dancers, and artists are intermingled with images of ordinary people, capturing the energy and character of 20th century America. Samanthe Rubell, Senior Director, Pace Gallery is responsible for the gallery's online sales initiatives. She discusses a new online show, Diamonds on the Soles of Her Shoes.
A: How do you see the future of virtual exhibitions? Is this something that Pace is looking at keeping once the art world opens back up?
SR: We firmly believe that the experience of seeing art in person is irreplaceable. The physicality of an artwork and the immersion into an exhibition space will never go away. But digital exhibitions are not opposed to physical presentation; they work together to complement real-life exhibitions.
In programming online exhibitions, we have become aware of the platform's potential to offer our audience strong, accessible and rich narratives devised by our curators and dealers. Online exhibitions allow fantastic creative possibilities which can sometimes prove too cumbersome to achieve with gallery spaces. With a new level of accessibility and convenience for the viewer, artist's inspirations, techniques, and other cultural references can be explained and discussed more thoroughly. That's one of the most significant aspects of digital presentations. Diamonds at the Soles of Her Shoes, for example, is supported by thoughtful interpretative materials, both scholarly and ludic, conceived by Pace's curatorial team, including texts, audio, and comparative visual materials from the gallery's vast digital archives and further afield. We will continue to explore virtual exhibitions and walkthroughs with artists after the lockdown.
A: What other digital initiatives are Pace working on?
SR: We've recently started organising virtual walkthroughs and studio tours with artists, curators and cultural figures. These digital events provide great insights for all to enjoy. Attendance to these virtual events has been very high which pleases us greatly. We love that we can continue to share and engage in this remote time. In a way it has brought us closer. Some of our artists obviously explore themes related to the digital and possibilities offered by technology: Trevor Paglen whose upcoming exhibition at Pace in London next September is exciting, John Gerrard who recently discussed his work with Jasper Sharp, Curator for Modern and Contemporary Art at the Kunsthistorisches Museum in Vienna on our Instagram Live, and Leo Villareal whose complex, rhythmic compositions in light push the boundaries of new technology.
Obviously, Instagram has become one of the most important channels and our regular artists conversation programme is very popular. I really enjoyed the first episode of our Instagram Live conversation series, where artist Torkwase Dyson spoke with curator Hans Ulrich Obrist. The advice to young artists that Torkwase gave at the end of the virtual discussion was really inspiring.The behind-the-scenes and access to artists in a more open and candid way has led to very interesting conclusions. 
As the first major contemporary gallery to open in Silicon Valley, we have been experimenting with digital tools to aid exhibition interpretation for a while. For example, last year we launched an augmented reality app on the occasion of our Picasso survey show staged in Palo Alto, which was again intended to provide context to the masterpieces on view and as a tool to educate audiences. 
---
A: In a landscape where galleries are moving to online shows, and the public's attention is key, what does it offer in terms of cultural respite and inspiration?
SR: At Pace we recognise our responsibility for societal good. I believe that artists are interpreters for what is happening in the world. The moments of poetry and reflection they offer, can help the healing process. The crisis has shown the increasing appetite for access to artists through digital platforms. In moments of doubts and uncertainty we look to artists to help navigate us towards more thoughtful understanding and reflection. The public's attention remains high now and as a gallery, it is our duty to convey these messages and give artists the platforms they deserve.
A: Why is this show (Diamonds) particularly important at this time?
SR: The exhibition is important because the works on view reveal fundamental truths around themes of resilience, empathy, and unity that have defined American society in its most difficult moments. We selected early photos of the mundane by Irving Penn and Harry Callahan for example. They depict situations from the artists' daily walks through the cities where they lived, and, in the case of Callahan, the intimate spaces of daily life at home. The parallels with our current time are apparent and I found these elements particularly striking. The exhibition reveals the power of images at a time when we can pause and look again. Photography is inextricably shaped by its ability to pause, and the works on view distort our sense of time. It's very similar to the daily routine we're in right now.
A: 2020 has been an extraordinary year so far, with many comparing lockdown to WWII. Given that this show examines the post-war American landscape, what lessons can it teach us as we begin to integrate back into society?
SR: These photographs dive into the social landscape to expose the humanity and bravery of heroes and strangers alike. The famous portraits by Richard Avedon, Gordon Parks, and Peter Hujar for example, of friends, political leaders and artists are juxtaposed with images of ordinary people. These iconic photographs capture the energy and character of the most turbulent decades of 20thcentury America.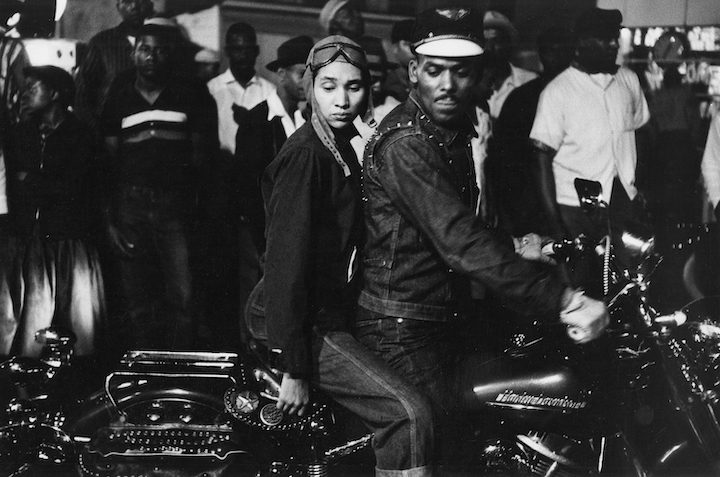 A: The show brings together 20 works from a number of well-known photographers. How do they speak to one another or reveal parts of history that have perhaps been overlooked?
SR: Paul Simon's song Diamonds on the Soles of Her Shoesprovided inspiration for the title of this exhibition. Persistence and tenacity are values we need to hold on to, and this song incarnates the veracity of American people, their fights, and their resilience. These works harmoniously dialogue with one another to provide an accurate and poetic interpretation of American society. The network of influences between these artists is also interesting to me. The impact of Robert Frank's legacy is obvious in the work of Paul Graham for example, whose American Night continues this direct dialogue with the surroundings of daily life in an extension of Frank's America. Brought together these twenty iconic photographs oscillate between serious issues of power, race and fracture, and the lightness of the everyday.
A: What are some of the show's key pieces?
SR: It's hard to choose but my preferences go to Christenberry's Green Warehouse, Newbern, Alabama (1978). The artist photographed this house every year for twenty-two consecutive years. This laborious process intensifies ideas of resilience found in American's spirit throughout history. I also love Richard Avedon's portrait of Chet Baker, taken just two years before his death. This work is contextualised, in the exhibition, by a poignant video of the singer performing Alone Together. Lastly the three landscape photographs by Richard Learoyd, Big Sur I, 2018, William Eggleston, Yellow Flowers, Hillside, California, 1978 and Trevor Paglen, The Glen Canyon, Deep Semantic Image Segments, 2020 evoke moments of serenity, infinity and calm we all desperately need right now. 
Diamonds on the Soles of Her Shoes is available to view at Pace Online. For more information, click here.
---
Credits:
1. Gordon Parks, Eldridge Cleaver and His Wife, Kathleen, Algiers, Algeria, 1970 archival pigment print. © The Gordon Parks Foundation
2. Gordon Parks, Untitled, Miami, Florida, 1966, gelatin silver print.© The Gordon Parks Foundation.
3. Peter Hujar, Queen with Fur Stole, Halloween, 1979, vintage gelatin silver print. © The Peter Hujar Archive.
4. Robert Frank, Indianapolis, 1956 gelatin silver print. Image, 8 5/8 x 13 inches paper, 11 x 14 inches frame, 16. 1/2 x 20 1/2 x 1 1/2 inches © Andrea Frank Foundation, from The American.