Today, the majority of urban design takes "modern" as the default. Clean lines, simple forms and neutral finishes have claimed the everyday aesthetic, from the showrooms of Ikea and Made.com to the slick, filtered corners of Instagram. The physical demands of the pandemic locked down millions and prompted a mass-evaluation of interior space. This has only accentuated an already growing interest in simplification, and the "less is more" appeal. A generous proportion of this trend is owed to the early 20th century, when Modernists began shedding the excess of Art Nouveau and Beaux Arts for a more utilitarian approach. And, whilst many emblems of Modernist architecture – cultural venues, government buildings, educational complexes and houses – are associated with the metropolitan spaces, the rugged hills of the countryside have been hiding a number of structural gems.
This is where John Gendall comes in: a New York-based architectural writer (The New York Times, Monocle, Artforum) and lecturer who has taught at the Harvard Graduate School of Design and Parsons, amongst others. Born in Canada and raised in Colorado, Gendall grew up with vistas of sharp mountains rising into the soaring sky, the dense green of endless trees colouring a rough landscape – whilst dots of neat residences seemed to blend into nature. During lock- down, he unconsciously amassed an "alternative collection" of Modernist architecture, his desktop brimming with files about mesmerising Rocky Mountain estates. The result is Rocky Mountain Modern (Monacelli Press), a new publication which brings together 18 projects, from 2006 to 2021.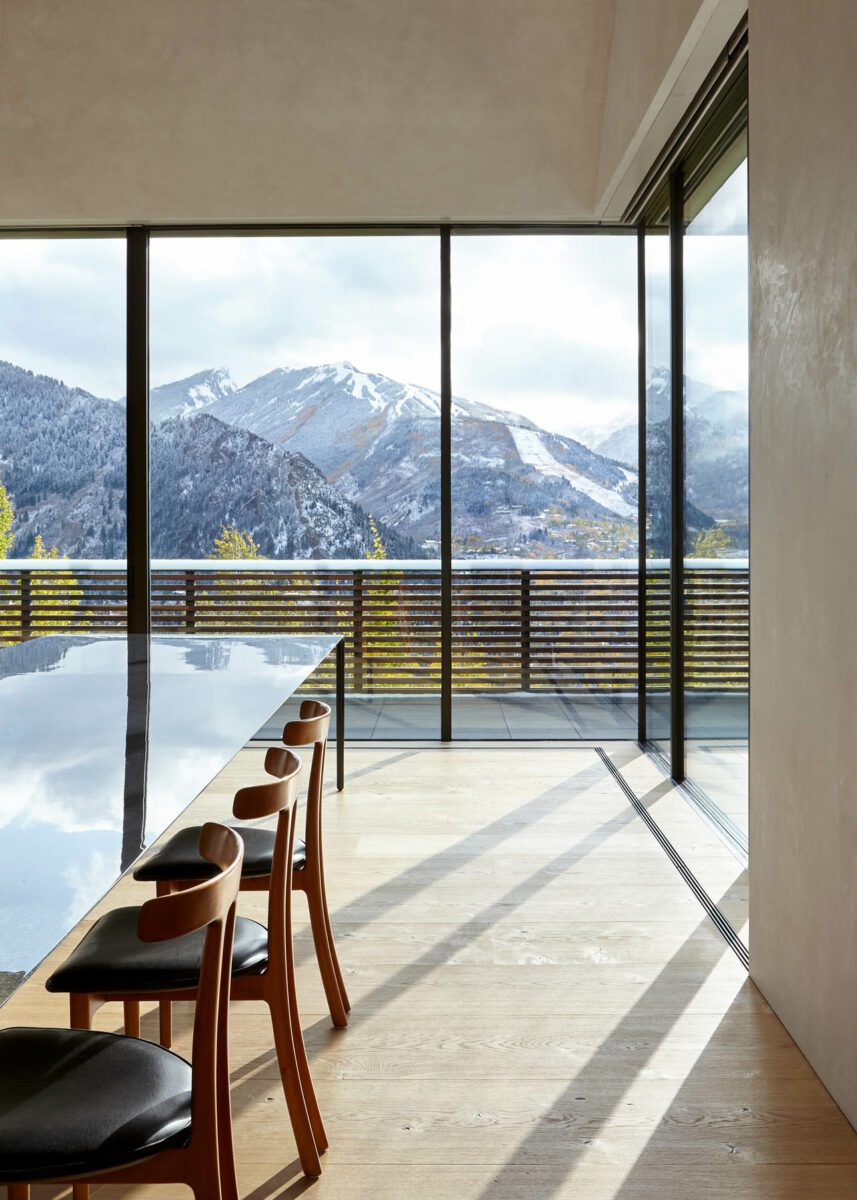 Gendall's fascination started when he first noticed a geo metric-shaped wood-heavy structure in Telluride, Colorado, and was "taken with the property's engagement with the mountainous topography," he says. Built by Maya Lin (b. 1959) – the architect behind the Vietnam Veterans Memorial in Washington DC – the structure extended the principles of early Modernist architects such as Eliot Noyes (1910-1977), Walter Gropius (1883-1969), Ludwig Mies van der Rohe (1886-1969) and Marcel Breuer (1902-1981). Lin's design was carved into the Rocky Mountains as an antithesis to the movement's so-called "urbanism." Gendall's initial strategy – to focus solely on the municipality of Aspen – then evolved to include the whole of the Rockies, some 3,000 miles from British Columbia all the way down to New Mexico, after realising that "Modern architecture in the region in fact follows the general trend of architectural discourse around the world."
Rocky Mountain Modern stems from Gendall's interest in a type of design that has often been overshadowed by the presence of the American metropolis. In the USA, historical Modernists primarily designed buildings for the likes of New Canaan, Connecticut; New York and Chicago, Illinois; but in the Rocky Mountains they built with an "alternative awareness to the landscape," Gendall explains, which is arguably much more radical, especially given the changing nature of the world's ecosystems, and a demand for sustainable living.
Throughout the mid-20th century, Richard Neutra (1892- 1970), I.M. Pei (1917-2019) and Herbert Bayer (1900-1985) – alongside Frank Lloyd Wright, Walter Gropius and Marcel Breuer – had been invited to various locations along the Rockies to design both public and residential buildings: projects that have largely gone unnoticed in the public eye. Van der Rohe's first trip to the USA in 1937, for example, was in fact to Jackson Hole, Wyoming, where he was commissioned to produce a vacation house in the Grand Teton Mountains. The project never came into fruition, but photo-collages and draft living room sketches still sit in MoMA's collection today.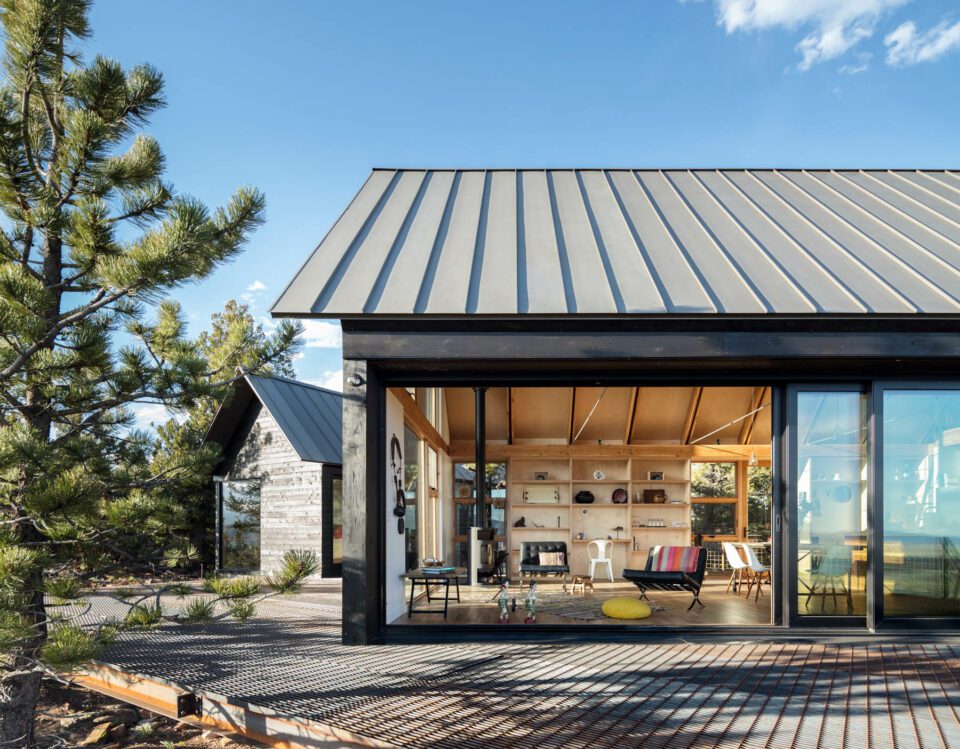 In the late 1940s, Neutra visited Montana to lecture at Montana State University. Whilst he was there, however, he also left a distinct architectural imprint with houses compris- ing sod roofs in the Sourdough Creek in Bozeman and the Missoula Valley. Gropius then, infamously, visited Aspen a decade later. In the late summer of 1945, just weeks after the end of WWII, the residents of Aspen had gathered at the courthouse for a public meeting to discuss what was then a dilapidated mining town, right before its rapid transformation into a skiing mecca. Gropius, the then head of Harvard Graduate School of Design, was also in attendance. Here, he launched the idea of building "modern" in place of the debris.
"Gropius' philosophy about Aspen, which was about keeping the best of the old whilst thinking fresh about the future, is, in many ways, origin of my research, both philosophically and theoretically," Gendall says. The author has curated a text that draws on the industry of Modernist design and its impact on present-day architects, where form meets function.
Stretching vertically nearly 3,000 miles, the Rocky Mountain range thrives with a flora that coats peaks as high as 15,000 feet with lush characteristics of all four seasons – adventurous at times, and at others, idyllic. Besides providing endless inspiration, the dramatic seasonal shifts offer momentous challenges, not least in the choice of materials, but the position of the buildings themselves. "The performance of the design is related to the climate conditions, such as in- tense winds and heavy snowfall," Gendall explains, noting that, behind clean aesthetics, lies robust physical endurance.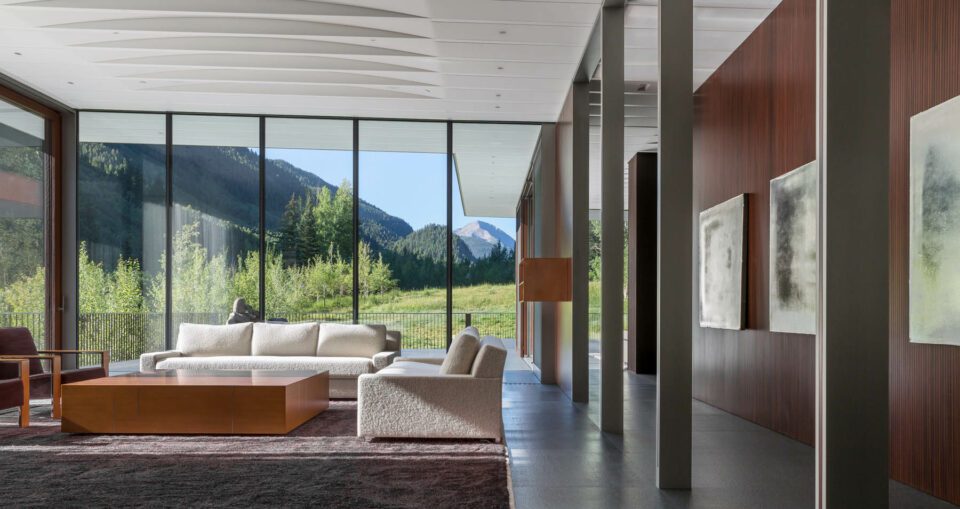 This is perhaps best exemplified in Jackson Hole House (2015), designed by the London-based firm McLean Quinlan. The structure is sunken into a lush green hill, manifest- ing a celebratory solitude amidst a grand alpine terrain, a "quintessential experience" of rugged immensity. Snow is similarly the feature backdrop for Idaho-based Sun Valley Residence (2003), designed by Oregon practice Allied Works. Here, the design challenge was to "emphasise the environmental context" whilst working with "big fluctuations in temperature" – turning to concrete for its "timeless" stability.
A large number of projects are based in remote locations, so there are equal amounts of logistical challenges and opportunities. "In many cases, we see adaptation alongside the environment; architects working with local builders who are experts in regional materials and techniques," Gendall notes. The galvanised box rib metal roof of the Lone Mountain Ranch House in New Mexico (2012), for example, radiates under the piercing sun. Horizon, Utah's new 30-cabin skiing commune on the Powder Mountain, meanwhile, defies typical chalet architecture – and the challenge of living in a high-altitude community – with Modernist touches. MacKay- Lyons Sweetapple Architects was inspired by the weathered- board barns of the nearby Eden Valley, accentuating the already generous windows to absorb the snow-washed peaks.
Amongst the 18 houses in Rocky Mountain Modern, all of them embrace nature with an "attentiveness towards the landscape" due to the designs being produced on ground that doesn't technically need to be built on." Scale, in this case, is a fundamental consideration for the architects, both in respect to the surroundings and the clients' needs. Most houses are positioned in angles that help them resist the strong summer heat and lower the need for air conditioning.
And, despite many starchitects' longstanding interests in the region's otherworldly vistas and rich fauna, an "authentically local" approach was crucial in Gendall's selection. Walden House (2009, designed by Annabelle Selldorf), for example – which sits by a pond on the plateau of Vail, Colorado – nods to the region's history of stacked-wooden houses, whilst considering a sustainable repurposing of materials. As the Colorado climate warms, beetles have become an "environmental scourge," killing off millions of trees, pines and spruce. Taking this into account, Selldorf combined the dead wood with the area's fieldstone and zinc in a stacking technique common in the neighbouring towns.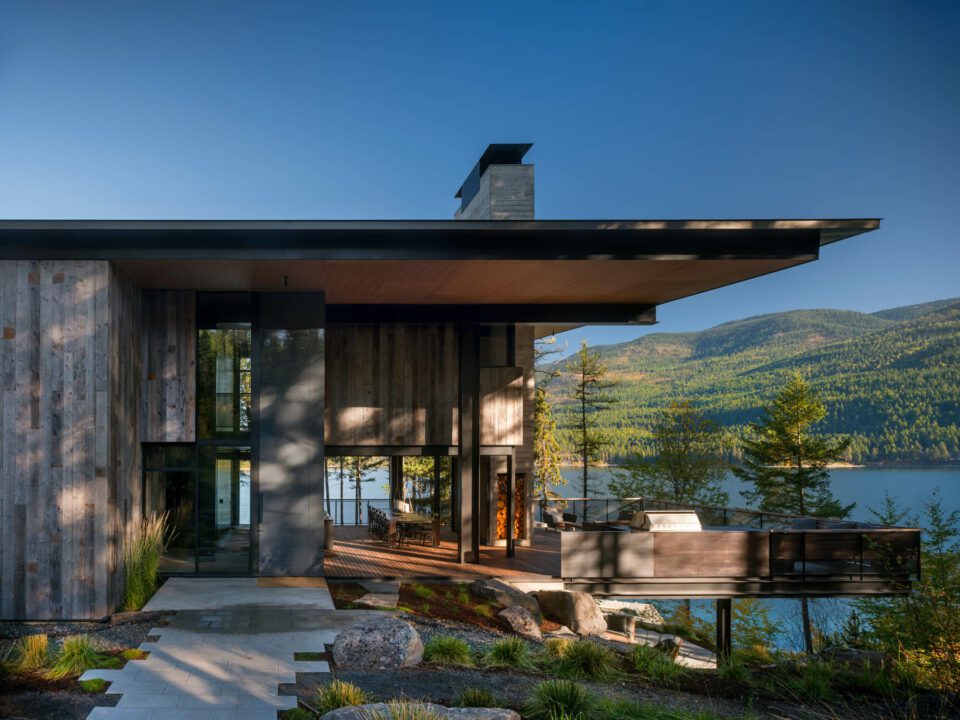 Seattle-based Cutler Anderson Architects also demonstrate a certain "stewardship" towards nature with the glass- clad Rock House (2015), in Alberta, Canada. The structure sits on the threshold of imminent geological and ecological change, with an aspen grove directly to the east and a high ridge directly to the west. One edge of the house welcomes the foothills of the Canadian Rockies, whilst the opposite side relies on groves of trees and rock outcroppings to orchestrate privacy – letting natural light and views of the sky penetrate inside through all corners. The sculptural presence of weathered steel – synonymous with Postmodernism's pioneering sculptor Richard Serra – and the subtle command of glass, to both contain and reveal, are also inherited traits for these types of projects. Wood and stone, on the other hand are innate materials of the terrain and, as a result, they have been the common textures in local architecture. "Most of these houses incorporate glass and steel in a modern idiom whilst stone and wood are nostalgic threads," Gendall says.
Gendall's selection criteria also includes an interpretation of the region's agricultural past. "Barns, ranches, sheds and cabins have been built here for over a century," he explains. Ranching and farming have historically informed the re- gion's vernacular, mainly with wood or stone hut forms. Over the generations, populations have aligned themselves with the climate, with steep roofs and thick walls, "which are still lessons to be learnt by many contemporary architects."
Crucially, Rocky Mountain Modern also links the region's growing popularity with those in search of culture outside the city. Colorado's population, for example, has grown 15 percent between 2010 and 2020, moving from five million to nearly 5.78 million. The figure makes the state fourth in growth in the USA in 2021. The dialogue with Modernism, has, as a consequence, expanded from the residential to the civic. After the Gio Ponti-designed Denver Art Museum (1893) and I.M. Pei's National Center for Atmospheric Research (1961), newcomers joined with Clyfford Still Museum (2011) in Denver and The National Music Centre (2016) in Alberta.
Ultimately, Modernism's principles of minimalism, volume, clean lines and asymmetry leads the way, from the mountains to the city, to the gallery and into our homes. Undoubtedly, we will continue to see buildings both civic and domestic draw inspiration from this school of thought. Future structures will need to embrace further ecological challenges, similar to those found in unforgiving terrains and high altitudes, and this is where Gendall's project will become a source of idea generation and innovation for years to come.
---
Words: Osman Can Yerebakan
Rocky Mountain Modern is published by Monacelli

monacellipress.com
---
Image Credits:
1. Art Barn, Rowland+Broughton, Aspen, Colorado. Photo credit: Joshua McHugh.
2. Rock House, Cutler Anderson Architects, Canmore, Alberta. Photo credit: Bent René Synnevåg.
3. Big Cabin | Little Cabin, Renée del Gaudio Architecture, Fairplay, Colorado. Photo credit: David Lauer Photography.
4. Steel House, Vincent James Associates Architects, Aspen, Colorado. Photo credit: © Paul Crosby.
5. Dragonfly, Olson Kundig, Whitefish, Montana. Photo credit: © Nic Lehoux.