It covers more than 70% of the planet's surface but retains a profound sense of mystery. At its deepest points, where no light enters, it is the closest thing to experiencing outer space without leaving earth. "For thousands of years, people of all civilizations have been intrigued by the ocean and have pictured it in a diversity of artistic forms. The ocean is the source of life on earth and symbolic of the unbounded spectrum of animate being," write the curators of Ocean, a group exhibition at Bildhalle Gallery in Zurich. It presents ten artists whose work shares a maritime theme, explored through an array of striking aesthetics.
---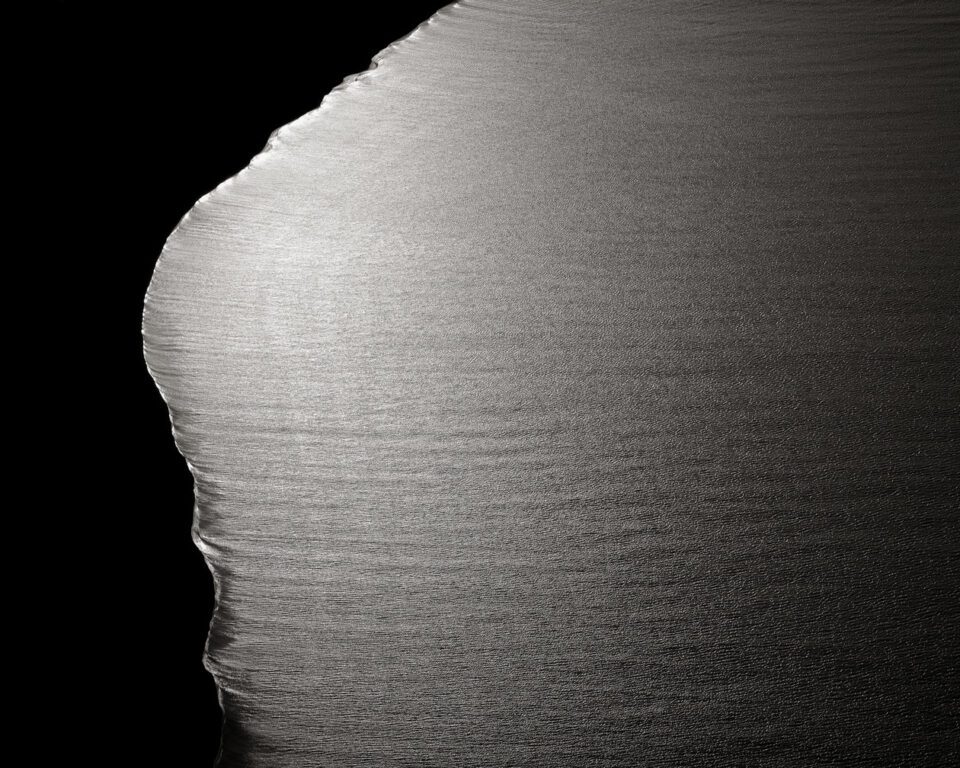 Fine art landscape photographer Jeffrey Connolley (b.1969) shoots monochrome images with a pared back composition and rich tones. In one, a water expanse exposed almost to the point of bright white oblivion, fills eight tenths of the frame. At the bottom is a dark strip of beach where a human stands in the waves. The tiny figure reminds us of our transience, our insignificance faced with the enduring enormity of nature. Gazing pensively out at the horizon or frolicking playfully in the waves, the people in images by Martin Bogren (b.1967) find instead that it's a source of exhilaration. Taken from his 2009 book, the pictures portray a group in India encountering the sea for the first time at the end of a 1,000-mile bus journey.
Artists have often used the sea as a metaphor for psychological states. As the curators put it, "the oceans may stand for formlessness and chaos and, in the interpretation of dreams, for the collective and personal unconscious." Tiny tears fill an ocean is an enigmatic series by Canadian photographer Amy Friend (b.1975). The glittering specks of light that punctuate her images are created by soaking the print in seawater and leaving them out to dry for several weeks. These lyrical works, with their sparkling salty remnants, have a strangely melancholic feel. In the beautiful but disturbing work of Thirza Schaap (b.1971), the sea comes across as the metaphorical unconscious of the world, riddled with plastic waste we don't want to deal with.
---
Long-time collaborators Angel Albarrán (b.1969) and Anna Cabrera (b.1969) also engage with materiality in their practice, printing their images as cyanotypes on aluminium plates and pigments on Japanese paper over gold leaf. Their series, The Mouth of Krishna, is inspired by a story about the Hindu deity as a child. Thinking her son has eaten some dirt, Krishna's mother demands he opens his mouth, which he does to reveal the entire universe inside. "In any part of the universe there is a whole universe," the duo writes. "Hamlet saw the infinite space in a nutshell; William Blake saw a world in a grain of sand, a heaven in a wild flower, and eternity in an hour." And we see untold possibilities shimmering before us in endless waves.
---
Ocean runs until 25 September at Bildhalle Zurich

bildhalle.ch
Words: Rachel Segal Hamilton
---
Image Credits:
1.©Sandro Diener, Ionian Sea, Greece, 2019, Archival Pigment print on Photo Rag, 180 x 120 cm, Edition 3 & 2 AP, also available: 40 x 50 cm, Edition 7 & 2 AP, Courtesy Bildhalle
2. ©Albarrán Cabrera, Mouth of Krishna #177, 2017, Pigments on Japanese Gampi paper over gold leaf, 25 x 17 cm, Edition 20. Courtesy of Bildhalle
3. ©Albarrán Cabrera, The Mouth of Krishna #50619, 2016, Pigments on Japanese Gampi paper over gold leaf, 32 x 49 cm, Edition 5. Courtesy of Bildhalle
4. ©Jeffrey Conley, Cadescence, Iceland, 2018, Platinum palladium print: 28 x 35.5 cm, Edition 10 & 2 AP / 53 x 63.5 cm, Edition 5 & 1 AP, OR: Gelatin silver print: 76 x 90 cm / 120 x 142 cm, Edition 5 & 1 AP, Courtesy of Bildhalle
5. ©Paul Cupido, An island and the Moon I, 2020, Handmade chine-collé print on Mitsumata Washi paper, 60 x 40 cm, Edition 7 & 2 AP, Courtesy of Bildhalle31 / 51
6. ©Paul Cupido, An island and the Moon II, 2020, Handmade chine-collé print on Mitsumata Washi paper, 60 x 40 cm, Edition 7 & 2 AP, Courtesy of Bildhalle