Colourful vines growing from gallery walls. Piles of woven blobs reaching towards the ceiling. Turquoise tendrils hanging in mid-air. These are works by Sheila Hicks (b. 1934), the Nebraska-born sculptor and weaver whose career has spanned more than half a century. During this time, she has created some of the most vibrant contemporary textile art in the world. Now, as a new retrospective opens at the Hepworth Wakefield, UK audiences have a chance to experience the tonal and textural richness of her work first-hand. But where did it all begin? How did these forms first come to life, and what is coming next?
Hicks studied under the great concrete artist and colour theorist Josef Albers at Yale during the late 1950s. This experience was a significant influence on her practice. So too was the work of Anni Albers, the Bauhaus-trained textiles master and wife of Josef, alongside the tutelage of fellow Yale teacher and Pre-Colombian art expert George Kubler. It was partly Kubler and the Albers' interest in ancient Central and South American design that inspired Hicks to travel; she took numerous trips across Chile, Mexico, Columbia and Venezuela during her early career, but has lived in Paris since 1964.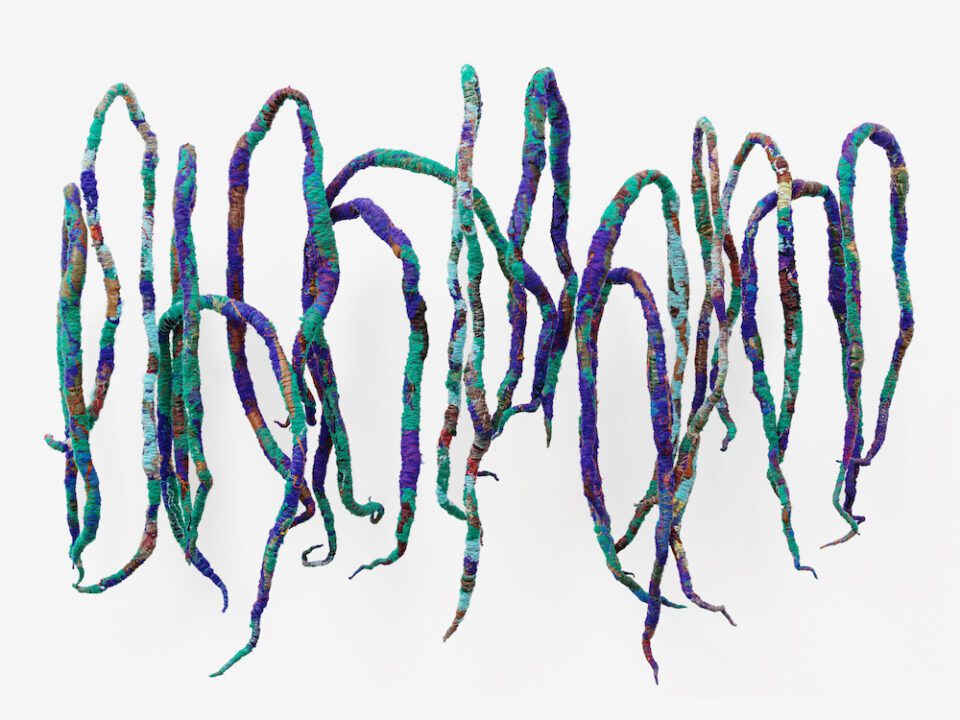 Traditional and regional textile techniques – many of which originate from the Americas – remain a vital and ongoing influence on Hicks, who has always been interested in learning directly from local artists and craftspeople. As such, a set of previously unseen photographs and notebooks will be shown at the Hepworth, documenting the artist's journeys and showing the kaleidoscopic range of artistic and cultural traditions that have provided inspiration over the years. Often, these ideas have been combined and adapted to create the uniquely layered textile language we see today.
Hicks' intermedia practice collapses the boundaries of art, design and architecture – an approach very much in the spirit of 20th century movements such as concrete art and constructivism. The exhibition at Wakefield makes a central feature of this, highlighting the vast range of scale in her oeuvre. One such example is a series of minimes, tiny "drawings" created with thread, lace, wool and a host of found materials using a handheld wooden loom. Their composition is a meditative and almost daily practice, with rich colour contrasts and abstract arrangements of shape and texture. They are reminiscent of paintings by modernist artists such as Paul Klee (1879-1940), whilst retaining a strong connection to folk art and craft.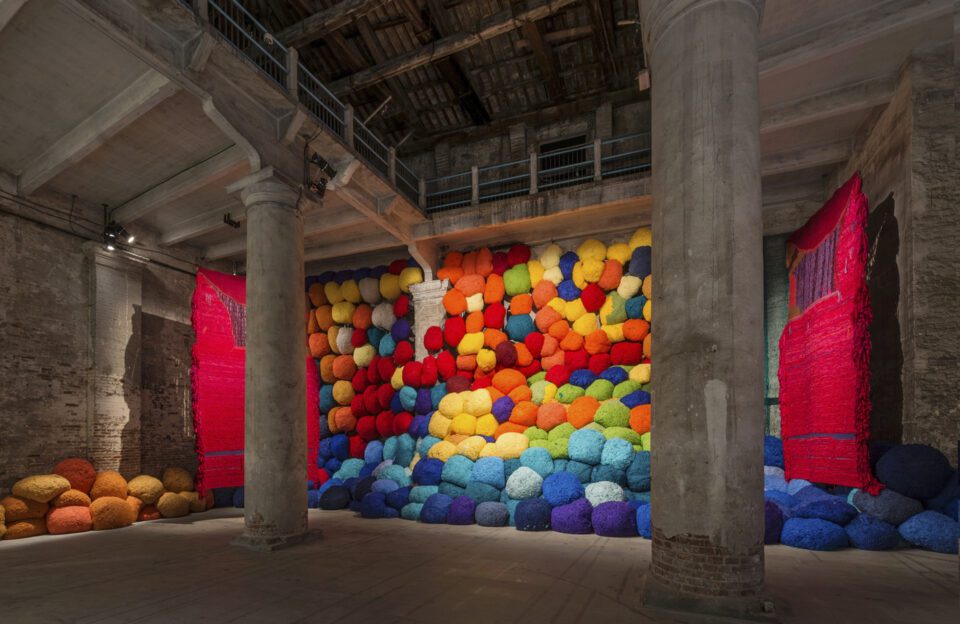 In recent years, by contrast, Hicks has been working on a grand scale. Installations such Saffron Sentinel (2017), a wall-leaning pile of huge squishy fabric balls, show the weaver's thrilling gift for combining tonal range and texture to delight the senses. This particular example radiates a white-to-orange colour spectrum, whilst others encompass the full rainbow. Works of a similar blueprint will be unveiled in Wakefield, including a piece designed for David Chipperfield and a set of monumental garden sculptures, showing Hicks' increasing interest in making interventions into the public realm.
---
Sheila Hicks: Off Grid runs at the Hepworth Wakefield from 7 April to 25 September. Find out more here.
Words: Greg Thomas
---
Image Credits:
1. Sheila Hicks, Saffron Sentinel, 2017 © Sheila Hicks. Courtesy of Alison Jacques Gallery, London. Photo: Noam Preisman.
2. Sheila Hicks, Calligraphy Sauvages, 2019. Courtesy of Alison Jacques Gallery, London. © Sheila Hicks.
3. Sheila Hicks, Escalade Beyond Chromatic Lands, 2016-17 © Sheila Hicks. Courtesy of Alison Jacques Gallery, London. Photo: Michael Brzezinski.