Architects' Houses by Los Angeles-based writer Michael Webb foregrounds 30 of the design world's most prominent figures, including Norman Foster, Todd Williams and Billie Tsien. With a special focus on the houses that designers have built for themselves, Webb explores a variety of creative processes, whilst interweaving history over the last 200 years, from Charles and Ray Eames' first post-war Case Study House to Frank Lloyd Wright's modernist home, Taliesin.
Webb's question, "how can a house enrich lives and its natural surroundings?" is looked at through the lens of both functionality and aesthetics. Drawing on a multitude of texts, sketches and plans, he examines the importance of practicality and restriction. The home of Polish architect Robert Konieczny, for instance, is situated on a sloping meadow in the hills of Brenna, southern Poland, and, as such, is exposed to mudslides. To overcome this, Konieczny raised the structure on three wedges. "Konieczny realised that the solution was not to challenge nature but to go with the flow," says Webb.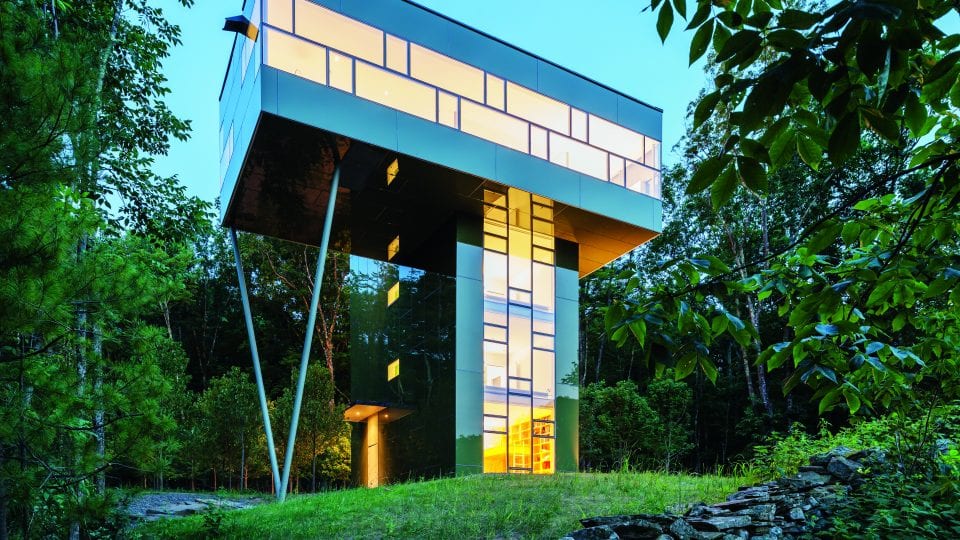 Elsewhere, Antón García-Abril's monumental Steinhaus pays homage to a love of the mountainous landscape from Abril's childhood. Composed of three steel pods, the sharply faceted construction appears like an extension of the mountains and the rock faces surrounding it. Webb notes: "Whether the house was the source of his growth as an architect, or only a metaphor for that process, it is likely to be seen as his monument." The vast range of buildings featured in this publication are not only responses to the surrounding environments but also reflections of the people who built them. On Webb's reading, the house is a mirror that reflects all these notions: the personal, the practical, the ideological and the aesthetic.
Architects' Houses is published by Thames & Hudson. Find out more here. 
Gunseli Yalcinkaya
Credits:
1. Swartberg House, Prince Albert, South Africa (Jennifer Benningfield). Simple blocks of brick faced in rough plaster play off the beauty of the landscape. Image credit: Richard Davies, courtesy Openstudio Architects.
2. Tower house, Ulster County, New York State (Peter and Thomas GluckLiving spaces are cantilevered from a stack of three bedrooms to command sweeping views over the tree tops. Image credit: Paul Warchol Photography.