Studio Ma is renowned as a thoughtful architecture firm with award-winning work spanning scales, geographies and disciplines. Studio Ma delivers a holistic approach to design that is more innovative, functional, sustainable and human to create projects that are not only beautiful, but also purposeful, comfortable, inspiring, and immersive. Based in Phoenix, the firm is led by Christiana Moss.
A: Studio Ma is committed to delivering innovative and sustainable designs. How was the studio created and how has it developed?
CM: My partner (Christopher Alt) and I were strongly influenced by an internship with Nordic Master Sverre Fehn, which we undertook as students. Scandinavian design inspires us to this day, with an emphasis on genus loci, or placed-based architecture. We truly believe that building and place (including location, physical character, ecology and sociology) are inseparable. Shortly after graduating from Cornell University we decided to launch Studio Ma – a collaborative and egalitarian firm inspired by the relationship between nature and culture. Our approach makes design more responsive with its context.
Since then, we've grown to a team of 15 people and as of this year we will have completed over 30 projects spanning institutional, cultural, residential and commercial sectors. A bulk of our work is university campus planning and building projects which are large–scale, complex and very gratifying because of their social impact.
A: The practice is based out of Phoenix, Arizona. How has this particular landscape informed your way of working? What challenges do you face through the desert climate?
CM: The desert is a beautiful but intense place, with dramatic changes in light and temperature. Days can reach 122° Fahrenheit whilst nights can dip below freezing. The sunlight is intense, and there is very little natural shade except for what is provided by the short Palo Verde trees. Water is also a huge issue as we are in a nearly constant state of drought. These extreme conditions have inspired us to design even more creatively and rigorously for the environment. As a result, our buildings aren't just aesthetically pleasing, but well-engineered systems that respond intelligently to the elements. We generate resources for the city rather than take them. To do that, we try to use all that the desert provides us to our advantage – natural daylight, rainfall, thermal mass and breezes – whilst mitigating their harsh effects.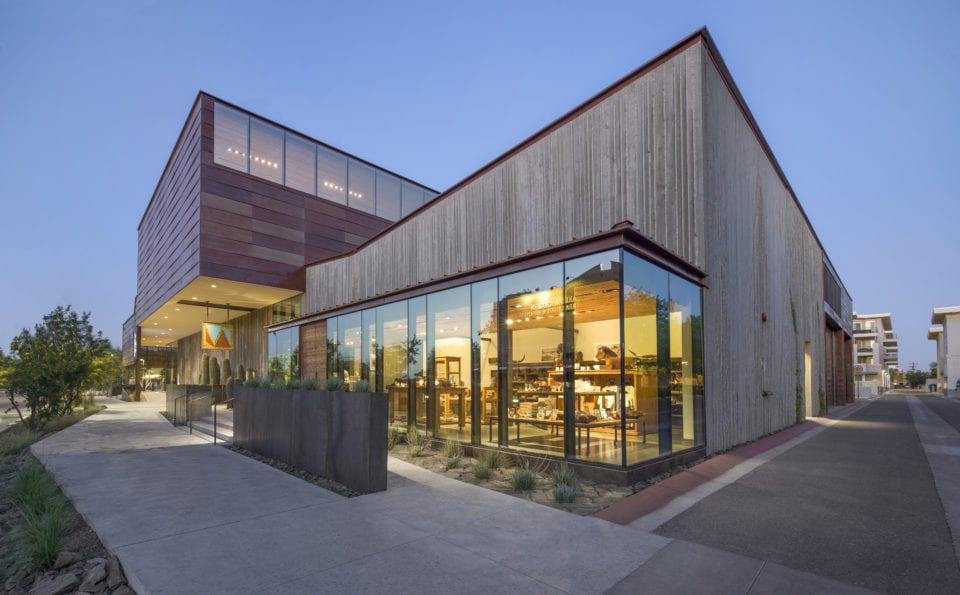 A: How did you come up with the name for your practice?
CM: Our name comes from the Japanese word "Ma," which means "the space between." We have always been inspired by the space between nature and culture, and as the scale of our work has expanded, the concept of "ma" has grown more far-reaching. It now embraces the physical character, ecology, and sociology of a place to achieve wholeness. We believe a building must enact a positive effect on aesthetics, functionality, carbon and water use, and the well-being we feel in groups and by ourselves. That integrity elicits joy. Ma embodies the dynamic relationship between manmade space and the natural world that we aim to integrate in our work.
A: What projects have you been working on recently, and how do they contribute to a rise in eco-conscious museums?
CM: We have had a longstanding partnership with Arizona State University, and recently broke ground on 16-floor LEED Silver residence hall and multidisciplinary Arts Center in downtown Phoenix. We also provided an award-winning conceptual design for ASU's "greenest building yet," a triple net-zero sciences building called ISTB-7. This large-scale innovative university work has inspired us to apply some of those ideas to museum design, with success!
We've fully embraced the challenge of advocating green museums. Creating Scottsdale's Museum of the West and the Northern Arizona University's Native American Cultural Center from the ground up, we discovered self-shading façade techniques and smart systems well suited for the housing of art, whilst the additions to the Heard Museum and the Phoenix Art Museum challenged us to upgrade and retrofit existing systems. Along the way we've found that it's possible to build cost-effective, environmentally sound institutions that look and feel elegant, as we believe museum architecture should.
A: What project are you most proud of to date?
CM: I would say our own office headquarters, named Xero Studiowhich we completed last year. The adaptive-reuse project fully embodies our firm's values of regenerative bioclimatic design, social equity and an ethos of "architecture for everyone." Having just received the American Institute of Architects Distinguished Building Award, it's also getting a lot of external praise. The project is unique for many reasons, including its location and new amenities (like shaded bike parking) which encourages our staff to walk or bike to work – a rarity in Phoenix. The building (which was once a dilapidated industrial building that housed a dentist's office) is now completely net zero in terms of energy and water use. Being an adaptive-reuse project, it's also very low in embodied energy as we reused most of the existing structure, wrapping it in
extremely efficient insulation and cladding it in a shading system made of wooden fins. By introducing natural ventilation, the slatted skin and luscious plantings that shade the structure from heat gain and mitigate harsh daylight inside, we've made going to work feel like walking into an oasis. We would love to scale up these ideas and use them in other cultural and institutional projects going forward. It proves a lot of things are not only possible, but beneficial.
A: How do you feel that cultural institutions should rise to the challenge of being environmentally sustainable? What responsibilities do we have as creative leaders to be an example of ethical practice?
CM: Cultural buildings are important reflections of our collective societal values. They should rise to the challenge of being environmentally sustainable, as models of regenerative and bioclimatic design.
Of course, all buildings produced today should also be energy-saving as well as high-performing. As creative leaders, it is our responsibility to communicate the importance of and reasons behind our green design strategies to all project stakeholders. It's not all up to the architects – so educating people is a big responsibility. The Living Building Institute website is a great resource for anyone looking to understand the green building design more thoroughly.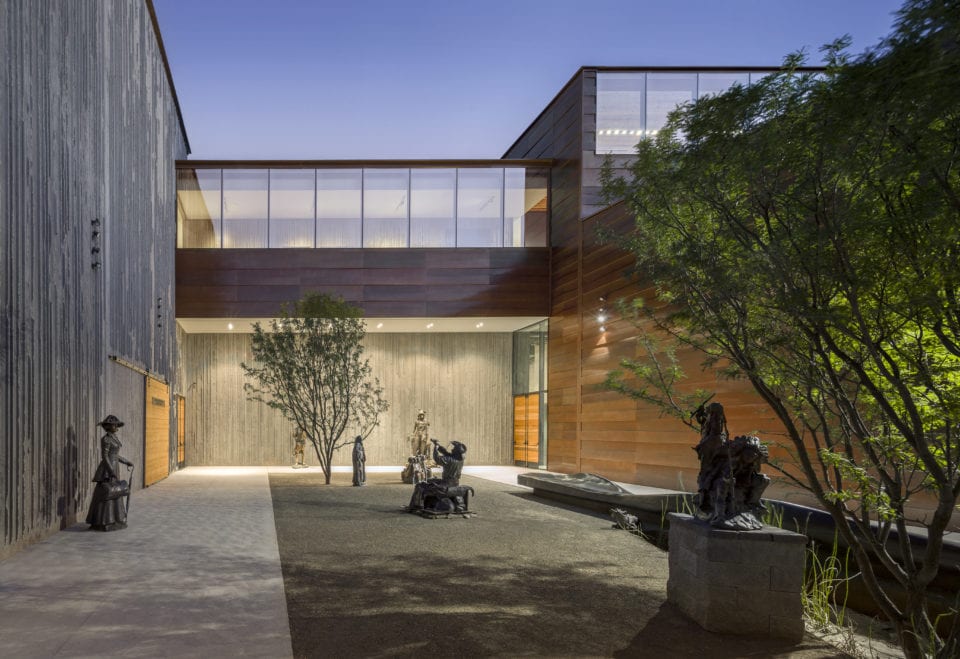 A: You are also hosting an exhibition in 2020, titled Building the Biome, on regenerative architecture and building systems. How will this exhibition be presented?
CM: The show is in the conceptual design phase right now, but we are reaching out to interested parties to bring them together. We would like it to be an exposé that showcases the most cutting-edge green technologies and designs in a real-time, human-scaled exhibition – one where the installations clean the air and water, respond to light and temperature changes, and more. The exhibition will be part-educational, part-experiential. 
A: What do you envision for the future of art and design museums? How might they contribute to the climate emergency, through requiring zero energy, or, in some cases, purifying water or air through the physical exhibition?
CM: We envision that museums should not only protect and display what's inside – namely art – but look outwards to how they can assist the surrounding community and larger ecosystems. Fundamentally, we see museums as being able to enhance the public's ecological awareness as much as they do the appreciation for culture. We discuss these ideas in depth in a self-authored chapter of a book coming out this year calledContemporary Museum Design. In our chapter, titled Green Design for New Museumswe explain our take on sustainable museum design from a financial, social, and ecological perspective. We know this low-cost, universally accessible model museum is possible to build, and works.
A: What else do you have planned for 2020?
CM: We are currently eyeing up the opportunity to design the world's first ultra–green museum. We are preparing a white paper on green museum design as well. On the planning side, the firm is doing a series of studies at college campuses across the country to identify where and how they can improve social equity for underrepresented students such as racial minorities, the disabled, and the financially disadvantaged. Our studies will be used to create campus interventions that make the college experience more inclusive for a diverse studentbody.
Kate Simpson
Credits:
1. Studio Ma, Phoenix Art Museum Community Room.
2. Studio Ma, Scottsdales Museum of the West.
3. Studio Ma, Scottsdales Museum of the West.