Harry Gruyaert (b. 1941), grew up in a traditional Flemish family, forbidden to pursue a career in the arts. Later, he decided to go on the move – picking up a camera and discovering the lively cities of Europe. He became a pioneer in the field, with images often compared to poems or canvasses for their colourful and nuanced details. Gruyaert has since been revered alongside the likes of Joel Meyerowitz, Saul Leiter, Stephen Shore and William Eggleston, amongst others.
These artists each broke new ground, finding beauty in everyday subjects such as street corners, shop fronts and gas stations. Gruyaert's journeys, in particular, have resulted in a rich collection of works that document life in Belgium, France, India, Japan, Morocco, Russia, Spain and the USA.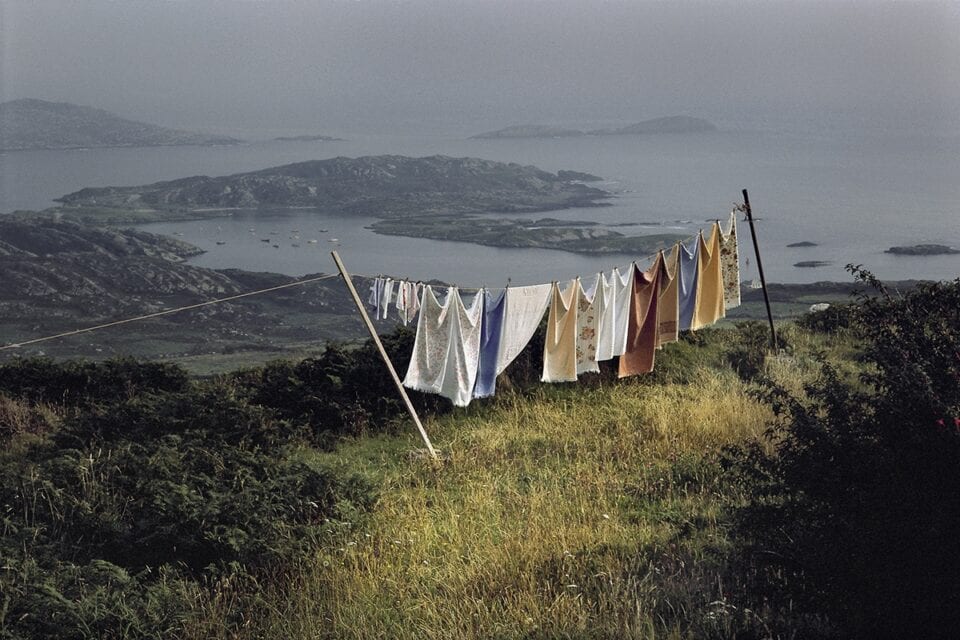 Irish Summers at Gallery Fifty One, Antwerp, comprises images taken on trips to Ireland – in a Volkswagen van – from 1983 to 1984. The collection is bursting with dynamic energy, capturing coastal scenes, street life and leisure. The series is also nostalgic – providing a time capsule of a period marked by wider political tensions. In these works, Gruyaert highlights precious moments of joy and respite between the conflicts. Families enjoy the seaside, running in and out of the water, climbing rocks and laughing in the sun.
Irish Summers, perhaps most importantly, demonstrates the photographer's longstanding interest in light and colour. Each composition shows an understanding of visual theory, as the eye is pulled into a constructed narrative. Images pop with bright reds, blues and yellows – connecting eclectic objects with intriguing visual connections. Inside a restaurant, a plush crimson sofa draws focus, jumping out against a diner's mint green dress. Outdoors, sky blue walls clash with lemon yellow cars, phone boxes and signposts. Gruyaert famously noted: "I am interested in that strange magic that occurs when things come together. I look to form a connection to a place. I have to be moved by something."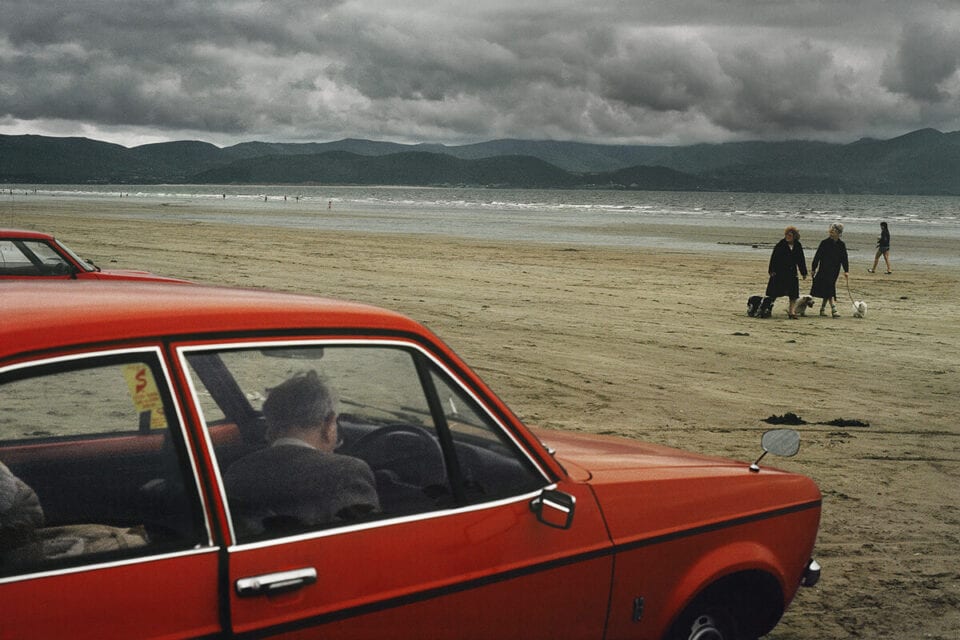 Gallery Fifty One's exhibition is brimming with these spontaneous compositions. Gruyaert documents the fraction of a second – recognising the significance of an event as it passes by – spotting an opportunity at the exact right time. Figures are caught off-guard: in the middle of conversations, sharing picnics or snoozing on sandy beaches. Gallery Director, Roger Szmulewicz, notes: "Gruyaert expertly captures Henri Cartier-Bresson's infamous 'decisive moment.'"
The photographs, which can also be experienced in an accompanying publication, often resemble paintings. In one shot, a brooding sky hangs heavy over the ocean. Clouds loom large in the distance, with shades of dark grey, blue and white blending like oils. These compositions crackle with tension, as Szmulewicz describes: "There is a striking kind of melancholy at play here, as if the captured moments and scenes will fade the second after the shutter clicks."
---
Irish Summers, until 31 October. Gallery Fifty One, Antwerp. Find out more here.
---
Lead image: Ireland, Galway, In a Pub, 1984. ©Harry Gruyaert, Courtesy Gallery FIFTY ONE.
1 & 2: © Harry Gruyaert – Courtesy of Gallery FIFTY ONE