Tate Modern invites visitors to play in Rasheed Araeen's (b. 1935) ever-changing interactive installation, Zero to Infinity. The artwork is brought to life within the gallery's iconic Turbine Hall as part of UNIQLO Tate Play, a free programme of art-inspired activities for families in partnership with the leading Japanese clothing company. The piece features 400 brightly coloured geometric cubes and encourages people of all ages to stack, tilt and balance them in new and endlessly creative configurations.
Rasheed Araeen (b. 1935) is a London-based artist, activist, curator, editor and writer. Born in Karachi, Pakistan, he initially trained as a civil engineer before moving to the UK in 1964. Today Araeen is recognised as one of the pioneers of Minimalist sculpture in Britain. Working across a wide variety of media, his work merges early interests in engineering with architecture and social engagement. He also organised the seminal 1989 exhibition, The Other Story: Afro-Asian Artists in Post-War Britain. Held at Hayward Gallery, London, this was the first retrospective of Asian, African or Caribbean artists who had worked in post-war Britain, marking a "major breakthrough in 'de-imperialising' the institutional mind" of the art world. He has been exhibited widely in important international collections. Now, Tate Modern presents Araeen's lattice-construction of cubes. The artist first devised them as sculptures in 1968 and the motif has since evolved into a staple of his work. Tate's installation begins as a neatly arranged grid of red, yellow, green and blue painted blocks, which changes based on interaction. Audiences are invited to dismantle the original structure and rearrange its components, initiating a process of play and transformation. Through making and remaking, people will participate in a continuous performance.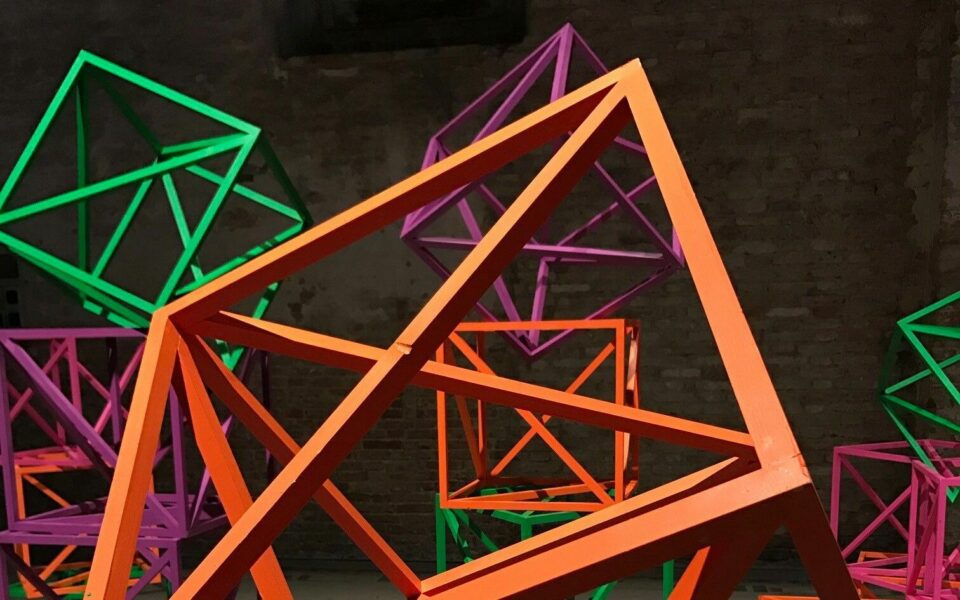 Alongside Zero to Infinity is another project by Araeen, titled Shamiyaana IV (Food for Thought: Thought for Change, 2017). Placed outside the Tate Modern, this installation comprises four colourful gazebos set with tables and chairs inside. The walls are decorated with a tessellating pattern of squares, their colours recalling the vivid cubes inside the gallery. At first sight, it may appear to be a pop-up café or restaurant. In fact, it's a public participatory artwork based on Araeen's conviction that art can – and should be – part of everyday life. Visitors to Shamiyaana will share free food with all those who have gathered there and be encouraged to chat to one another. In 2019, Araeen opened a restaurant of the same name in Stoke Newington, London. Here, walls are also covered with geometric patterns. Bright blocks serve as tables where people can gather to socialise. More than a pretty space, 80% of profits go to fund sustainable, collective farming projects in African countries and beyond. In The Guardian, the artist explained that these projects are about "making, reading, playing, eating together and talking together … I'm trying to take art back to it roots, and the roots of art lie in the creativity of people. Even cooking is a creative act."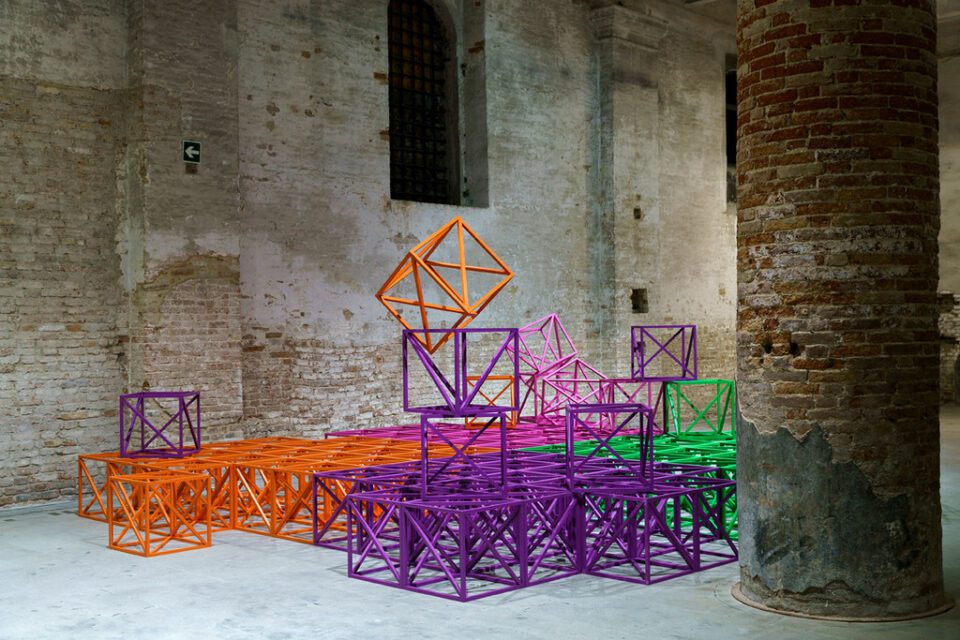 The first version of Shamiyaana was created in Athens in 2017 as part of DOCUMENTA 14, attracting people from all over the world. Attendees shared tables with locals from all walks of life, eating together and talking. Despite differences in cultures and backgrounds, with several not speaking the same language, participants found a way to tell their stories to one another. As academic Grigoris Gkougkousis' essay describes, 60 members of the public were able to share a free meal each day – cooked by Athens-based NGO Organization Earth – whilst the installation was open from April to July 2017. Gkoughousis notes the array of people attracted to the space: "Shamiyaana, as a public venue, was exposed to a wide and heterogeneous audience that included art admirers, documenta visitors and tourists traveling to Athens from various parts of the world just for the exhibition, but also refugees, homeless Athenians, and people living in poverty, who eventually had reinterpreted the artwork as a soup kitchen and were forming a long queue everyday next to the installation's ticket booth in order to be served a free meal."
Zero to Infinity and Shamiyaana build a sense of togetherness between by immersing people in collective creative acts. The exhibition is perfectly at home next to UNIQLO Tate Play, which also brings audiences together through family activities. Drawing on the floor of the Turbine Hall provides one way to understand Ei Arakawa's Mega Please Draw Freely (1956), whilst sticking colourful dots around a white apartment lets attendees better comprehend Yayoi Kusama's process for The Obliteration Room (2002). Araeen expands the ways in which we get to engage with art by making everyone an active participant. Seen this way, all acts – from eating to playing and socialising – present an opportunity for self-expression.
---
Tate Modern: UNIQLO Tate Play Rasheed Araeen, Zero to Infinity | 22 July – 27 August
Words: Diana Bestwish Tetteh
---
Image Credits:
1. Rasheed Araeen, Zero to Infinity in Venice, 2016-17, installation view, Arsenale, 57th Venice Biennale. Courtesy La Biennale di Venezia, Rasheed Araeenand Grosvenor Gallery. Photograph Italo Rondinella.