Alex Prager (b. 1979) translates personal experiences and cultural references into hyperreal images and film. The artist responds to the city of Los Angeles in new work at Lehmann Maupin, New York – looking at themes of nostalgia and artifice.
A: Play the Wind is set in Los Angeles. Why do you continue to return to the city in your works?
AP: Play the Wind stemmed from a deep feeling of nostalgia so it had to be set in Los Angeles – being that it's the place I was born and have worked all my life. I wanted it to feel like a mix of distorted memories and my imagination filling in the things I don't remember. It was really important to me that we shot on location to capture the true energy and oddities of the city. Los Angeles is very photogenic but it's a particularly ugly city, too. These kinds of juxtapositions are always at the core of my work. The city is one of my greatest inspirations, the underbelly of the city and Wild West quality, the feeling that there are no rules and anyone can come here and make up their own destiny.
A: How does the locale become a character in its own right – such as in Henri de Toulouse-Lautrec's Paris and James Joyce's Dublin?
AP: Los Angeles is unlike anywhere else in the world. The dance between imagination and the underbelly of all that live here, the picturesque, never changing backdrop of grey-blue skies and mountainscapes… it's malleable in a way and always changing. There are so many little stories happening all together. Spike Jonze says it best in the essay Welcome to California he wrote for Play the Wind: "It has its own psychic temperature and goes on in run on sentences and seemingly infinitely in all directions with a seemingly infinite amount of different lives being led."
I once saw a van on fire on the freeway. I saw it from my car as I was driving to the airport to pick up a friend. I couldn't believe no one was slowing down. This moment only lasted a few seconds before it was gone as though it had never happened. Which then lead me to question, did I just imagine that or was there really a van on fire that maybe only I saw? The movie industry has also infiltrated the history of Los Angeles and adds another comedic aspect to living here.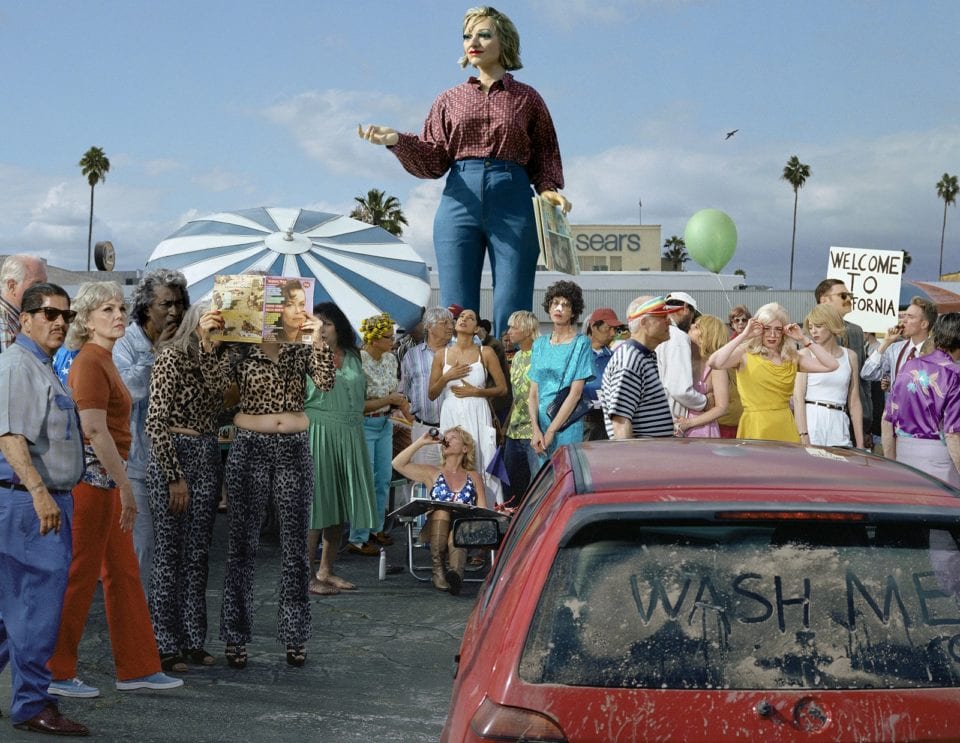 A: What techniques do you use to portray Los Angeles as a place of artifice and drama, as inspired by visions of the city in TV and film?
AP: The city already has a natural cinematic quality. I sometimes completely rebuild it on a sound-stage from memory, or, as in the case of Play the Wind, I often mix artifice and reality together, interweaving them so you can't see the seams. Which is how it is to live here. I'm just re-sculpting a reality that already exists.
A: What sorts of characters does the work portray?
AP: My work is really an amalgam of all I've collected moving through life: my memories, films I've loved, people I used to know, artists I've been influenced by, my family and friends. I use these in all my work, alongside questions I've had about society and the state of the world. It all goes into the blender in my mind and I mix it up. When I make a new body of work it pours out to form its own being.
Since this work is about the deceptive feeling of nostalgia, I dug deep into my past – pulling references to build characters and the world for these characters to exist in. I've been adding to my collection of props, set pieces, wigs and costumes. I keep all of it at my studio in Silver Lake I've been at for 12 years. I reimagined a lot of the components I've shot with in the past, such as a piece of fabric I collected from the first box of clothing that was donated to my studio. When I was first experimenting with artifice and characters, my grandmother's friend Wilma gave me a box of clothing and wigs she used when she was a starlet. I loved the quality these costumes brought to the worlds I was creating, which underneath I could say so many things. There was a certain freedom I recognized in building the layers.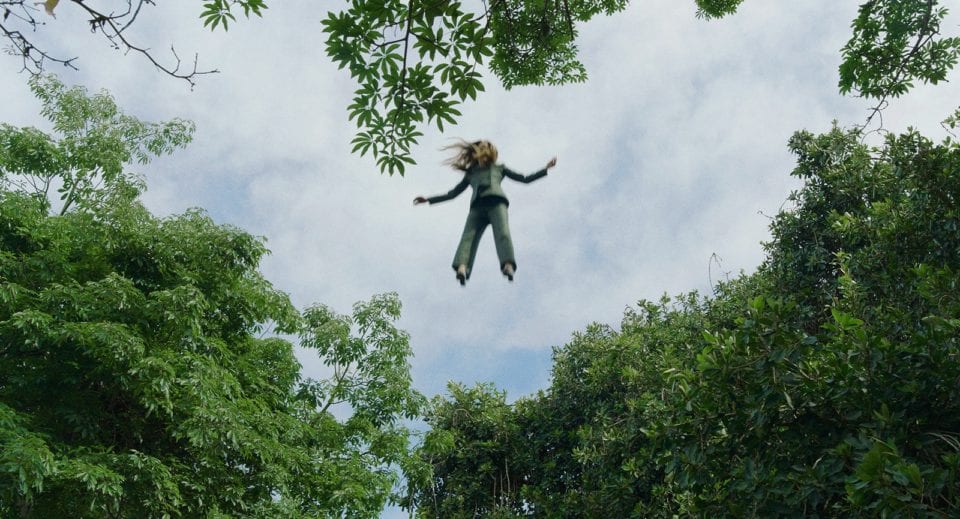 A: The piece has a dystopian feel. How does this tie into real-world events?
AP: There is a sense of unrest I feel that's palpable. People are angry but there is also an overwhelming sense of confusion and lack of trust or confidence underlying all of this. I get an eerie sense of evil lurking just beneath us. I get an urge to run away, backwards to a safer time when things seemed to make more sense – but we can't go backwards. Even if we could, maybe it's just that we lived through it that made it feel safer and more comfortable than what we are going through now. Maybe it wasn't actually better. Perception of reality is something I've been examining for a long time in my work. These things we are going through as humans are all linked with my personal memories and imaginings in Play the Wind.
A: What are the key differences between working in film and still imagery? Do they inform each other?
AP: I had viewed the two mediums as flowing from the same motion, or extensions of each other, but the more experience I have with working in motion, the more separate film and photography become. With still images, I can freeze time and allow us to contemplate the tiniest detail. This would otherwise be swept away in the rush of film. I can capture the stories of multiple characters in my photographs. Film has the unique quality of using all art mediums— music, sound, sculpture, painting, photography. I can use these endless components to tell stories, combining the never-ending inspiration from people I collaborate with when I make a film project. It really is all-encompassing, and I feel I could die before I ever fully understand the medium.
A: What projects have you got planned for this year and beyond?
AP: Play the Wind will head to Los Angeles, its birthplace. I have a new show at Fotografiska opening in Stockholm in November 2019.
The exhibition runs until 26 October. Find out more here.

Lead image: Alex Prager, Yellow Pages, 2019. Courtesy Alex Prager Studio and Lehmann Maupin, New York, Hong Kong, and Seoul.