Berlin-based international artist Chiharu Shiota (b. 1972) is best known for immersive installations of interwoven threads, each enshrouding viewers in a web of black and red strands. Examples include The Key in the Hand at the 56th Venice Biennale, 2015, which featured over 50,000 keys hanging from a cloud of interlaced yarn. These environments express the intangible: memories, anxieties and dreams are brought into focus. The Soul Trembles at Mori Art Museum, Tokyo, is the practitioner's largest ever solo show, bringing together 25 years' work across sculpture, video, photography and performance.
The exhibition translates personal experiences into large-scale pieces. Incorporating objects such as boats, luggage and a burned piano, the show evokes themes of movement, travel and silence. For example, 65 suspended ships welcome visitors to the museum in Where Are We Going?, an installation speaking about an ambiguous future. Uncertain Journey continues this dialogue, consisting of further abstract vessels rendered in crimson thread. Accumulation – Searching for the Destination is made up of around 430 suitcases, reflecting on themes of memory and migration.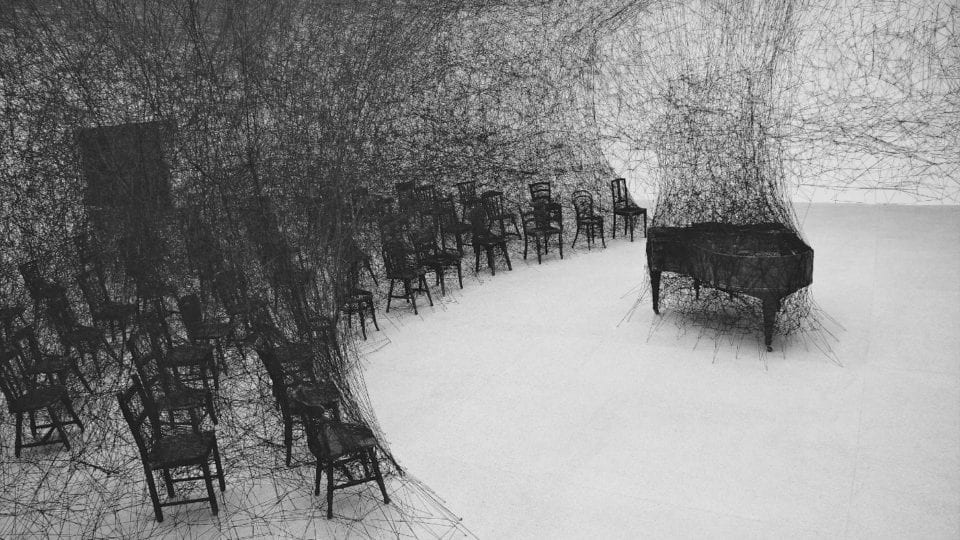 Shiota delves into personal experiences in several works. Examples include In Silence, which visualises a poignant childhood memory of a house burning down in the middle of the night. A black shroud covers the charred piano and surrounding audience seating, symbolising a moment of quiet. The newly commissioned Out of My Body reflects on the artist's recent battle with cancer, re-arranging the human form to explore notions of absence. Fragments of broken dolls and bronze casts of hands and feet come together in an investigation of physical presence. "Uncommunicable emotions and my inexplicable existence; these feelings give all my works form and shape," the artist notes. "It is a dialogue with my unveiled, naked soul."
The exhibition runs until 27 October. Find out more here.

Lead image: Me Somewhere Else, 2018, Blain | Southern, London, UK, photo by Peter Mallet.