"Photography is a small voice, at best, but sometimes – just sometimes – one photograph or a group of them can lure our senses into awareness." – W. Eugene Smith.

Portrait of Humanity returns with a second compelling volume of images, comprising 200 intimate stories from across the world. Published by 1854 Media and Hoxton Mini Press, the book aims to highlight "the restorative power of community" – tapping into our shared values and asking what it means to live in 2020. Whilst many of these works were made before social distancing, they resonate loud and clear in today's world. "What I do know is that right now, more than ever, we need a reminder that we are not alone," says Marc Hartog, Founder and CEO of 1854 Media. "I can't get away from the notion that this serves as an important and timely reminder that while we are literally, physically, apart, we have a shared humanity."
---
Featured above (left) is 100 Swimmers by Attilio Fiumarella, which was part of the Aesthetica Art Prize in 2016. It was taken after Birmingham city council's decision to close the Moseley Road Baths. Fuimarella wanted to claim the importance of this facility for the local community. For the artist, this swimming pool is a symbol of diversity. 100 people line up side-by-side, embodying history, culture and a passion for swimming. This collective power is also central to Shinya Itahana's Pattern of Grassland, displayed at the top of the page. Tibetan Buddhist nuns and monks walk across an isolated valley 4,000m above sea level. "As the red dots spread across the earth I sensed the emergence of life," the photographer notes.

Another example of coming together is Maria Sturm's image of Manny and Courtney, taken in Fayetteville, North Carolina (above, right). "Manny is a young Native American man who identifies as a member of the Lumbee Tribe," Sturm explains. "Courtney doesn't identify as Native American but is a strong supporter of Manny's dancing and drumming. She accompanies him to as many events as she can."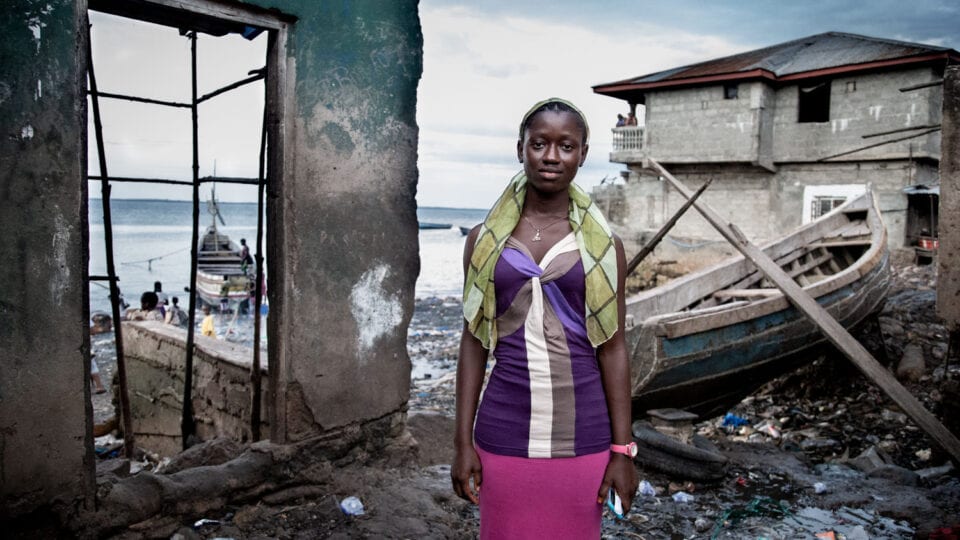 Portrait of Humanity focuses on inspiring individuals with important stories. On the cover, Eric Demers captures Greta Thunberg addressing half a million climate change demonstrators in Montreal. Shown above is Simon Davis' powerful photograph of Celina Kamanda, an Ebola survivor from Freetown, Sierra Leone. "Despite losing her entire family to Ebola, Celina is quietly resolute," Davis explains. "I met her five days before Sierra Leone was declared Ebola-free. Thanks to the charity Wharf Kids she is back in school. 'I would like to be a doctor,' she says. 'When I was in the treatment centre I saw people suffering. Now I want to look after others.'"
---
The volume presents snapshots of shared intimacies – moments of lifting one other up and celebrating beauty. Sirli Raitma, whose photo is above (left), started capturing her mother's portrait when she began to suffer from depression. "I came up with a plan to give her something to focus on. I began to take her portrait and the Eha Project was born," Ratima explains. Shown here on the right is Xueli, who lives in the Netherlands and is originally from China. Her adopted mother contacted photographer Brock Elbank to produce a portrait series of her daughter, who has albinism and limited vision. "The way the light worked with Xueli's hair and skin was amazing," Elbank reflects.
Flicking through these pages is sobering, uplifting and revealing in equal measure. It provides an opportunity to learn about the everyday experiences of others, offering much needed pathways to connection and deeper understanding.
Portrait of Humanity is the annual award organised by 1854 Media, the accompanying book is published by Hoxton Mini Press.
---
Lead image: Pattern of Grassland by Shinya Itahana.
1. Swimmers by Attilio Fiumarella
2. Manny and Courtney by Maria Sturm
3. Celina Kamanda by Simon Davis
4. Eha #4, by Sirli Raitma.
5. Xueli by Brock Elbank.