"The possible has been tried and failed. Now it's time to try the impossible," so said Sun Ra (1914-1993), the avant-garde Jazz musician and visionary whose philosophy of progress continues to inspire generations of creatives. Now, Sun Ra is recognised as a pioneer of Afrofuturism: a cultural movement combining science fiction, history and fantasy to explore experiences of the African diaspora – past, present and future. Amongst today's artists working with this legacy is Darryl DeAngelo Terrell (b. 1991).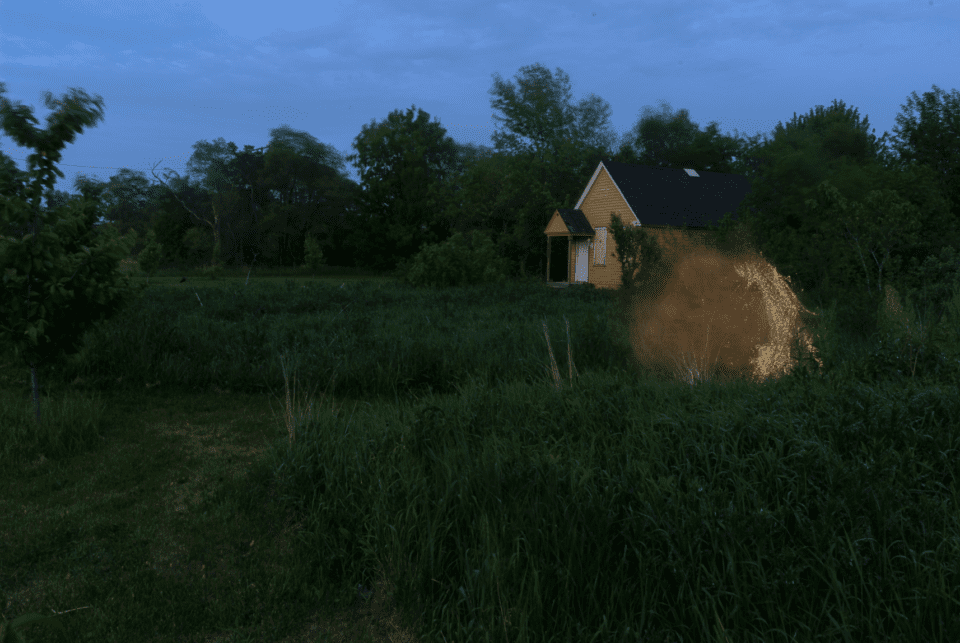 Darryl DeAngelo Terrell's photoseries A Way to Get Gone features in the exhibition Let Them Roam Freely at NXTHVN art space, New Haven, curated by Marissa Del Toro and Jamillah Hinson. Terrell's practice poses questions about "how Black people get gone from the presence of whiteness, which infiltrates space and causes harm." The images are accompanied by an audio collage which includes a monologue from Sun Ra's 1972 film Space is the Place, in which the musician lands on a new planet in outer space.
Terrell's process involves creating "portals" through a mixture of performance and lens-based trickery. Flashes of glittering light are created as the artist, dressed in a gold sequinned garment, enacts joyful dance routines in front of a slow-exposure lens—so that only a spectral outline of body and movement remains. Equal parts intermedia happenings and works of conceptual photography, Terrell's portals are envisaged as escape routes from locations that are historically—and presently—loaded with the violence of white supremacy. Previous "portal" sites of Terrell's include Detroit's Black Bottom neighbourhood, where many African Americans settled during the Great Migration. In the 1950s and early 1960s, city authorities bulldozed the area to construct an interstate highway, violently breaking apart the community.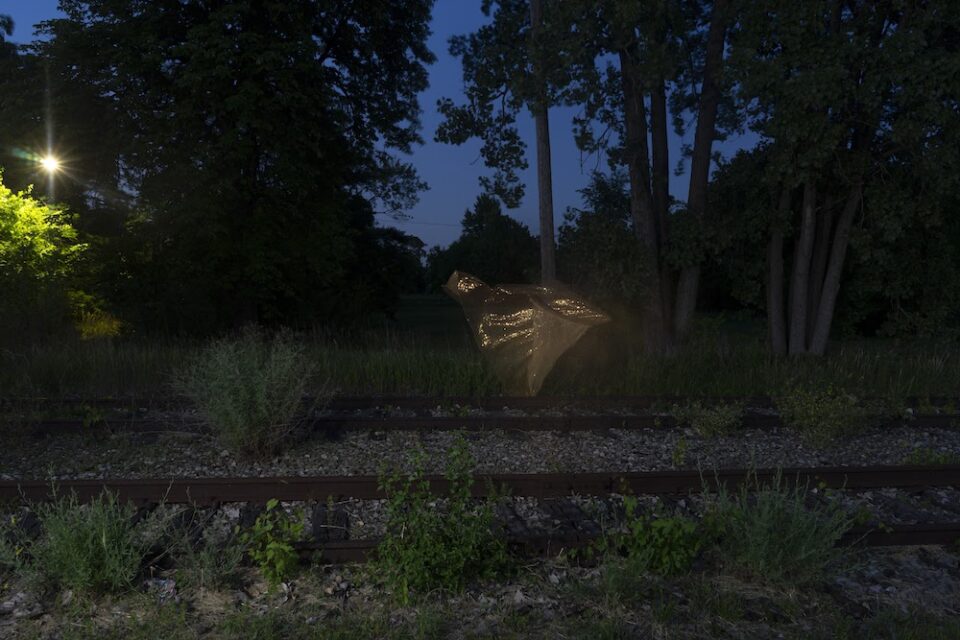 Terrell has also created portals in Senegal, West Africa, at a launching point for transatlantic slave ships, incorporating water into the process to connect with ideas of Black spiritual practice and ancestry. As part of a newly commissioned work for the NXTHVN exhibit, the artist's research has led them to learn about the Black Panther movement in New Haven during the 1960s-1970s. The corresponding portal exists in proximity to the party's former headquarters, with similar works planned for New York and Chicago.
---
Let Them Roam Freely runs at NXTHVN until 15 May. Find out more here.
Words: Greg Thomas
---
Image Credits:
1. 6oN 13o45'21"N 17o29'36"W Dakar, Senegal, 202124 x 36 in. Digital Photography. Courtesy of NXTHVN.
2. 279°W 42°21'39" N 83°2'20"W Detroit, MI, 2020 24 x 36 in. Digital photography. Courtesy of NXTHVN.
3. 247o SW – 42o21'27" N 83o2'34″W Detroit, MI, 2020 24 x36 in.Digital PhotographyCourtesy of NXTHVN