Photo Vogue describes itself as "the first conscious fashion photography festival" – focusing on the common ground between ethics and aesthetics. The fifth edition unfolds over the next month, featuring both outdoor and digital exhibitions in line with social distancing guidelines. This year's event hopes to reach a wider audience than ever before, highlighting bold creative voices from across the globe.
---
One of the main exhibitions is All in this Together, a showcase of 30 photographers responding to our present moment. Selected from an open call, the images interpret the impact of the Covid-19 pandemic as it spread "beyond borders and barriers." During this time, many people took to art as a form of respite – making work as a reaction to isolation.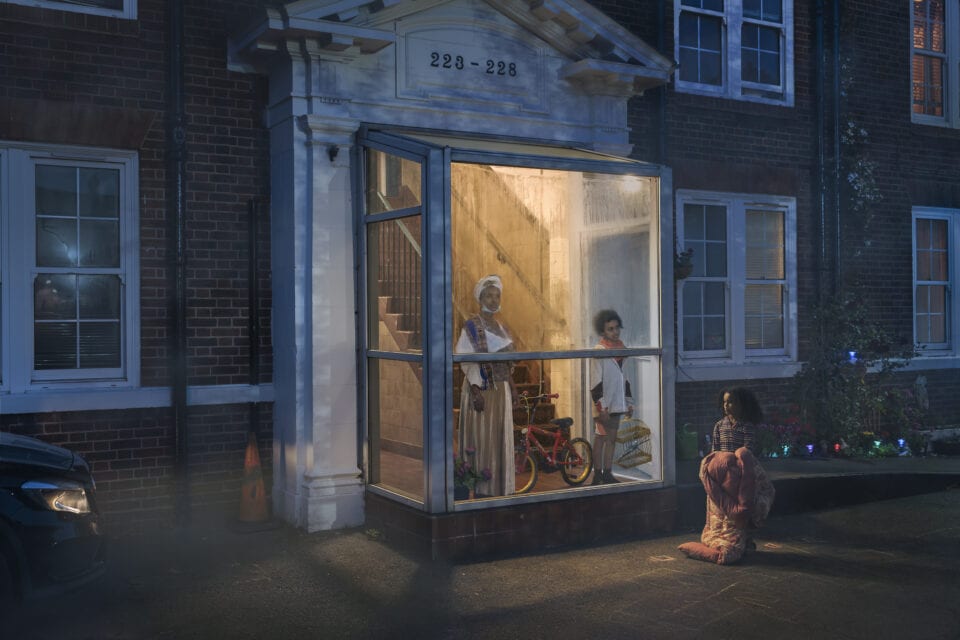 Julia Fullerton-Batten's latest series, Looking Out from Within, is a prime example. It was shot over the last few months of lockdown across London neighbourhoods, after the photographer advertised the idea for a participatory photo shoot – containing no physical contact – on social media and through local newspapers. After receiving an overwhelming response from the community, she began photographing individuals every couple of days, directing the compositions through phone calls and hand signals from behind glass. Whilst exploring the loneliness and anxiety of the past few months, Fullerton-Batten – alongside many others in the show – aims to create a sense of hope, community and solidarity.
---
Through exhibitions such as these, Photo Vogue Festival aims to demonstrate the power of fashion as a driving force for change. It highlights the political nature of photographs – asking questions about who is making, choosing and displaying images, and why. In The Picture – Shifting Perspectives in Fashion Photography showcases the vibrant, powerful work of Camila Falquez, Nadine Ijewere, Alexandra von Fuerst and Ruth Ossai, who are also curators of the show. It describes this group as "contemporary socially conscious fashion photographers" – belonging to a new generation of artists. They move beyond pure aesthetics by harnessing a range of established genres, touching on issues of gender, race and womanhood.
---
The Outdoor Exhibitions run 30 October – 22 November at Giardini di Porta Venezia, Milan.

Digital Platform is online from 12 November, with events going live from 19-22 November. Find out more here.
---
Lead image: Nina Ricci SS20 © Nadine Ijewere
2. Portrait of Amber (Founder of Hairfree Life), 2020 © Alexandra Von Fuerst
3. Yasmina Atta, Hackney London UK 2020 © Ruth Ossai
4. Zewdi, Yabsra and Ehiopia, Lock Down Day 42, from the series Looking out from within​ © Julia Fullerton-Batten
5. Artemis Duffy, Brooklyn 2020 © Camila Falquez
6. Marissa from the series Shadow of the palm © Jasmine Clarke