Vivian Maier's (1926-2009) photographs came to light after her death, when a box of negatives was discovered at a local auction house in Chicago. Her body of work comprised over 100,000 images – which subsequently became renowned across the globe. The success initially came from high-contrast black and white street photography and self-portraits. Now, a new exhibition at Foam, Amsterdam, highlights a lesser-known part of the oeuvre: colour works from 1956-1986.
Maier spent a large portion of her life in Chicago working as a nanny and photographing in secret. She moved in with a wealthy family in 1956 and was given her own bathroom – which became a darkroom. The city is a recurring theme in her images, which were captured on a Leica camera. People, shops, vehicles and streets come to life through analogue film. Foam's exhibition demonstrates Maier's keen eye for colour-matching. In one image, a group of figures cross a road. Their bright yellow shorts, socks and skirts stand out against a sea of grey concrete. The result is humorous, sharp and spontaneous – highlighting a talent for quick observation.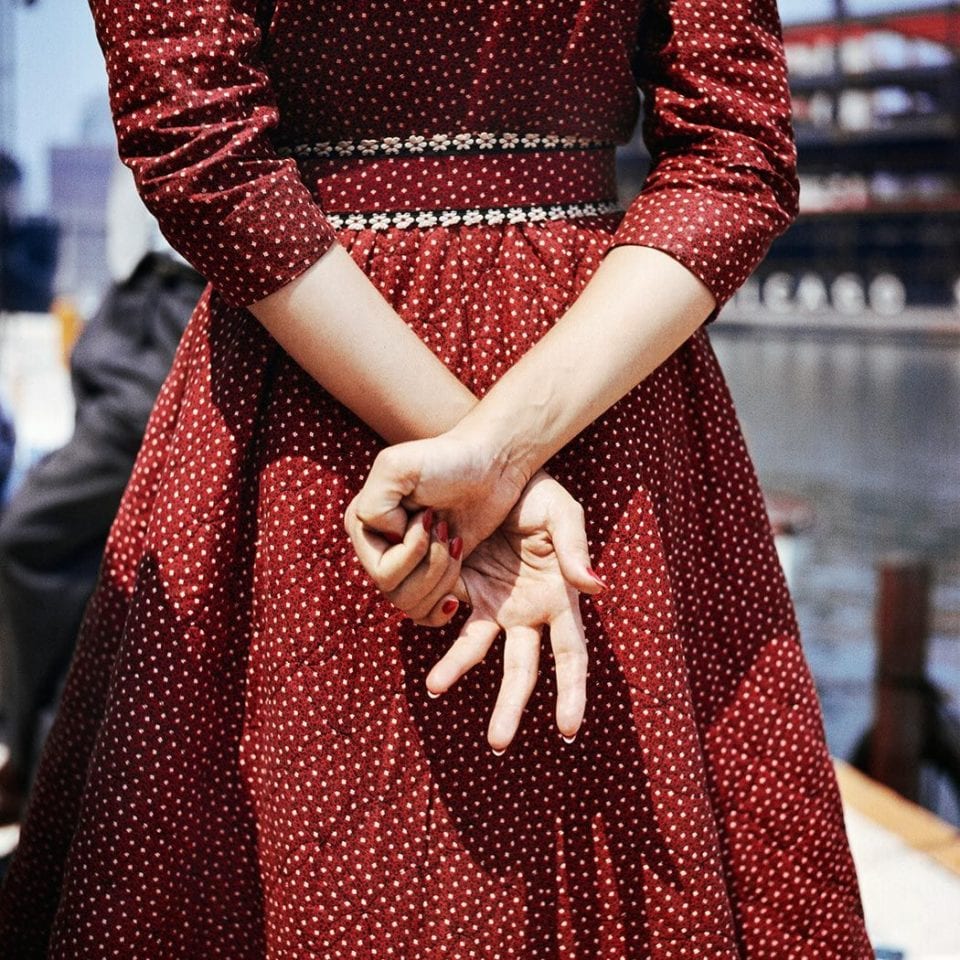 Other images, including those featured above, reveal details from the everyday. Daisies peek out from the backseat of a maroon-clad car. A figure clasps their hands behind their back – red and white polka dots matching with crimson nail varnish. These works demonstrate an interest in light, tone and abstraction. They use cropping and framing to create a sense of anonymity and point towards unspoken narratives. This sense of uncertainty mirrors the artist's own life, which is described as "a riddle, wrapped in a mystery, inside an enigma."
The children Maier was looking after in Chicago had grown up by the 1970s. The photographer was then forced to seek work with other families. As a result, she was no longer able to develop and print her film material. The rolls started to pile up. Growing financial concerns and the absence of a permanent address led Maier to put aside her cameras and to place her belongings in storage. "Well, I suppose nothing is meant to last forever," she said. "We have to make room for other people. It's a wheel. You get on, you have to go to the end. And then somebody has the same opportunity to go to the end and so on."
10 April – 28 June. Find out more here.

Lead image: Vivian Maier, Chicago, June, 1978.
1. Location unknown, 1956 © Estate of Vivian Maier, Courtesy Maloof Collection and Howard Greenberg Gallery, New York.