A house designed for watching the sunset. Mirrored structures standing tall in the landscape. A sea of black sculptures stretching infinitely into space. These are works by Swiss multidisciplinary artist Not Vital (b. 1948), on view at Hauser & Wirth Somerset. A new exhibition surveys his career across five decades – highlighting the relationship between architecture, landscape and human perception. The immersive works are designed to evoke a sense of wonder, offering alternative views of the world.
Vital has travelled widely since the 1970s, living between the US, Niger, Italy, Switzerland and China. The resulting artworks respond to a range of socio-cultural backdrops and are often made in collaboration with local craftspeople. House to Watch the Sunset (2005) is one such example. The series comprises multiple 13-metre-high, three storey buildings – created solely for observing the changing colours of the sky in every continent. The ongoing international project is currently in-situ in Agadez, Niger; Paraná do Mamori, Brazil and Tarasp, Switzerland. Each piece is created using site-specific materials.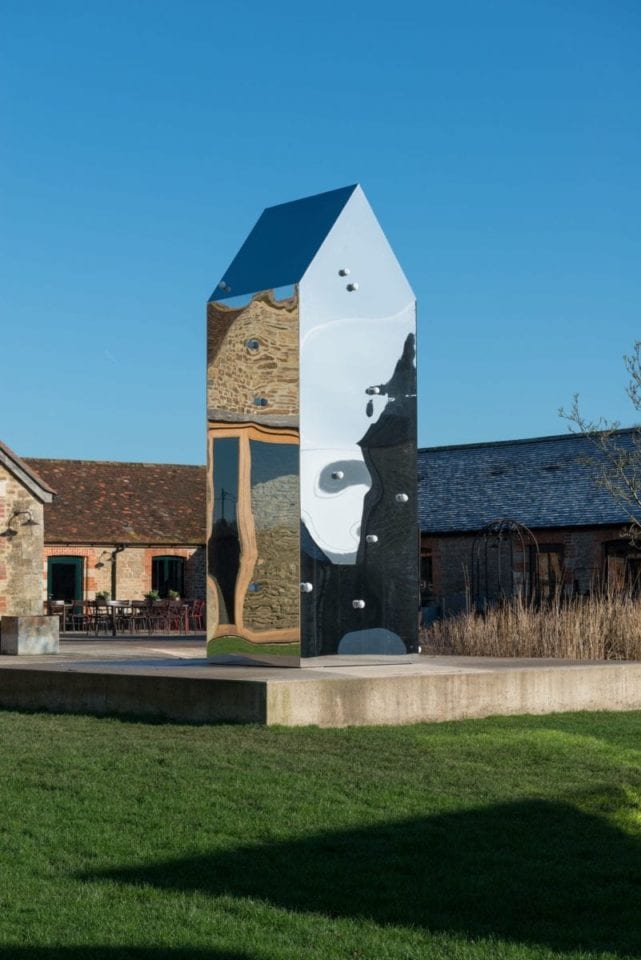 This anthropological approach is evident in 100 architects (2016). An expanse of granite sculptures honours renowned names from the discipline's history. The volume and size of each structure is determined by the date and year of each designer's birth – creating numerical, geometric portraits. Architecture is central to Vital's practice. The artist's early works, created in the mid-1960s, explore the concept of domestic space. Chanala da tet (1964) consists of a roof gutter found on the street. Painted white and exhibited at Hauser & Wirth, it acquires the value of a readymade. Similarly, Chasa i bogn (1970), takes the shape of a child's bathtub. In these works, Vital takes inspiration from the home – transforming everyday objects into minimal works of art.
Dwellings appear across Vital's oeuvre, including within the three outdoor SCARCH installations at Hauser & Wirth. These works connect audiences with Somerset's rural landscape. For example, Cannot Enter Cannot Exit (2020) draws on the artist's use of towers and house-shaped motifs. It is over five metres tall, with a triangular roof, providing expansive views of the countryside. White hay bales are scattered around the piece, evoking agricultural cycles and changing seasons. Another example is Date (2016), a reflective sculpture enveloping the viewer in an inverted world – creating tensions between the natural and surreal.
Until 4 May. Find out more here.
Lead image: Not Vital, 100 Architects, 2016. Black granite, dimensions variable, average height: 56.22cm. © Not Vital, courtesy of the artist and Hauser & Wirth.
1. Not Vital, Cannot Enter Cannot Exit, 2020. Stainless steel and ceramic 517 x 165 x 165 cm / 203 1/2 x 65 x 65 in. Installation view 'Not Vital. SCARCH' Hauser & Wirth Somerset 2020 Photo: Ken Adlard. Courtesy of the artist and Hauser & Wirth © Not Vital
2. Not Vital, House to Watch the Sunset, 2006, Agadez, Niger.