"The photography I most respect pulls something out of the ether of nothingness," says British photographer Paul Graham (b. 1956). In 1981, he completed A1: The Great North Road – taken along a route which runs the entire length of England. It was his first acclaimed work, and it transformed everyday moments into meaningful compositions. Today, the artist lives and works in New York. The city is the subject of a new show at Pace Gallery – which can now be viewed online.
The exhibition looks to art history for inspiration. Titled The Seasons, it responds to iconic 16th century paintings by Pieter Bruegel (ca. 1525-1569). The Renaissance images captured rural life in Northern Europe across the year. Bruegel's series of six compositions includes Hunters in the Snow, The Harvesters and The Gloomy Day – some of the best-known paintings in the world.
Graham's series began as a response to the financial crisis, when the  photographer started taking pictures of major US bank headquarters on Park Avenue. After a year, he recognised a connection between his images – rich in movement across sidewalks and courtyards – and Bruegel's works. Taken on a single exposure with a handheld camera, each of Graham's pieces captured just 1/1000th of a second. They were brief snapshots in time, just like their 16th century counterparts.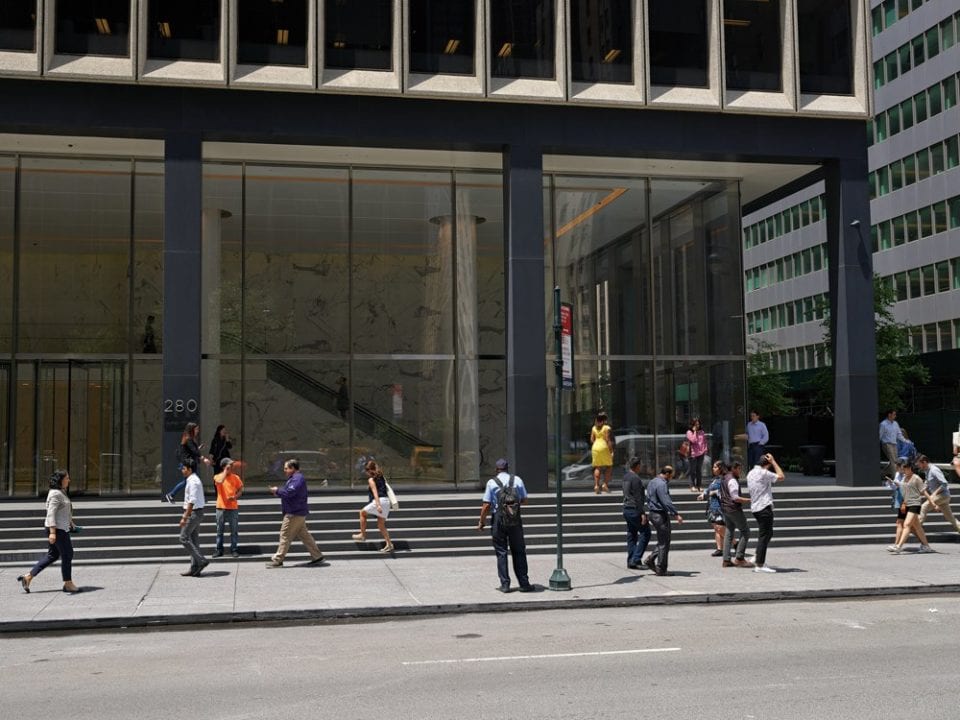 There are over 400 years between Graham and Bruegel. Despite this, the images spark dialogues with one another. Weather patterns change, with snowflakes dancing in front of New York's neon lights and Flanders' frozen lakes. Where 21st century commuters cross roads in front of high-rise buildings, 1500s farmers work the land, dance, cook and rest. In both series, detail is key. Brightly clothed figures stand out from the crowds – engaging in conversations or taking a quiet moment alone. As Pace Gallery explains: "humanity is revealed mid-step, walking, eating, talking, laughing and gesturing." It asks the question: across four centuries, how much have we changed?
The show also presents Sightless, portraits which have never before been exhibited. The collection takes 42nd Street, New York, as its backdrop, and depicts individuals with their eyes closed – "whether from walking into low afternoon sunlight, from a musical trance, or simply a random blink." These works create a sense of tension and vulnerability: viewers see people not seeing.
Find out more here.
Lead image: Paul Graham, AUTUMN (Return of the Herd), Bank of America, 345 Park Avenue, 2017.
1. Paul Graham, EARLY SUMMER (Haymaking), Wells Fargo, 280 Park Avenue, 2018.