Aida Overton Walker (1880-1914) was a celebrated African American vaudeville performer and activist who challenged the status quo during the early 1900s. She depicted black women as cultural producers and pushed against rigid and problematic narratives surrounding black performers. London-based visual artist Heather Agyepong's latest series, Wish You Were Here, focuses on Overton Walker's life and legacy. The images are on display with James Hyman Gallery as part of In Sickness and in Health: Heather Agyepong, Jo Spence and Anna Fox. The online show addresses physical and mental wellbeing through powerful photographic works, with 10% of sales going to MIND. Agyepong discusses the new body of work with Aesthetica.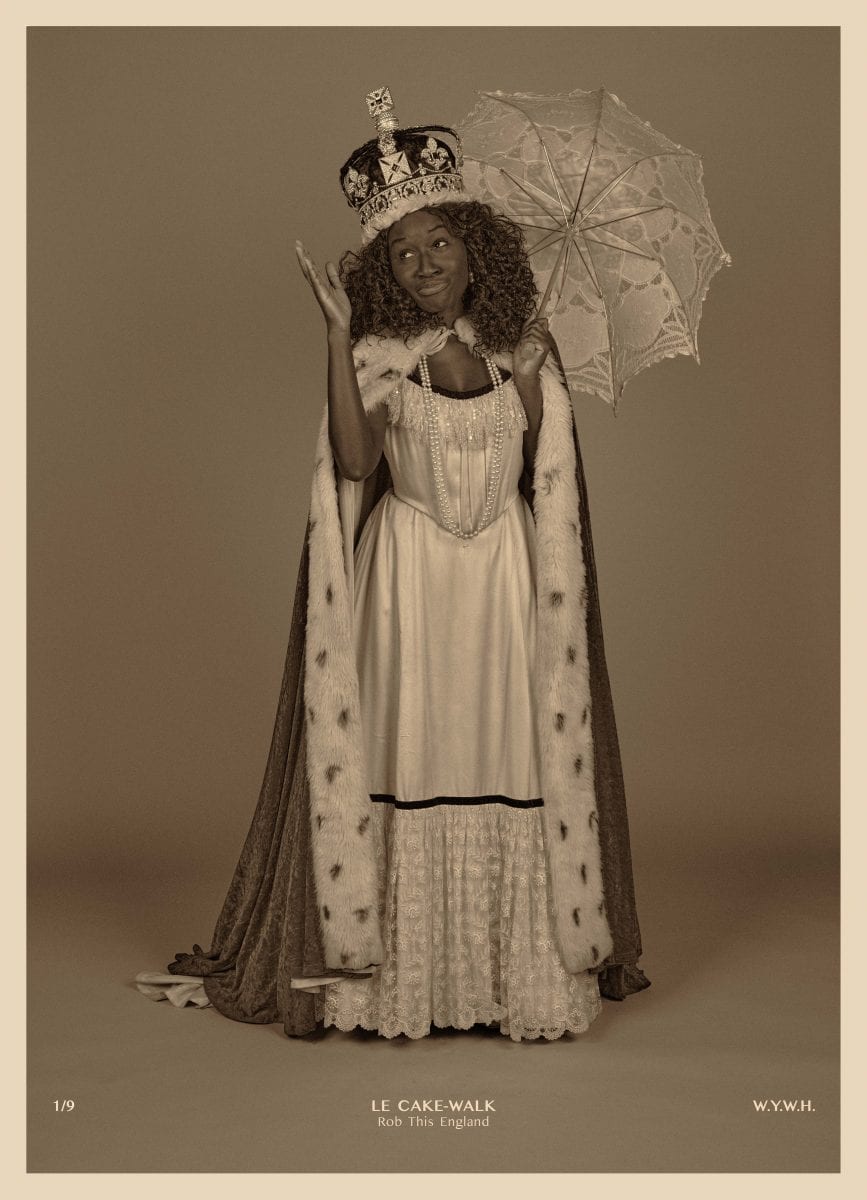 A: Can you explain the history behind Wish You Were Here, and why you chose to re-frame this narrative?
HA: The term Cake-Walk originated from slave plantations, where they mocked the dances of their slave owners and were even rewarded for it – although I'm still unsure whether the owners were fully aware of this. The idea was full of resistance and subversion and it felt like the beginning of something. It was serendipitous that a few days later, James Hyman approached me to do a commission inspired by 19th century images of people posing the Cake-Walk dance.
I honed in on the work of Aida Overton Walker who was known as the "Queen of the Cake-Walk." She was a highly talented and skilled performer but also an incredibly brave and outspoken woman activist; she was highly critical of the confinement of black womanhood on stage. At the time of making the work I was struck with anxiety, often unable to form sentences without stumbling over my words, judging myself over everyday interactions and juggling my mind between my visual art and my acting life. But my exploration into the work of Overton Walker helped me unpack what I was experiencing and why. I wanted to share my reality about the hoops that women, especially black women, have to jump through to survive and thrive within the creative industry.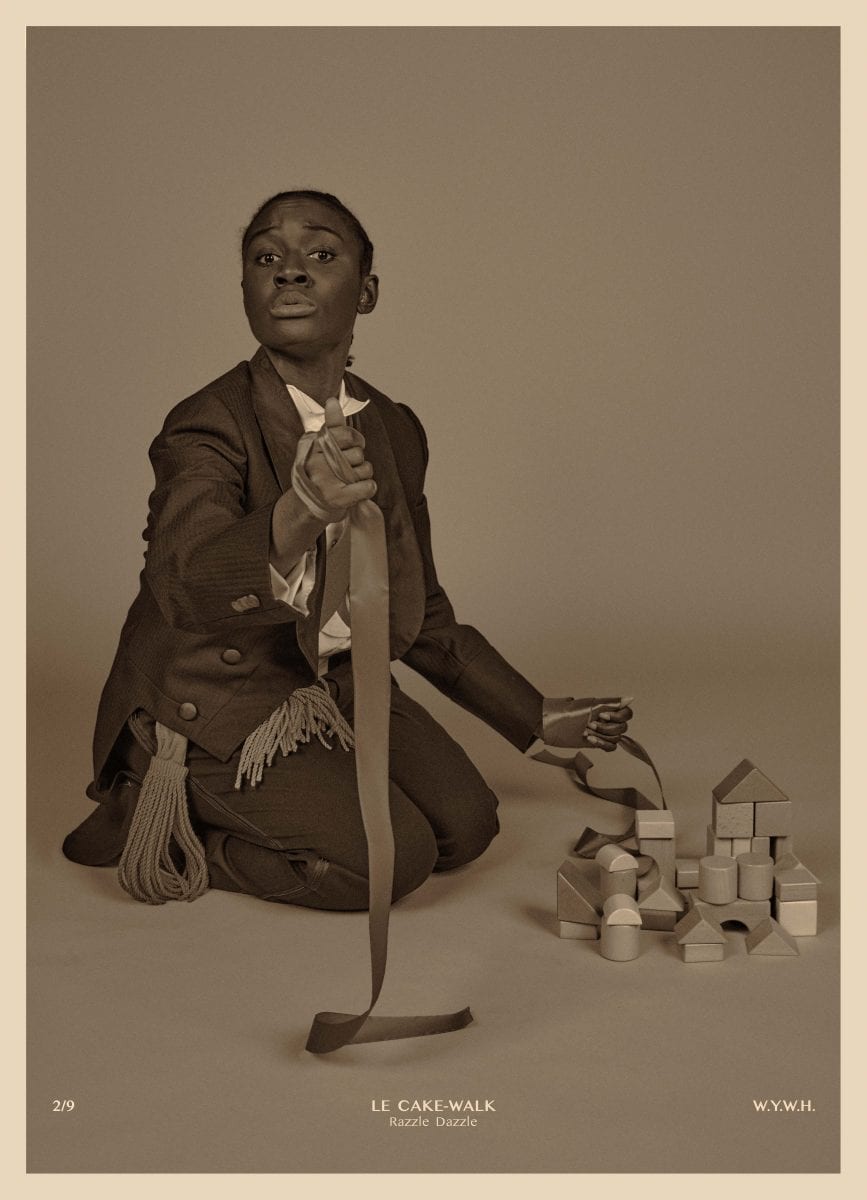 In my experience, people within marginalised communities can often undervalue their work and contributions to the point that they can settle with the idea that it's just "good to be noticed at all" especially in spaces or environments which have not historically been welcoming to them. I wanted the images to feel like I could reinstate my power, a 'taking back' or retelling that was centred around my framing and my gaze. I'd been researching and planning for maybe four to five months. It started with a series of titles to help me categorise my thoughts. I realise now, that a lot of it was about what was concerning me at that time: things like political manipulation, money insecurities and a lack of self compassion.
By embodying Overton Walker as guide, ancestor and advocator, I used iconography and satirical commentary with depictions of radical self-worth in an attempt to disrupt the roadblocks affecting our collective mental health. I felt that the original postcards of Cake-Walk performers were problematic and lacked agency. Overton Walker's work as a performer and activist was all about breaking, dismantling and demonstrating the skill and delicacy of her craft, so I wanted to re-imagine myself as her and inject the same spirit into these new set of images.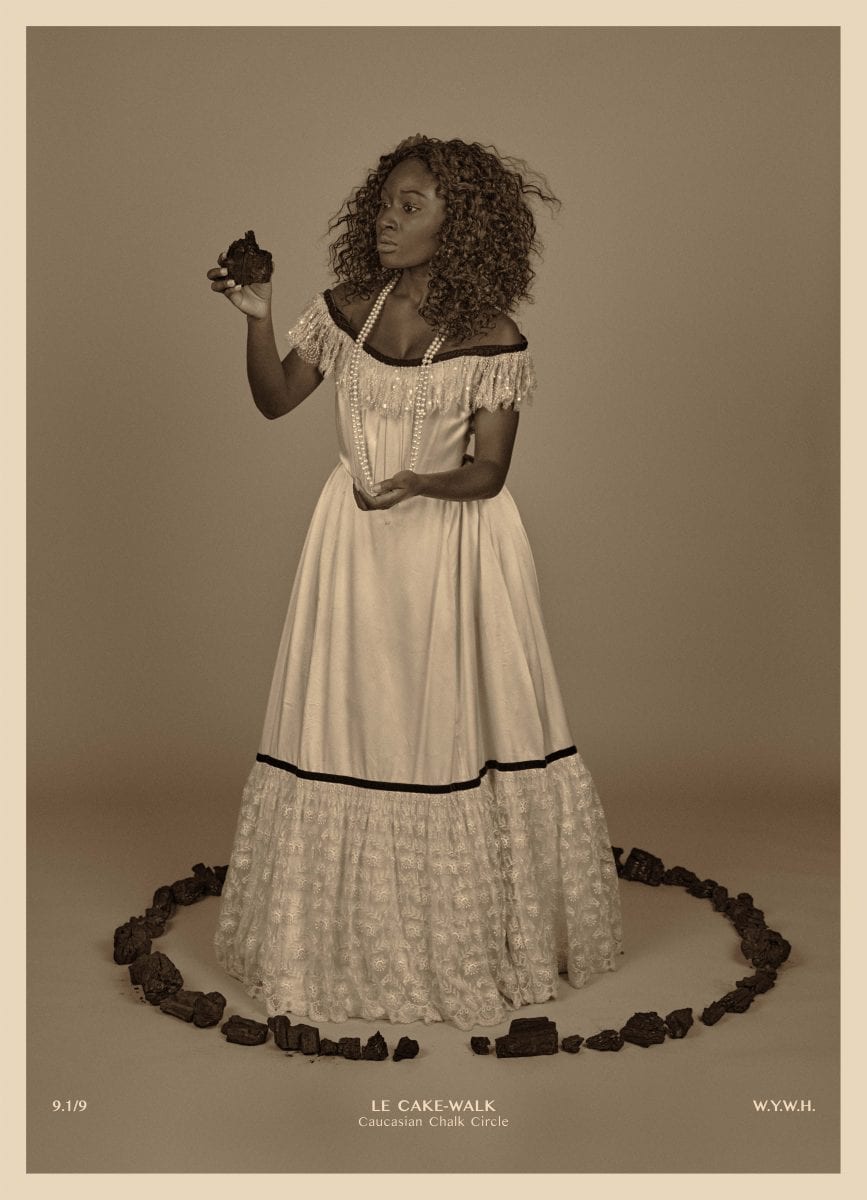 A: How does Wish You Were Here tap into contemporary discussions surrounding mental health?
HA: The precarious nature of being an artist, coupled with being part of a marginalised community, can be particularly tricky.  It can sort of feel like you're holding onto this inherited baggage, which has been assigned to you because you've become a de facto representative of the community. So for me, I'm interested in resilience, self-care and self-compassion as rebellious acts of self-preservation in maintaining one's mental wellbeing. Often within therapeutic practices there is a revealing of a lie that needs to happen to uncover the truth, so the work aims to highlight these revelations and that we ourselves can be agents in our own healing.
A: How does the series speak to the other works in the show, by Anna Fox and Jo Spence?
HA: Jo Spence & Rosy Martin's work has really inspired my practice. Rosy came into my Masters degree class about seven years ago and spoke about the combination of photography and psychoanalysis. It blew my mind. It felt like I was forming my practice without knowing it. I had previously studied Applied Psychology for four years and her work showed me how this could aid my photographic eye. The cathartic nature of image-making really helped me develop my artistic approach, so it feels incredibly special to be in a show with Spence. Anna Fox's deeply personal and delicate work in My Mother's Cupboards and My Father's Words is moving but also allows the viewer to consider complexity; it allows them to have their own individual and unique response to the images. I think all of our works encourage this inner dialogue with oneself and encourage us to consider not just the art, but our own lives.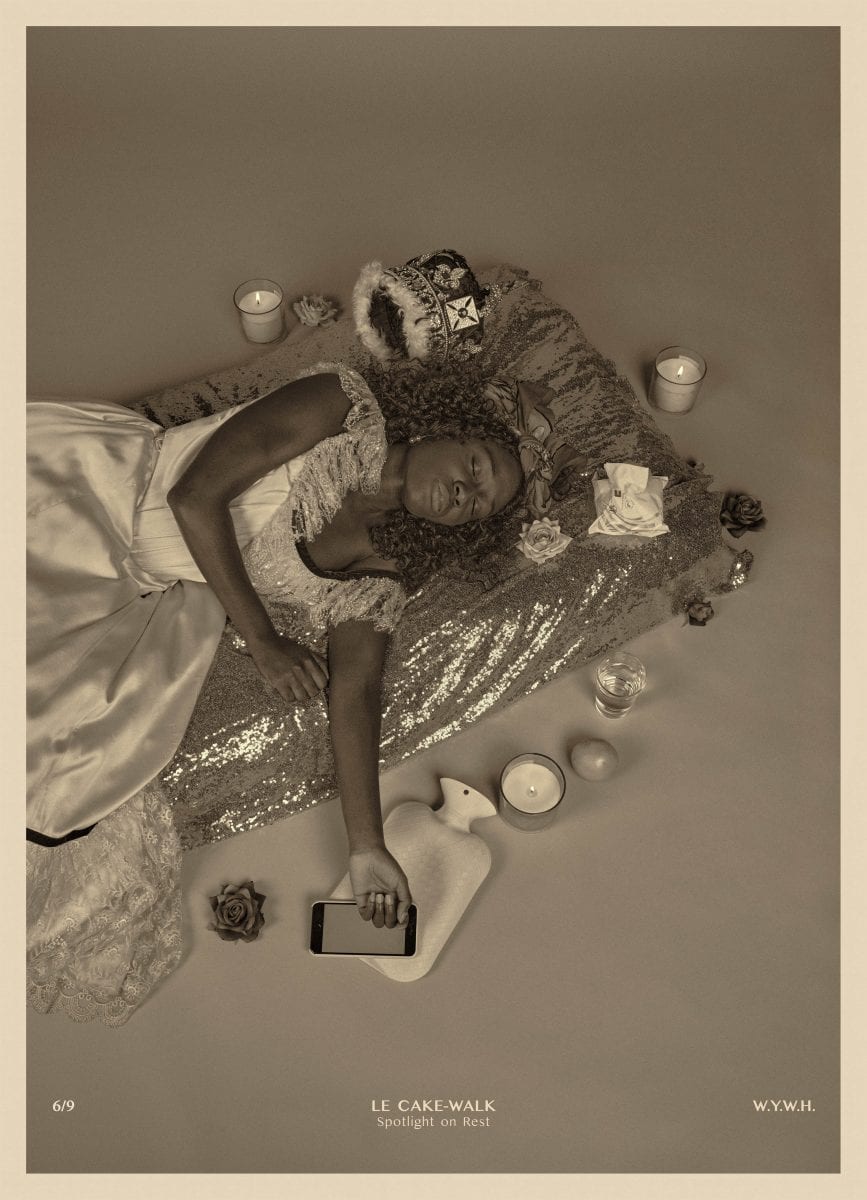 A: What do you hope viewers take away from the series?
HA: I would love people to have more internal communication with themselves. Am I valuing myself in this moment? Am I accepting the truth of a situation or a comforting lie? Do I need to stop? Am I disrespecting myself or my values? I want people thinking a bit more about their own gazes. I want them to realise the baggage they're holding onto that informs their reading of images. And I want them to look at how gender and race shapes their thinking. How do the power dynamics explored in the work make them feel and what conversations or ideas does that bring up?
Finally, I would like people to think about having a more compassionate experience with themselves and especially in spaces or environments which have not historically been welcoming to them. I hope Wish You Were Here, and the life of Overton Walker, encourages people to take up all the space they need.

Heather Agyepong has provided a statement and essential anti-racism resource list in response to George Floyd's death and the exposure of institutional racism across the globe.
HA: In light of the recent brutal murders of George Floyd, Ahmaud Arbery and Breonna Taylor, the protests happening around the world, and the exposure of institutional racism that pervades the world at large, as a Black British female artist, I am absolutely tired of empty gestures and radio silence until #Blacklivesmatter is trending. I am sick of broken promises from cultural institutions, media outlets and the wider art world with tokenistic gestures, lip service and virtue signalling. We want action, tangible clear ways you as an individual or organisation are dismantling the oppressive structures so many people are affected by, be it mentally, economically and physically within the art space, this is the whole point of Wish You Were Here.
If you posted a black square, if you made a statement, if you in any way condemned any of the racism you have witnessed in the last week, you will be held accountable. 4 June 2020.
Resources:
UNDERSTAND: Guide to Allyship
BOOKS: Evening Standard: These Books and Resources Will Help You Understand Anti-Racism
ACTION: Independent: How To Support Anti-Racist Organisations In The UK
DONATE: iNews: How to Donate to Anti-Racism Charities
---
In Sickness and in Health: Heather Agyepong, Jo Spence and Anna Fox runs until 19 June. Find out more here.

www.heatheragyepong.com
Instagram: @heathatrottlives
Twitter: @heatha_a
---
Lead image: Heather AGYEPONG Wish You Were Here diptych (9.2. Le Cake-Walk, Caucasian Chalk Circle), 2020 C-Type colour print on Hahnemuhle paper, c. James Hyman.
1. Heather Agyepong, WISH YOU WERE HERE (1. LE CAKE WALK, ROB THIS ENGLAND), C-Type colour print on Hahnemuhle paper. 63.5 x 44 cms.
2. Heather AGYEPONG, Wish You Were Here (2. Le Cake-Walk, Razzle Dazzle), 2020 C-Type colour print on Hahnemuhle paper, c. James Hyman.
3. Heather Agyepong, Wish You Were Here diptych (9.1. Le Cake-Walk: Caucasian Chalk Circle), 2020
4. Heather AGYEPONG Wish You Were Here (6. Le Cake-Walk_ Spotlight on Rest), 2020 C-Type colour print on Hahnemuhle paper, c. James Hyman.