In 2016, the work of Luigi Pericle (1916-2001) was discovered in a house in Switzerland. Hundreds of paintings and drawings, buried for decades, were uncovered. Canvases dominated by blue, white, turquoise and orange brushstrokes came to light – filled with bold shapes and intriguing forms. During the mid-1960s, the Basel-born Italian artist was on course to become one of the defining post-war painters, exhibiting alongside the likes of Pablo Picasso, Karel Appel, Antoni Tàpies and Jean Dubuffet. In 1965, he dropped out of the art world altogether, choosing to work in solitude. Now, firmly returned to the history of modernity, a retrospective opens at MASI Lugano.
---
As a painter, illustrator and scholar, Pericle was inspired by philosophy and a thirst for knowledge. He developed an interest in painting at an early age, enrolling in art school to study the discipline. Not long after, he left formal arts education to pursue ancient philosophy and the religions of the Far East. The resulting artworks, shown here, combine abstract expressionism with the metaphysical.
Each piece aims to reveal the "inner essence" of things – tapping into the spiritual. This quality reflects Pericle's lifelong engagement with Zen Buddhism, Ancient Egypt, astrology and theosophy. As Chiara Gatti explained ahead of the 58th Venice Art Biennale, the works are "a voyage beyond the borders of human experience." As such, his images are full of hypnotic figures, visionary scenarios and otherworldly landscapes. "Art", said Pericle, "reflects man's spiritual inclination and is like an instrument endowed with clairvoyance; art always has the presentment of future events."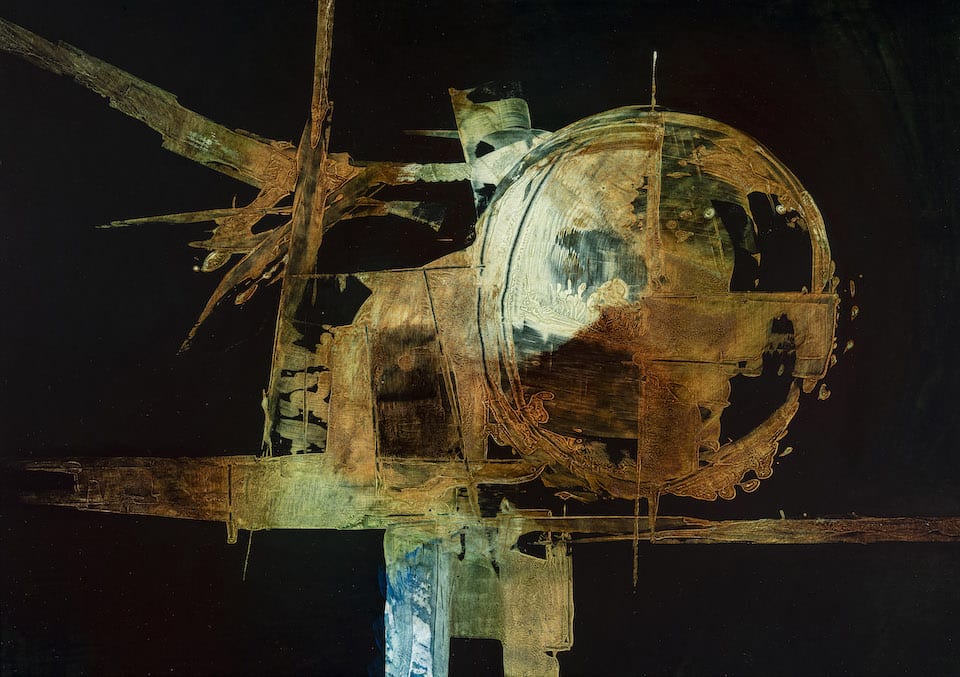 The exhibition at MASI's Palazzo Reali, titled Ad Astra, is divided into five sections, marking out the artist's intellectual and creative life. For the first time in decades, visitors can discover a figure who, whilst a student of the past, is "uncompromisingly contemporary" – echoing the likes of Jean Dubuffet, Henri Michaux, Hans Hartung, Pierre Soulages, Maria Helena Vieira da Silva and Julius Bissier. Indeed, Pericle's meditations – on waxing and waning, form and metamorphosis, change and renewal – seem increasingly relevant for our times.
---
Luigi Pericle: Ad Astra is at MASI's Palazzo Reali, Lugano, until 5 September. Find out more here.
---
Luigi Pericle and his wife Orsolina on board their Ferrari, Ascona Museum Collection.
Luigi Pericle, Untitled, n.d., Mixed media on masonite, Private collection. Photos © Marco Beck Peccoz
Luigi Pericle, The sign of Transformation (Matri Dei d.d.d.), 1964 Mixed media on canvas. Dr. iur. M. Caroni collection, Svizzera. Photos © Marco Beck Peccoz
Luigi Pericle, Untitled (Matri Dei d.d.d.), 1966. Mixed media on masonite. Biasca-Caroni collection. Photos © Marco Beck Peccoz