Filipe Peregrino is a London-based designer fascinated by type, technology, environmental and editorial design. With the goal of creating a welcoming experience for international students at London College of Communication, Peregrino came up with The Languages Around Us – a collection of multilingual typographic installations, realised within augmented spaces. Harnessing new technology, phrases such as "We Are A Community" and "For Everyone" appear across walls – presenting a positive and inclusive message.
A: What inspired you to create The Languages Around Us?
FP: There were several key moments, but coming to London for the first time as an international student had a lot to do with it. In the face of a new challenge, hearing numerous languages share the city soundscape provided me with some comfort. It made me feel welcome. Contrastingly, language barriers become more evident in this scenario. In a college space – with people from over 100 countries – you often hear someone apologise for their English. I wanted to encourage everyone to see their native languages as valued strengths.
I also tapped into a feeling I had about the Lost and Found in Translation project – where translations of the Design School Manifesto were hung on a wall close to our classroom. There was a sense of belonging and everyone having something to share. It stuck to me.
A: Have you always been interested in type and language?
FP: My interest in language goes back to when I first started learning English as a child and noticed how many doors that opened. It's difficult to say whether that sparked my interest in communication or if it's the other way around. I'm particularly captivated by the social aspect of it, and how it enables exchanges that go beyond formal systems like writing.
Type has been a passion of mine since I got into visual communication, and this year our relationship became much more serious. Its relevance to our current way of life is extraordinary, and I think it's incredible how something this complex became so ubiquitous over the centuries.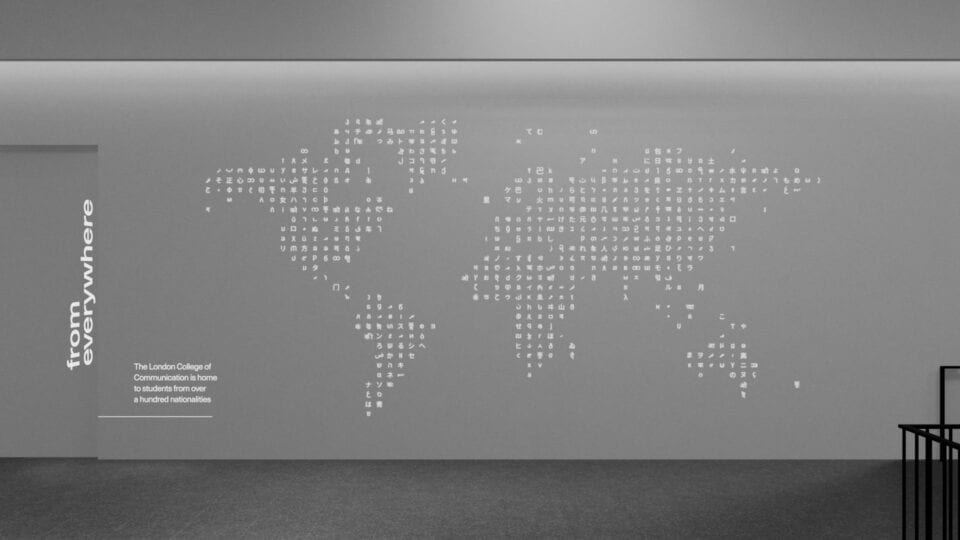 A: What kind of messages does the installation display? Why did you choose these phrases?
FP: There are three main categories among the installations: informative, interactive and immersive. These sometimes overlap and the line between them can get a bit blurry, but I think that adds interest.
I wanted to use a positive tone to celebrate diversity and make new international students of LCC feel welcome. The result is a mix of encouraging words, statements based on student demographics and parts of the Design School Manifesto translated into several languages. I believe that having multiple script systems spread around the college sends a message that goes beyond what's objectively written in text.
A: The Languages Around Us uses augmented reality. How does the project harness new technologies to promote inclusion?
FP: There's always an aspect of personal involvement in augmented reality. It is a medium that, to some extent, allows people to interact with elements in their own terms. Each person owns an instance of that virtual space, so it's up to them to play with it and choose how the messages are displayed and shared. What I did was take advantage of its capability to overcome physical barriers to embrace as many languages as possible.
On the other hand, I also found that written language can be limiting, especially in a virtual space. Purely textual installations might exclude some people with disabilities, such as blindness or autism. For a truly inclusive experience, it would be necessary to also consider other forms of audio, visual and tactile communication, for example. This is something I might explore in future projects.
A: How important is it for artists and designers to use new media in this way?
FP: I'm a firm believer that arts and design are only truly meaningful if they're purpose driven. Practitioners of these areas are responsible for shaping society's behaviours, opinions and systems, so being mindful of issues such as diversity and inclusion is a must.
We have so many current and historical examples of injustice and inequality. It's urgent for everyone to try and amplify positive and progressive discourses. New tech and media allow us to connect with more people on a deeper level than ever. Exploring these as tools for positive transformation is probably the best way we can put them to use.
A: What do you hope audiences take away from the project?
FP: My main goal was to encourage intercultural exchanges and make people from all around the world feel valued and welcome. I hope viewers feel inspired to reflect upon the importance of their individuality – whilst recognising themselves as a vital part of a bigger whole, where everybody matters.
The installations don't mean to be a faithful representation of each culture's characteristics (as that would be very reductive), but a means to find common ground between them through the lens of language and typography. I'd be very happy if this served as inspiration for others who want to explore type, language and cultural identity as ways to build community.
---
Find out more here.
---
All images and video courtesy Filipe Peregrino.