Peter Goodhall is a widely-exhibited professional artist with a collection of international awards. He paints contemporary images in a modern realist style, often on large canvases. The sea and water are subject matters throughout Goodhall's work, and are the inspirations for creating subtle paintings which are infused with bold movement. Fascinated by the patterns, reflections and distortions occurring in the movement of water, he is challenged to capture fleeting moments in oil on canvas.
A: With the rise of the digital age, painting may – to some degree – be facing challenges as a traditional medium. How and why do you think it will endure?
PG: I'm quite confident that paintings, created skilfully and physically by hand using a medium on a substrate in a traditional manner will remain a principle, sought after and prized possession.

The longevity of painting as a traditional art form combined with the natural evolvement of new styles and genres will maintain painted art forms at the front of the public psyche. Painting is tried, tested and has been recognised for centuries and this together with marketing that keeps the value of historical and noted work up spills down and embraces all competent artworks.
A: How do you translate realism into your works?
PF: Sadly, I'm the one who wants to make something entirely representational, and look and feel exactly as it does to me; let's call it instantly recognisable. But so "in your face" too, often through size producing an exaggerated sensation of it being real.

Yet in reality it's mostly a group of abstract shapes that give it the illusion of seeming real. When I look into water I see a mass of shapes. I couldn't tell you how many hours I've spent just looking at water, particularly the sea, but I'm sure that all that time has made me able to convey a particular calmness of the sea by knowing just how all those unique shapes will flow and fit together.
A: Why did you choose this particular style?
PG: It just evolved. I'd been painting marine subjects in a very traditional 19th and 20th century style. I remember looking for a way that was different from what others were doing. I began working on big canvases, big for impact but too big to sell. I shelved it for years, then went back to it when I needed to change direction. And as luck would have it, big paintings had become popular.
A: You often paint sea and water – do you think it's important to re-connect viewers to nature, and how is this reflected in the compositions?
PG: I want the viewer to feel that they are in or on the water; though some claim that the paintings make them feel seasick – they really did connect with nature! I think by having large canvases that fill the viewer's vision frames and can exclude everything else helps provide that connection.
A: Could you describe your process of working? How much does a piece change from start to finish?
PG: It's an extremely slow process; I can spend up to a month on one painting. Once I've got the layout or the overall pattern set out, I've got a pretty clear idea of how I intend the painting to look, although applying the subsequent layers of blended colour can sway the strength of the colour of the overall painting. I tend to focus my physical painting on small sections at any one time whilst mentally planning an adjacent area.
A: What are you currently working on?
PG: More water paintings, I'm very close to completing a Tranquility painting and have got the next Liberty painting to the under-painting stage.
A: What projects / events do you have coming up?
PG: More of my more contemporary water paintings, including Koi paintings, but I also intend to paint a more traditional marine oil of Mayflower leaving Plymouth in 1620 in preparation for the 400th anniversary celebrations. I have painted Mayflower several times before and already have quite a lot of research under my belt. One of my Mayflower paintings was purchased by the Royal Navy.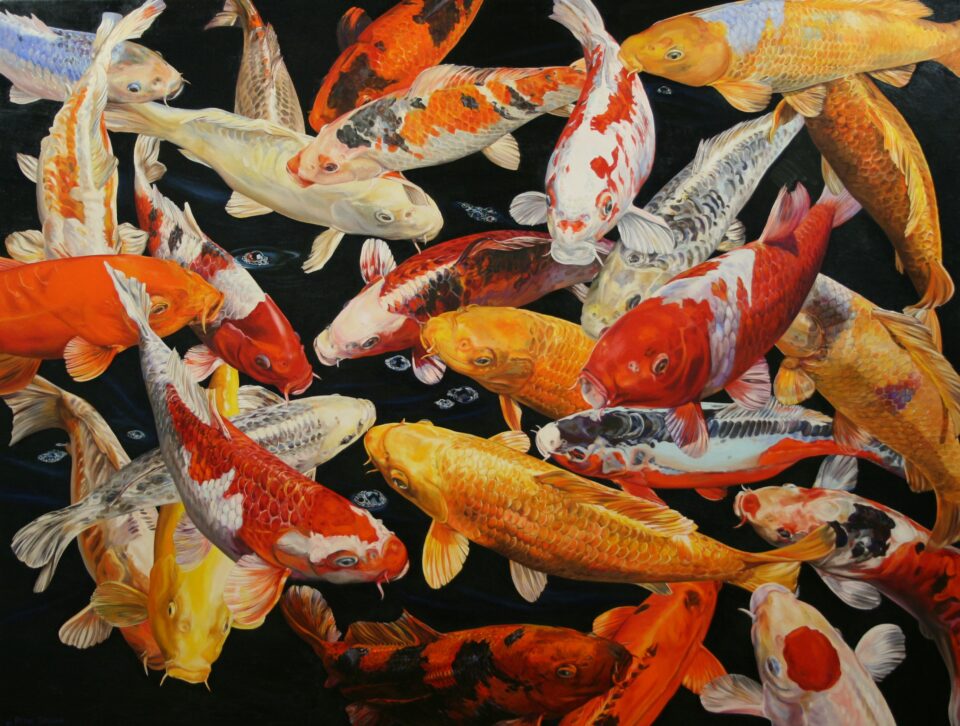 Visit the artist's website at www.petergoodhall.com
The work of Peter Goodhall appears in the Artists' Directory in Issue 87 of Aesthetica. To pick up a copy, click here to visit our online shop.