"Ugly" vegetables were blamed for up to 40% of wasted produce in 2013. A new programme at London's San Mei Gallery aims to raise questions about contemporary food culture – focusing on a fascination with perfection. Titled Inedible Harvest, it features handmade vessels cast from "eccentric and oddly shaped" fruits and vegetables that would normally be rejected by supermarkets. Instead of being discarded they are celebrated – turned into organic plaster moulds.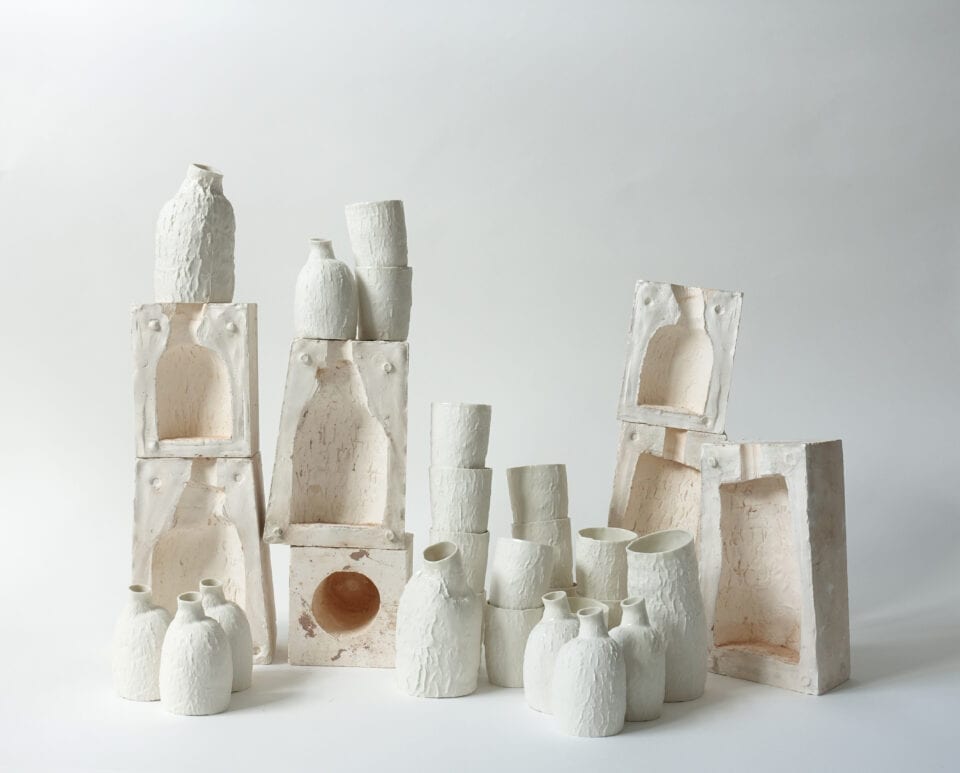 ---
The sculptures are made by Natural Selection – a partnership between James Binning, founding member of the 2015 Turner prize-winning collective Assemble, and Farrokh Aman, architect and designer at Sergison Bates and David Chipperfield architectural practice. The series displays a wide variety of techniques – from fine Chinese porcelain to terracotta and black glazes favoured by ancient civilisations of the Greek archipelago. The combination of approaches is eclectic and unspecific, combining in a visual spectacle of objects for eating, drinking and sharing. It also highlights the rich and ever-evolving history of shared human experiences with food.
The works focus draw attention to consumption, a theme which seems timelier than ever in 2020. Just months ago, a wave of panic buying made headlines. Now, shoppers are returning to the high street after a period of isolation and limited access to retail. Inedible Harvest asks the question: what is the new normal? Have we reconsidered our habits? It is time to create new, more environmentally friendly rituals. How can we change our behaviour and became conscious consumers?
---
At a moment when many arts institutions have gone digital, San Mei Gallery pushes the boundaries of the term "exhibition" further – offering physical and digital access to Inedible Harvest. A programme of workshops, talks and collaborations will be taking place throughout July and August – engaging with questions of consumption in a varied, critical and enjoyable way. There will be Instagram live events with the curator and artists, plus a series of IG stories answering questions from industry leaders.
---
The exhibition runs until 8 August. Find out more here.
---
Images by Natural Selection, courtesy San Mei Gallery.