A neon pink ladder rises towards the sky. Mysterious fog spreads across a river. Giant clouds hover above a crowd. These are the sights to be seen at Lumiere's 10th anniversary edition, created by Artichoke. 37 artworks transform Durham's cultural landscape, turning the city into an expansive outdoor gallery. Artists from Canada, Japan New Zealand and the UK explore the potential of light as a medium, reimagining the landscape through dramatic installations, dynamic projections and reflective works.
This year's themes include community, technology and sustainability. Tapping into waste culture, Mick Stephenson's Fusion is made entirely from everyday objects, usually abandoned in their millions, such as milk bottles and pipes. These materials are illuminated by vibrant LEDs – creating a complex visual tapestry that repurposes discarded goods and draws attention to a global issue. In a similar way, Catherine Garret looks to our oceans: a mesmerising whale emerges from the River Wear, reminding audiences of the increasing fragility of the planet's seas. Stephenson's Friendship Tree is also made from recycled objects, celebrating the spirit of collaboration whilst looking to a more environmentally-friendly future.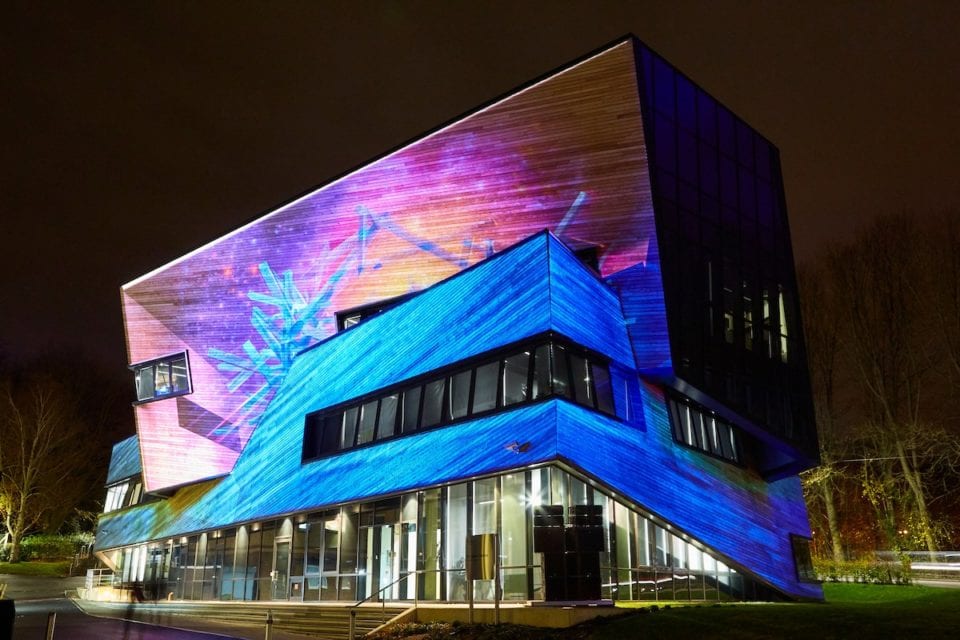 Science is key to this edition. Nina Dunn and John Del' Nero's Cosmic Architecture returns to Durham University, projecting digital galaxies onto the Daniel Libeskind-designed Ogden Centre. It marries 3D graphics with scientific research, bringing the building's angular geometry to life whilst illustrating the birth of new constellations. Comparably, Are Atoms Alive? from Ocubo, Storybox and Durham Sixth Form takes us on a journey from "the sparkling expanse of the galaxies to the depths of the cells dividing in our bodies."
Further highlights include Wave by Aesthetica Art Prize alumni Squidsoup. The piece – which comes to the festival direct from Burning Man in Nevada – features 500 colourful orbs and 500 harmonious voices. The result is a fully immersive sonic and visual spectacle. Other all-encompassing projects include Dan Shorten's Light Tunnel, a walkway inspired by the shape of a cresting wave, inviting visitors to step inside. Caitlind R.C. Brown & Wayne Garrett's Cloud is simple, bright and playful – pulling a chain lights up the installation's surface.
14-17 November. Find out more here.
Lead image: Squidsoup, Wave.