Tate defines installations as "artworks that often occupy an entire room or gallery space in which spectators have to walk through to engage fully with the work of art." Instead of a group of individual artworks, installations create a unified space. The strand of large-scale projects emerged in the late 1950s and the genre have been popular ever since. These complex and ever-evolving settings often consist of audio-visual, mixed media, figurative, organic and sculptural elements that together formulate an immersive experience. The following exhibitions display monumental sculptures as well as installations that stimulate our senses. They evoke our spatial awareness and formulate questions about topics such as our relationship to our environments, intergenerational exchange, objectification and sensuality.
Phoebe Boswell: A Tree Says | Orleans House Gallery, Twickenham, until 5 November
Phoebe Boswell is a multimedia artist and filmmaker whose works explore themes of cultural roots, identity and experiences of belonging. Her project in Orleans House Gallery, takes over the interior and the venue's surrounding woodlands. The show engages the audience in an intergenerational call and response, where trees become repositories of enquiry. Boswell gathered questions through an open call which became the basis of interviews with a group of nominated elders. These conversations were conducted with individuals including a freedom-loving feminist activist from Gorée, an Irish ex-nun turned actor, and the first Black woman to represent Britain at the Venice Biennale. A Tree Says consists of the voices of the elders as they endeavour to articulate life. The show unfurls into an expansive and participatory installation of polyphonic soundscapes, interactive sculptures, site-responsive wall drawings, pencil studies and looped videos. Boswell invites us to explore contradictions, triumphs, personal and collective strengths, sorrows and vulnerabilities through storytelling and the radical act of listening. A Tree Says is about memory, history, place and the importance of intergenerational exchange.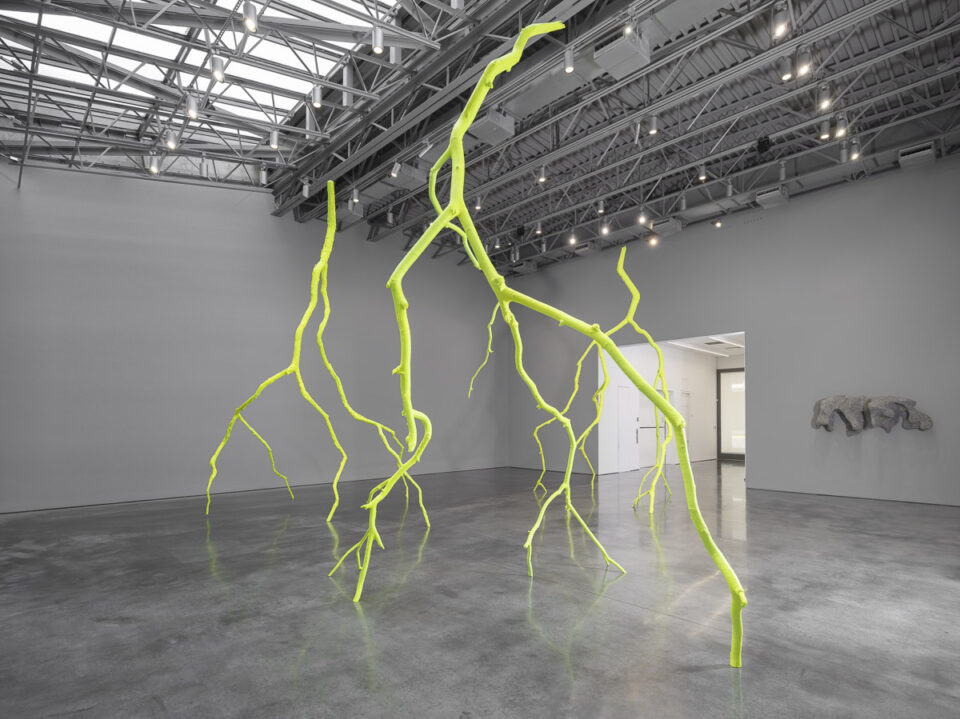 Ugo Rondinone: bright light shining | Gladstone Gallery, New York, until 9 November
Often using natural forms and materials in his work, Ugo Rondinone examines nature through drawing, painting, installation and sculpture. The New York-based Swiss artist's conceptual projects question the ways in which humans connect to their environments and the elements that comprise them. At Gladstone Gallery's bright light shining, Rondinone presents large-scale sculptures alongside an interconnected body of work – which collaboratively act as building blocks of a storm. The artist's work freezes an inexplicable moment in time that captures the excitement, fear, and impending change brought on by environmental happenings, seemingly out of our control. In the centre of the show are three, dayglo yellow painted bronze sculptures that punctuate the space and replicate lightning strikes. The crooked and rhythmic lines form a tangible and static representations of the phenomena. On the walls of the gallery are cloud shaped hung reliefs that accompany the central installation. Each composition emphasises temporality and the fleeting passage of time, while simultaneously complicating our conceptions of impermanence and materiality.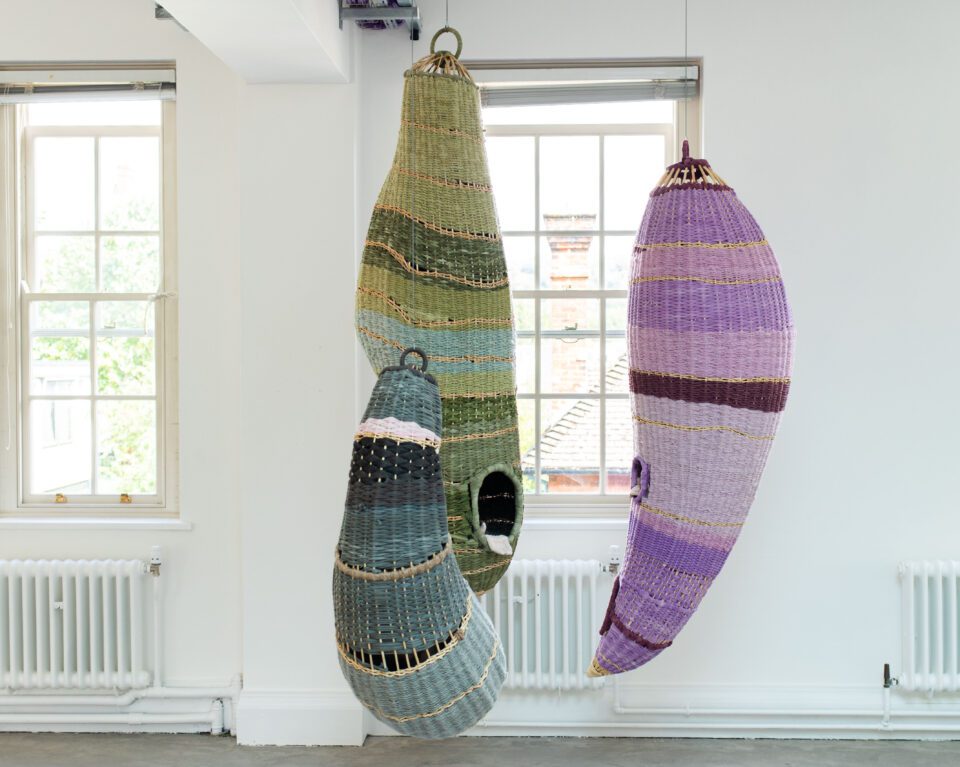 Jonathan Baldock: through the joy of the senses | Charleston, Lewes, until 7 January
Charleston in Lewes is a new cultural centre in the city that brings people together to engage with inspiring art and creative ideas. This autumn, the venue opened with two exciting shows; one exploring the connection between fashion and the Bloomsbury group, and Jonathan Baldock's eye-popping through the joy of the senses, that displays biomorphic shapes.Baldock is a British artist who works across multiple media, including installation, performance and sculpture. His figures often take on biographical forms and address themes such as trauma, stress, sensuality, mortality, and spirituality around our relationship to the body and the space it inhabits. Nathaniel Hepburn, Director at Charleston shared that: "Baldock's bold installations bring a colourful, sensory world to our spaces, and is indicative of the scale of contemporary exhibition the new building will enable for Charleston." Baldock has an ongoing interest in the contrast between the material qualities of ceramic, fabric and paint used within his work. His sculptural assemblages invite the viewers to explore and occupy the space as a ritual act or theatre.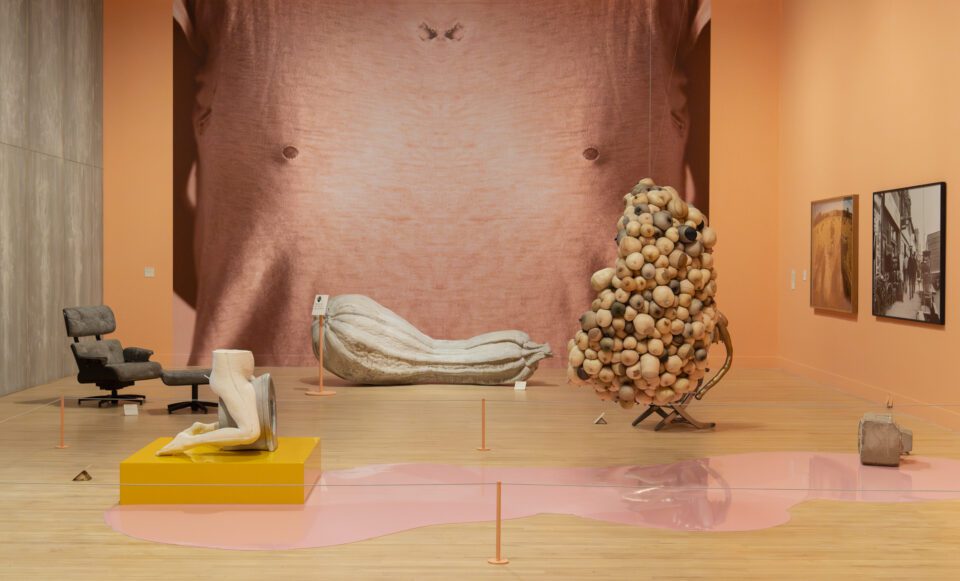 Sarah Lucas: Happy Gas | Tate Britain, London, until 14 January
Sarah Lucas rose to prominence in the early 1990s, among the Young British Artists who challenged the British art world and made an indelible impact on the cultural landscape. As one of the leading figures of her generation Lucas is known for her bold and irreverent work, often exploring the human body, mortality, experiences of sex, class and gender. Happy Gas brings together more than 75 projects spanning four decades, from early sculptures and photographs to brand new pieces being shown for the first time. Lucas often takes domestic furniture and imbues it with a humorous and unnerving honesty about eroticism and desire. Lucas' use of chairs, and her evocation of seated figures have a central role in the show. The artist explains: "I decided to hang the exhibition mainly on chairs. Much in the same way that I hang sculptures onto chairs". A highlight of Tate Britain's exhibition is selection of recent sculptures that show how Lucas continues to engage with themes crucial in her career, including the objectification of the female form and the anthropomorphic potential of everyday objects, while bringing fresh perspectives to her practice.
Anish Kapoor: Untrue Unreal | Palazzo Strozzi, Florence, from 7 October
This season, Palazzo Strozzi presents a major exhibition focusing on British-Indian sculptor, Anish Kapoor. Through a wide range of early, recent and a newly commissioned site specific work viewers can engage directly Kapoor's oeuvre in all its versatility, discord, entropy and ephemerality. The artist is known for revolutionising the notion of sculpture in contemporary art, through his architecturally scaled, often biomorpic projects. Untrue Unreal features monumental installations, intimate environments and thought-provoking forms that initiate an original and captivating dialogue between the art of Kapoor and the architecture and audience of Palazzo Strozzi. The show which was created in collaboration with the artist is an insight to a world where the boundaries between what is true and false dissolve, opening the doors to the realm of the impossible. In a world where reality seems increasingly elusive and manipulable, Kapoor challenges us to seek truth beyond appearances, and explore the territory of the untrue and the unreal.
---
Words: Fruzsina Vida
---
Image credits:
1. Installation view, Ugo Rondinone: bright light shining, Gladstone Gallery,2023.©Gladstone Gallery. Courtesy of the artist and Gladstone Gallery.
2. Phoebe Boswell, A Tree Says at Orleans House Gallery, Twickenham, 2023
3. Installation view, Ugo Rondinone: bright light shining, Gladstone Gallery,2023.©Gladstone Gallery. Courtesy of the artist and Gladstone Gallery.
4. Jonathan Baldock: through the joy of the senses at Charleston, Lewes, Image: Phoebe Wingrove
5. Sarah Lucas, HAPPY GAS Installation View at Tate Britain 2023 © Sarah Lucas. Photo © Tate (Lucy Green)
6. Anish Kapoor Newborn, 2019 Stainless steel 300x300x300 cm Photograph: Mark Waldhauser ©Anish Kapoor. All Rights Reserved SIAE, 2023