The ING Discerning Eye Exhibition returns for its 25th anniversary in 2023. Each year, the annual arts event champions UK creativity through an exhibition at London's Mall Galleries. Now, its shortlist comprises over 600 small artworks as chosen by well-known faces from the worlds of art, music and sport.
Where to start with a shortlist of this length? Shown at the top of the page is Rossanne Pellegrino's FINE (top of page), part of a wider body of work about motherhood, domesticity, memory, identity and migration. It taps into the idea of "Expanded Photography", which can be traced back to the turn of the 20th century, when Cubist artists like Picasso and Braque first began experimenting with collage – adding newsprint and wallpaper to canvas. Simultaneously, in post-WWI Germany, Hannah Höch (1889-1978) was making political collages and pioneering the form of photomontage, appropriating and recombining images and text from mass media. The idea: to critique popular culture, the failings of the Weimar Republic and the socially constructed roles of women at the time. Almost 100 years later, the format remains a powerful tool for communicating important socio-political and feminist messages – from the Guerrilla Girls to Lorna Simpson and, now, Pellegrino. "I am a bowerbird for art materials. I use bold colours, pastel hues, humour and unexpected objects – domestic items, pompoms and glitter – to explore themes in an accessible way."
The piece joins hundreds of other shortlisted artworks across painting, drawing, sculpture, photography, video, textile, ceramic, mixed media and more. Over nearly three decades, the annual ING Discerning Eye exhibition has become known for its unique approach to curation – welcoming two artists, two collectors and two critics to choose small works of various kinds. The result is six small and distinct exhibitions that come together to make a diverse and intriguing whole. Pellegrino was selected by renowned light artist Chris Levine, who promises: "it's going to be an exciting show with a number of surprises."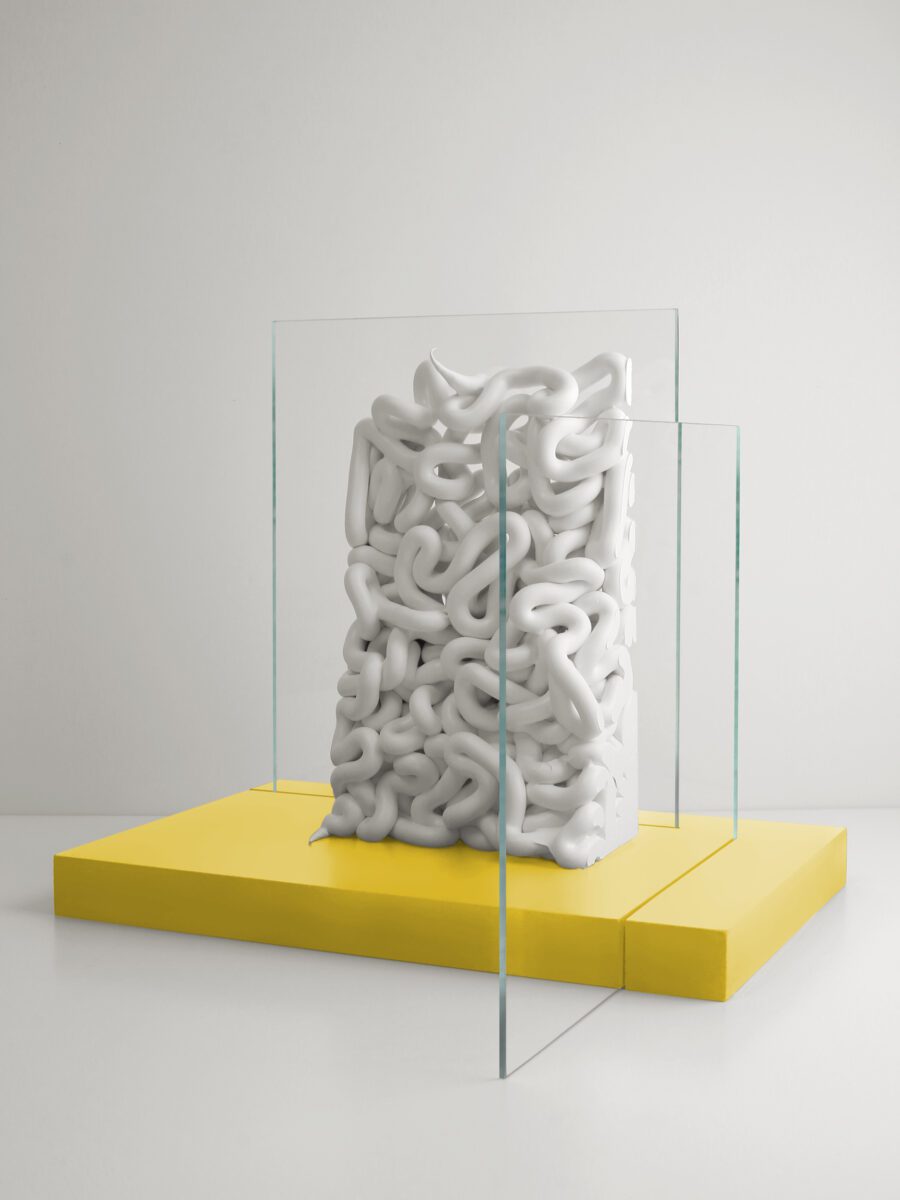 Examples include the sculptural creations of Ever Grainger. The creative, based on the UK's South Coast, compares the experience of working with silicone – an unconventional art material – to more traditional forms of expression. "It can be elegant, extravagant, cheeky, gooey, voluptuous and bold. I love how working in this way feels simultaneously like drawing, painting and sculpting." Grainger was chosen by the sculptor Julian Wild, who sat on the panel of selectors alongside the likes of Eliza Gluckman, Director of the Government Art Collection, and Péjú Oshin, Associate Director at Gagosian.
Oshin is keen to emphasise accessibility and reach of this year's exhibition. She explains: "The ING Discerning Eye has a long-standing history and brings together an array of interesting voices to continue broadening conversation around visual art." Indeed, the initiative remains dedicated to championing creatives at all career stages. The pieces on view are curated not only by experts, but through an open call, enabling new, grassroots projects to shine alongside household names. Since it began in 1999, ING Discerning Eye has showcased 11,000 works; awarded £290,000 prize money; and sold over £1 million of art on behalf of artists, all whilst appealing to audiences of different backgrounds and budgets.
---
Mall Galleries, London, 17 – 26 November | discerningeye.org
---
Image Credits:
1. Rossanne Pellegrino, FINE, Giclée Printed Collage, selected by Chris Levine.
2. Ever Grainger, Slabb/White, silicone, glass, wood, selected by Julian Wild.