A field of fallen moons shines at sunset. A sea of glowing spheres stretches into the distance. These are the sights created by British light artist Bruce Munro (b. 1959) at Messums Wiltshire. He is best known for Field of Light – a colour-shifting installation featuring solar-powered spheres which can be found at Uluru, Australia; in South Korea and across the US. In Time & Place, the artist transforms everyday objects into mesmerising artworks.
Each piece questions the nature of time. Featured above is Moon Harvest, which references the rural calendar and lunar cycles. Projections are cast onto multiple hay bales, creating a mysterious and surreal landscape that glows brightly into the night. This ethereal aura continues throughout the show. Moon Blooms I and II are two fields of gleaming stems within the grass. The structures weave in and out of one another, creating an otherworldly effect. Electrical connections spread like a web across the ground, pulsing to gentle rhythms of light as darkness falls.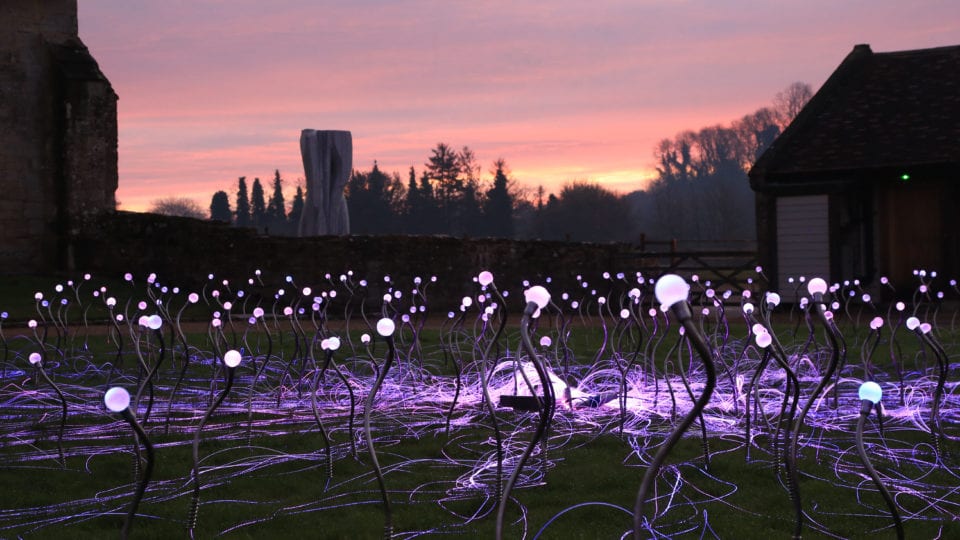 Moving inside, visitors can discover C-scales. Thousands of repurposed and overlapping CDs make up the floor installation – which evokes shimmering waves. Abstract visual projections dance across the circular surfaces, creating an impressionistic experience. Munro's time spent in Australia comes to the fore here: it is inspired by the memory of Sydney's harbour and panoramic views.
The show also features new, smaller works on paper. The wall-mounted spiral images are based on 360-degree photos deconstructed to pixel form. They offer a simplified version of a specific time or place – focusing on colour and shape. "It's a painting game that allows me to go back to the beginning and start again. There's a new result every time… I had a notion that light – when it comes through camera – is the true light travelling through the air at that moment, so I just wanted to use the images as building blocks for the memory."
Time & Place runs until 26 January. Find out more here.
Images: Copyright © 2019 Bruce Munro. All rights reserved. Photography by Serena Munro.