The Royal Academy of Arts brings critically acclaimed architectural practice Herzog & de Meuron (H&dM) to the UK. Established by Jacques Herzog and Pierre de Meuron in 1978 and based in Basel, Switzerland, H&dM have built eye-catching museums, hospitals, stadiums and private and public buildings in countless cities around the world. This new exhibition is filled with H&dM's models, photographs and Augmented Reality (AR) experiences that give insight into how the firm turns ideas into reality.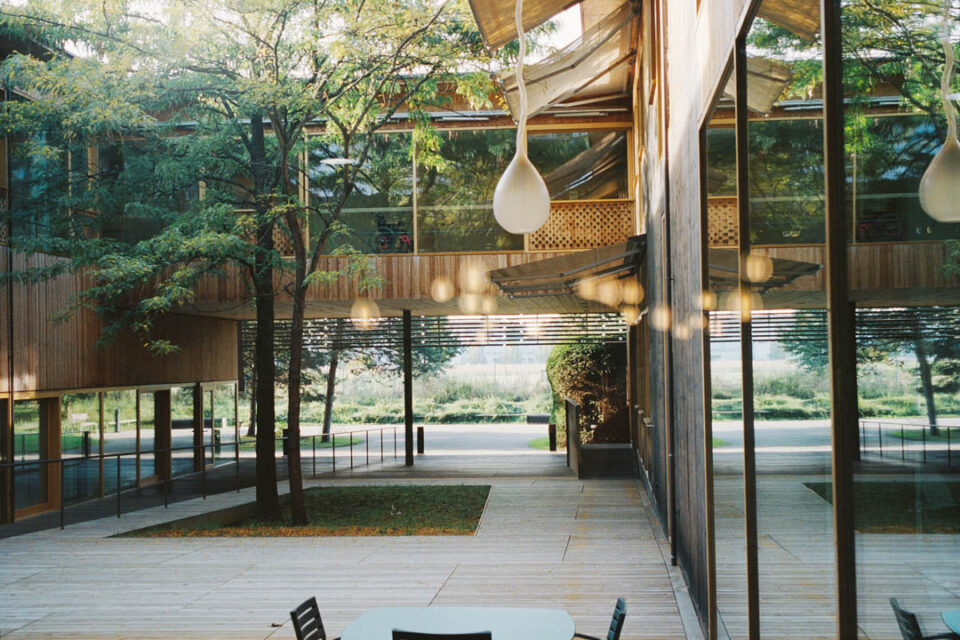 Interaction and usability are key to H&dM's designs. One such example is the REHAB Clinic for Neurorehabilitation and Paraplegiology in Basel (2002-2020). Tasked with building a rehabilitation centre that wouldn't feel like a hospital, H&dM came up with a two-storey complex surrounded by lush courtyards, a playing field and training course. Private settings and rest areas abound, so users may socialise between treatments. The architects planned the space with multiple functions in mind, centred first and foremost around patients' autonomy. Another of H&dM's projects is the 29 floor Elbphilharmonie Hamburg (2016), a 360ft concert hall designed to seat 2,100 listeners. Again, the focus was to be welcoming to every member of the public, and the structure incorporates a multitude of urban uses: from restaurants and bars to apartments and parking facilities. A glass façade crowns the building, defining it as a cultural hub for Hamburg. Other notable work from H&dM includes Tate Modern, London (2000 and 2016), Laban Dance Centre, London (2003), the National Stadium Beijing (Bird's Nest) (2008), M+, Hong Kong (2021), the Royal College of Art, London (2022) and Kinderspital Zürich (to be completed in 2024).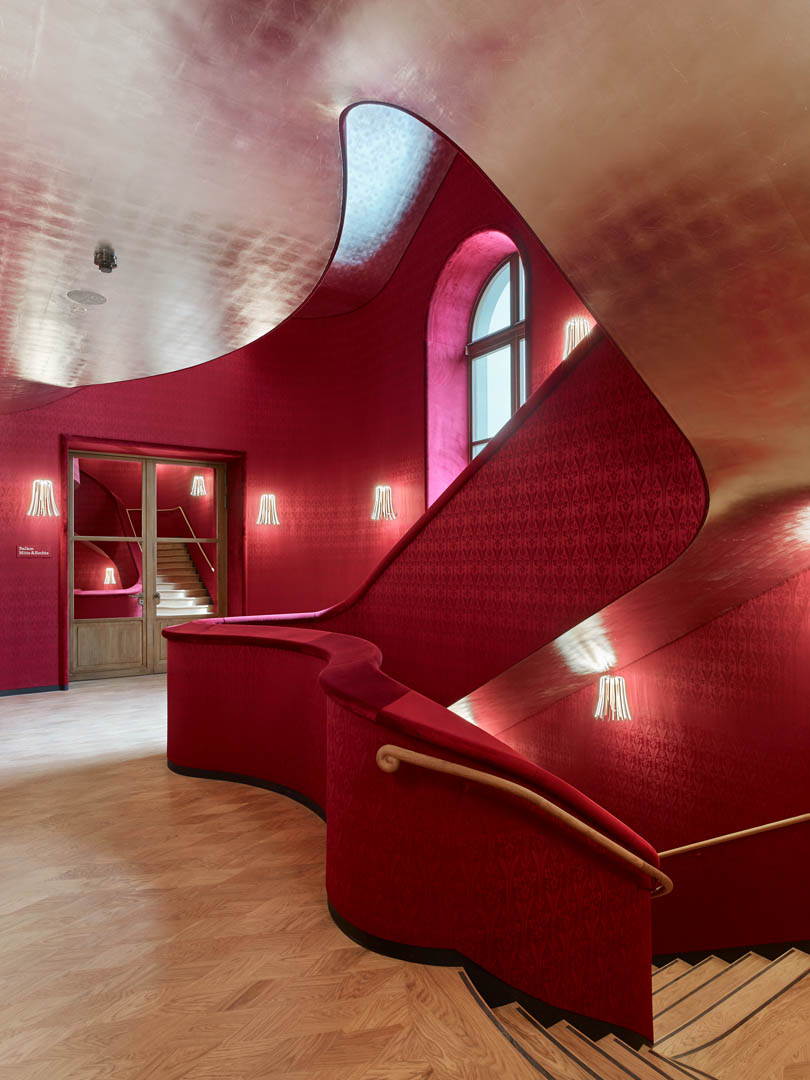 Inside the exhibition, visitors will be able to explore three rooms which show how these structures were made.  First, Royal Academy will introduce a part of H&dM's Kabinett, an open storage and research space brought from Basel. Tall timber shelves house a diverse collection of approximately 400 objects, from models and materials to prints, photographs and film clips. Augmented reality brings these projects to life and enables attendees to learn more. German photographer Thomas Ruff (b. 1958) contributes six large-scale pictures to the Kabinett vitrines, demonstrating the practice's dedication to collaborating with artists. Ruff got involved with the firm in 1990, when he was asked to photograph their new Ricola-Europe factory for the fifth Venice Architecture Biennale (1991). Up until then, Ruff had been photographing anonymous buildings as part of the Häuser (1989) series. He instructed a local photographer to gather pictures of the storage building, before combining them into a single, 153x295cm image. Haus Nr. 4 II (Ricola Laufen) is a wide landscape shot, its parallel horizontal lines framed by grey sky above and concrete below. Despite its imposing size, the facility fits harmoniously into its surroundings. "During my preoccupation with the Häuser series, I thought I could not photograph any 'highbrow' architecture," Ruff explains. "I thought that whatever was in the picture would be more important than the image itself. Not until I had a made a whole range of other series, using a very wide variety of photographic techniques, did I find a way to make an image rather than a document of significant architecture."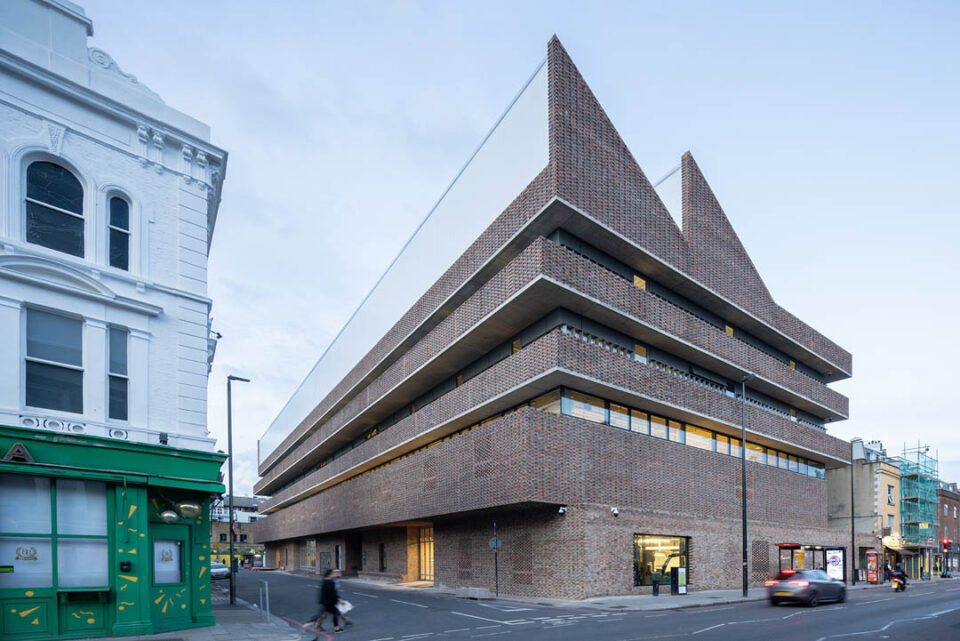 According to Statista's data from 2007 to 2021, visitors to Tate Modern peaked at 6.1 million in 2019. The museum was designed with a large number of attendees in mind, considering how humans would perceive the space. Imagining visitors travelling up the stairway, H&dM describes how: "one feels disengaged from the stream of museum-goers, the rhythm of one's steps changes and slows down in response to the height of the treads and the placement of the landings." H&dM are passionate about providing spatial experiences. One of the films on view at Royal Academy explores various ways humans use H&dM buildings. Another takes us through daily life at the firm's REHAB Clinic in Basel. It's shot by renowned filmmakers Bêka (b. 1967) & Lemoine (b. 1981) who are known for other architectural films such as Barbicania (2014), which shows a month-long exploration of the Barbican, London, and The Emotional Power of Space (2023), a book examining physical, psychological and emotional connections to place.
Finally, Royal Academy invites visitors for a closer look at a project currently under construction, a children's hospital in Zürich, Switzerland. In 2012, the new facilities were unanimously declared winners of the international design competition held by Kinderspital Zürich, the largest paediatric centre in Switzerland. It will span three stories, made from locally milled timber with many courtyards full of plants for the patients and guests. Regarding their approach, Jacques Herzog said: "we chose to create a horizontal, finely structured building with a lot of natural light. The small scale and the material properties of this wooden building are factors that have already proved highly successful with our REHAB clinic in Basel. In the case of the children's hospital, this seemed a particularly apt approach for the young patients and their parents." (dezeen 2012) A 1:1 mock-up of a section of patient's room, which people may experience fully in AR, shows the practice's emphasis on humanising designs for such essential buildings.
---
Royal Academy of Arts: Herzog and de Meuron | 14 July – 15 October 2023
Words: Diana Bestwish Tetteh
---
Image Credits:
1. Herzog & de Meuron. Elbphilharmonie Hamburg, 2001-16. Photo © Iwan Baan.
2. Herzog & de Meuron. REHAB Basel, 1998-2002, 2018-19. Photo © Katalin Deér.
3. Herzog & de Meuron. Royal College of Art, London, 2016-21. Photo © Iwan Baan.
4. Herzog & de Meuron. Extension of the Stadtcasino Basel, 2012-20. Photo © Ruedi Walti.