Architectural photographer Hélène Binet (b. 1959) might be best-known for her long-standing professional relationship with Zaha Hadid (1950-2016), capturing black-and-white images of some of the Iraqi architect's most daring structures. These include the MAXXI Museum of Art in Rome, the Glasgow Riverside Museum of Transport – whose jagged, rhythmic exterior is captured in series of a heart-stopping upward-facing shots – and the Rosenthal Centre for Contemporary Art in Cincinnati. A new retrospective, running at the Royal Academy of Arts from October until January, reveals the artist's sensitivity to the grandeur and spectacle of such built environments. The exhibition's opening image, setting the tone for the visitor's encounter, consists of a square-format print showing Hadid's Vitra Fire Station in Weil am Rhein, Germany, completed in 1993 and photographed by Binet shortly afterwards.
Many of the vital features of Binet's style are encapsulated in this inaugural work. Focusing on a section of the building rather than the structure as a whole, the camera seeks out a point of intersection between various oblique planes of concrete: a vortex of angled surfaces. Energetic diagonal lines are a defining and animating aspect of the piece – as in so much of Binet's portfolio – in this case suggesting a motion from the top-left to centre of the frame, a silhouetted peak of roof or wall cutting upwards into the perfect, shadowy gradient of northern European sky to the right. The arrangement at once gives a faithful sense of the spirit of Hadid's design and renders the image curiously abstract. We are not sure if we are looking at a physical form or a geometrical painting or print of some kind.
---
Binet's ability to capture the fluid energy of architectural design – as if the building were a freeze-frame of a set of vast forms in flux – might partly reflect her initial schooling as a photographer of theatrical performance: of bodies in motion. Born in Sorengo, Switzerland, the photographer spent her formative years at the Instituto Europeo di Design in Rome, before working for two years at the Grand Théâtre de Genève, an opera house in Geneva where Binet was commissioned to photograph productions. Encouraged by luminaries such as Daniel Libeskind – another key collaborator – John Hejduk and Alvin Boyarsky, the lens-based artist turned her attention to architectural photography. Over a career spanning decades, Binet has since come to earn the affectionate moniker "the architect's photographer," for her ability to bring the dreams and concepts underlying a building's design to life.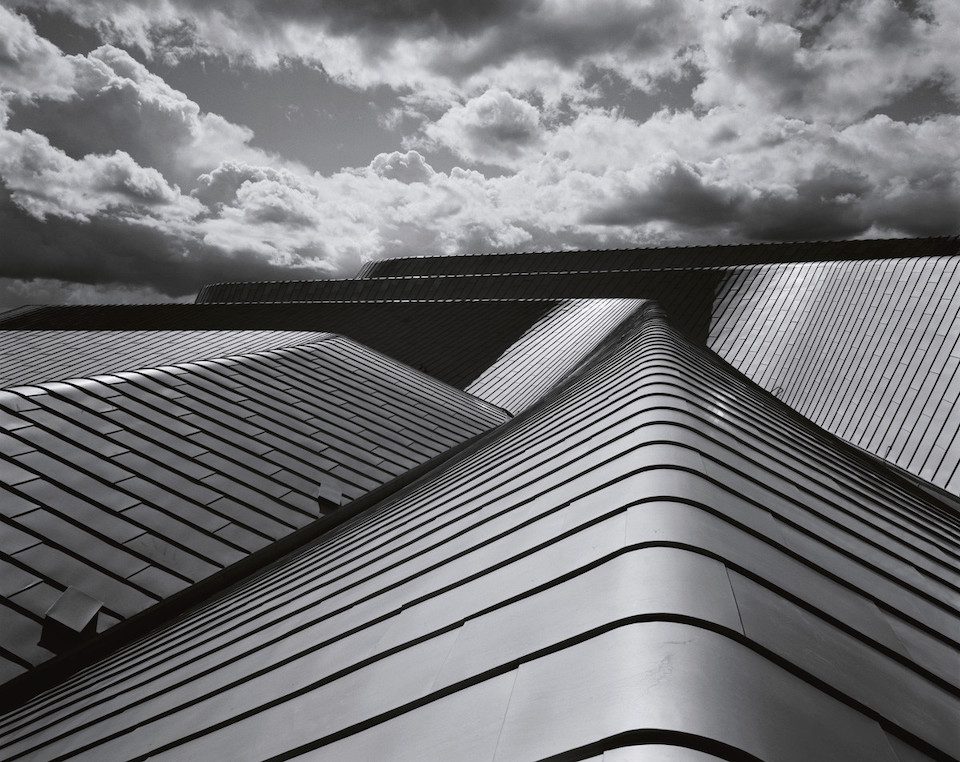 Binet's portfolio includes iconic shots of a wide range of three-dimensional forms by modern and contemporary masters, as well as historical structures. Across the galleries, visitors will find a technicolour rendering of Le Corbusier's La Tourette monastery – in which the shadows cast by "light cannon" ceiling-openings make the brightly coloured interior seem like a Kandinsky painting brought to life – alongside studies of steps and arches within the 18th-century Jantar Mantar Observatory, India. This remarkable environment, too, is made to speak with the language of modernist painting, as if it were some proto-surrealist landscape of bizarre built fragments, like a picture by Giorgio de Chirico.
In all of her images, Binet pays tribute to the aims of the buildings' creators. At the same time, the most fascinating aspect of her work is its capacity to anonymise the structures depicted, often by homing in on a specific intersection of shapes and lines. It is as if the artist were isolating and arranging these elements on the canvas, rendering a three-dimensional environment into a two-dimensional formal composition. It is perhaps this ability to isolate the elementary visual grammar of architecture that makes this retrospective such an exciting prospect.
---
Light Lines: The Architectural Photographs of Hélène Binet will run at the Royal Academy of Arts from 23 October until 23 January. Find out more here.
Words: Greg Thomas
---
Image Credits:
1. Hélène Binet,Zaha Hadid Architects, Vitra Firestation, Weil am Rhein, Germany, 1993. Digital black and white silver gelatin. 80 x 80 cm. Courtesy ammann // projects. © Hélène Binet.
2. Hélène Binet,Le Corbusier, Couvent Sainte-Marie de la Tourette, Eveux, France, 2002. Hand-printed black-and-white silver gelatin print. 100 x 80 cm. Courtesy ammann // projects. © Hélène Binet.
3. Hélène Binet,Atelier Peter Zumthor, Therme Vals, Graubünden, Switzerland, 2006. Digital black and white silver gelatin print. 102 x 80 cm. Courtesy ammann // projects. © Hélène Binet.
4. Hélène Binet,Zaha Hadid Architects, Riverside Museum, Glasgow, United Kingdom, 2010, 2010. Digital black-and-white silver gelatin print. 80 x 102 cm. Courtesy ammann // projects. © Hélène Binet.