Brazilian artist Lygia Pape (1927-2004) reinvented the rules of modernist sculpture. An exhibition of the artist's late work at Hauser & Wirth Los Angeles reveals macabre, politically charged undertones.
Pape first found recognition in the late 1950s as a signatory of the "Neo-Concrete Manifesto", penned by poet Ferraira Gullar. At that time, Latin America was one of the hubs of the post-war Concrete art movement, which tended towards a minimalist, machine-like precision. As part of the Grupo Frente in Rio de Janiero, Pape had contributed substantially to the movement, notably with her geometric wood-block prints of the 1950s. But these works diverged from the traditional Concrete style – instead incorporating organic and sensual gestures, such as freeform lines. This approach resulted in splinter group: the Neo-Concrete movement. Its founding sentiment was that no artistic impulse can be experienced except in, and through, the body. Influenced by phenomenology, this idea anticipated many of the playful, performance-oriented North American art movements that emerged in the 1960s-1970s. Pape was a true pioneer.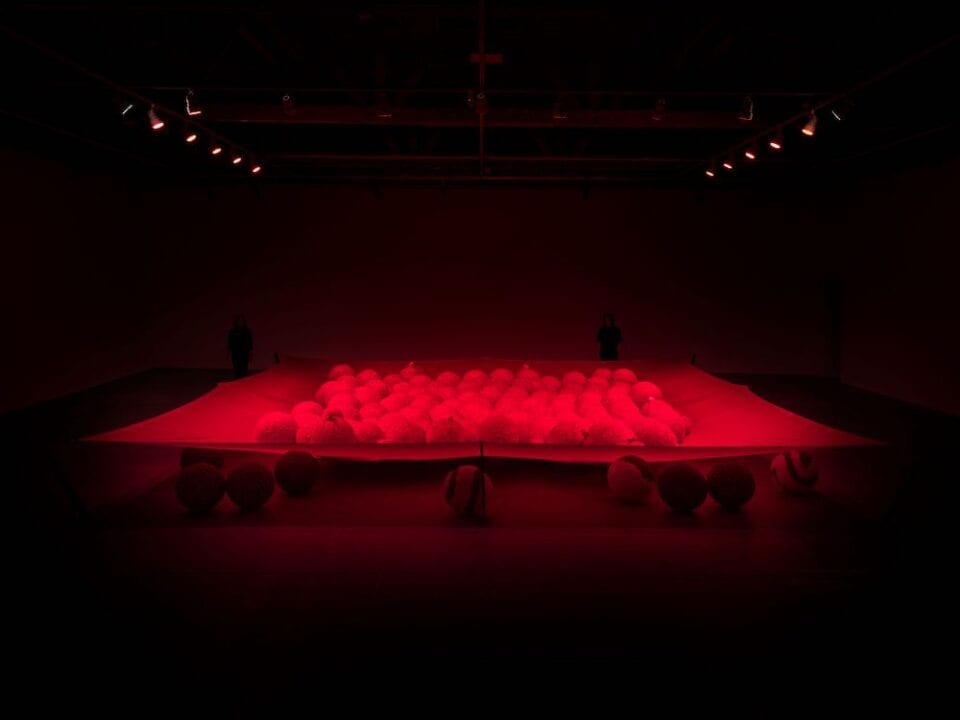 In subsequent years, Pape began to work with more ephemeral media, such as video and installation. She also incorporated human bodies into her so-called "living sculptures," such as Divisor (1968), whilst her gold and silver threaded Ttéias (1978 onwards) followed many of the principles of Neo-Concretism to a graceful conclusion. Consisting of a series of transparent, light-refracting volumes suspended between floor and ceiling, these pieces – one of which is included at Hauser & Wirth – seem to flicker and change based on viewing position.
Much of the artist's later work was produced under the military dictatorship of 1964-1985, incorporating fiery or satirical political gesture. This kind of polemical energy is not generally associated with the high abstraction of concrete art, but the strongly subjective, physiological bent of Pape's practice allowed her to express a political animus: generally from an egalitarian, anti-imperialist perspective. It's a standpoint that underpins the show at Hauser & Wirth. Central to the selection is Pape's late Tupinambá series (2000), a set of abstract geometrical sculptures covered in the bright red feathers. These ungainly, almost comically garish forms – suggesting thrones, wheels, ceremonial vessels – are adorned with severed body-parts, in a bizarre and grotesque splicing of the tropes of abstract and representational art.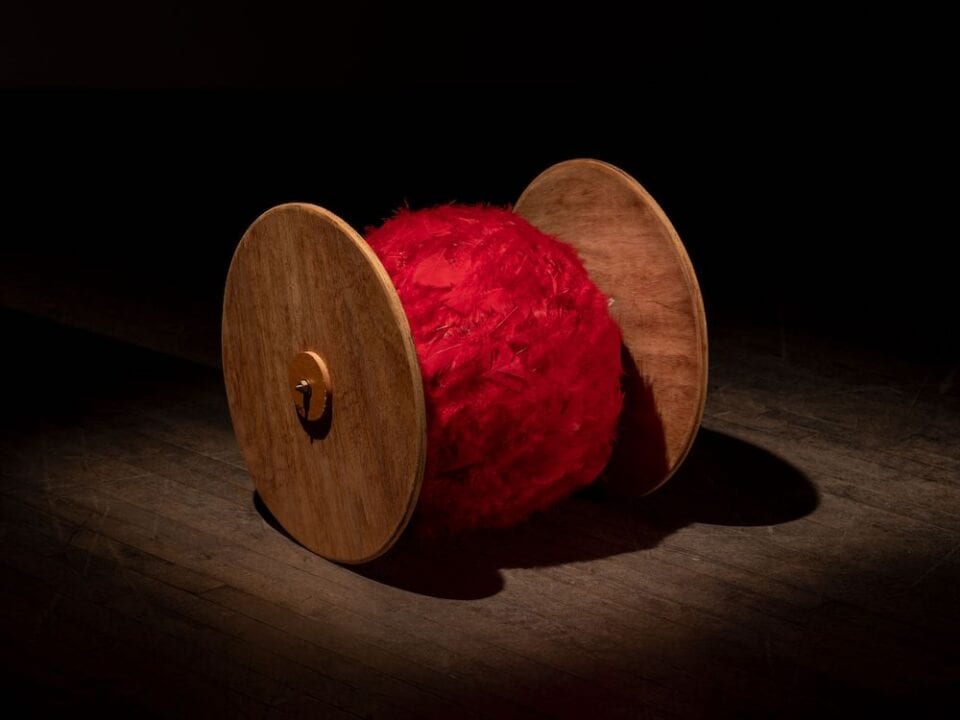 Yet these works are also entwined with the colonial history of Brazil. The feathers are those of the Guará bird, and a symbol of the historical Tupinambá ethnic group, whose population was enslaved, assimilated or wiped out by disease from the time of the Portuguese invasion onwards. The plumage would have been incorporated into costumes worn during anthropophagy, a ceremonial variant of cannibalism practiced by the Tupinambá people. Pape describes it as follows: "The Tupinambá devoured their prisoners, their enemy, not from hunger as in cannibalism, but to swallow and assimilate the spiritual capacities of the other."
In his influential "Manifesto Antropófago" ("Cannibal Manifesto") of 1928, the Brazilian modernist poet Oswald de Andrade (1890-1954) argued that ex-colonial nations such as Brazil should digest the cultural traditions of the coloniser and feed them back in new and challenging ways. Since then, the cannibal traditions (real and legendary) of indigenous communities have served as a rich source of metaphor for Brazil's artistic avant-garde—particularly during the Tropicália period of the 1960s. Pape's allusions to this modernist-nationalist legacy are clear and deliberate, and render the human limbs as both symbols of Brazilian cultural pride markers of solidarity with imperially subjugated populations. Other motifs, such as the cockroaches concealed in the red-feathered orbs of Manto Tupinambá (2000), seem to stand for the enduring influence of indigenous cultures on modern Brazil, whilst also alluding to the dehumanising language once used to justify their extermination. Overall, this powerful show seems to question distinctions between Brazil's late-modernist present and pre-colonial past, affirming the ongoing influence of native traditions on the country's social, linguistic and creative fabric.
---
Lygia Pape is running at Hauser & Wirth Los Angeles until 1 August. More information here.
Words: Greg Thomas
---
Image Credits:
1. Lygia Pape, Ttéia 1, C2000/2021. Silver thread, wood, nails, light. Dimensions variable. Installation view, 'Lygia Pape.Tupinambá,' Hauser & Wirth Los Angeles, 2021 © Projeto Lygia Pape. Courtesy Projeto Lygia Pape and Hauser & Wirth. Photo: Fredrik Nilsen
2. Lygia Pape, Manto Tupinambá (Tupinambá Cloak), 2000. Sailcloth, metal poles,190 polystyrene balls covered with red artificial feathers, silicone bones,plastic cockroaches and scorpions. Approx. 1000 x 1000 x 100 cm / 393 3/4 x 393 3/4 x 39 3/8 in. Installation view, 'Lygia Pape, Tupinambá, Hauser & Wirth Los Angeles, 2021 © Projeto Lygia Pape. Courtesy Projeto Lygia Pape and Hauser & Wirth. Photo: Fredrik Nilsen
3. Lygia Pape, Bola com Rodas, 2000. Red-feathered polystyrene ball attached to wood. 35 x 35 x 35 cm / 13 3/4 x 13 3/4 x 13 3/4 in. All images:© Projeto Lygia Pape. Courtesy Projeto Lygia Pape and Hauser & Wirth. Photograph © 2020 Fredrik Nilsen, All Rights Reserved.